Peter Heinrich Mansbendel
Peter Heinrich Mansbendel was born to Johann and Valeria Mansbendel on August 12, 1883, at Basel, Switzerland. At age ten Mansbendel began an internship in woodcarving, with further study at the Industrial Arts School. Once he completed his compulsory service in the Swiss Artillery he traveled to London and then Paris to study the work of skilled and well-known woodcarvers.
Mansbendel left Paris and arrived in New York on April 21, 1907. He changed his middle name to Henry and lists his occupation as Sculptor and Interior Decorator. While working as head of a woodcarving department for a period furniture organization he met and fell in love with Ida Clotilde Shipe, who's father, Monroe Shipe, was the developer for Austin's Hyde Park neighborhood. Mansbendel relocated to Texas and married Clotilde in May of 1911. Two years later he was granted US Citizenship. They had two children, a daughter, Valerie, and a son, Peter, Jr. Mansbendel owned his business working out of his Austin studio until 1939.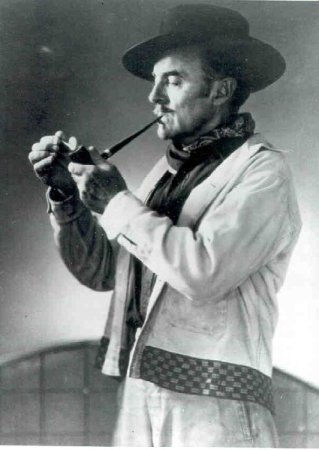 Photo courtesy of Doug Oliver
During the 1920s and 1930s leading architects in Austin, Dallas, Houston, and San Antonio called for Mansbendel to put finishing touches on their most important projects in both private and public buildings. He is respected for carved mantels and panelings, but perhaps is better known for the magnificent solid black walnut doors of the Spanish Governor's Palace and the ornate doors at the Mission San Jose, both of San Antonio. Mansbendel frequently used the rich geography and passionate history of Texas for inspiration. His carving of the Battle of the Alamo in a preserved Alamo rafter is housed at the Laguna Gloria Museum.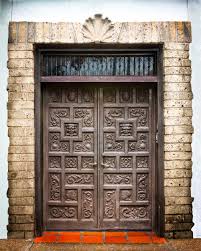 Photo courtesy of Doug Oliver
Woodcarvers bring beauty to everyday objects and raise them to objets d'art. Using simple tools, like chisel, gauge, plane, saw and bevel. Mansbendel created carvings of flowers, people, historical scenes and the occasional caricature. He made beds, mantels, doors, tables, chairs and staircases. On a less grand scale, he fashioned jewelry boxes, mirrors, inkstands, gavels, chests and animal figures.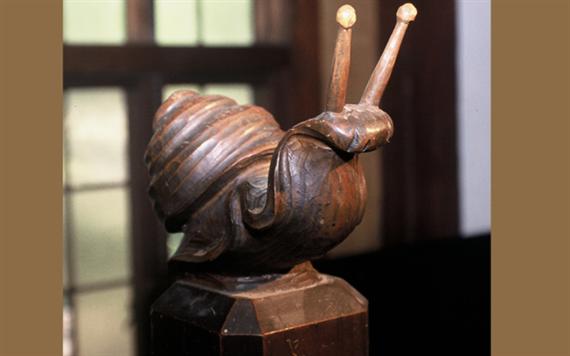 Photo courtesy of Doug Oliver
As a person of many talents, he also lent his skill to theatre as both a set designer and a performer. And since he was a native German speaker with quite a good singing voice, he was active in the all-male choral group, The Saengerrunde: the German Singing Society.
At the time of his death on July 19, 1940, his wife and he had lived in the home he designed and built for 28 years.
This man who devoted his life to creating works of art is buried with a surprisingly simple grave marker, bearing no resemblance to art that he'd devoted his life to creating.