Phineas De Cordova (1819–1903) was born in Philadelphia, Pennsylvania and went to Jamaica as a young man. He married a Miss Delgado in 1847 and moved to Texas later that year. They first went to Galveston and Houston, then to Austin to work with his half-brother, Jacob (The De Cordova's are credited as the first Jewish people to settle in Austin). The brothers determined that it was time to tell the world about the resources in Texas. They began a semi-monthly paper where the knowledge that the elder brother had of Texas, coupled with the literary abilities of the younger. 'The Texas Herald' was filled with descriptions of the State. About one thousand copies of each edition were distributed over the Southern and Western States. The articles were freely copied by the newspapers of the South and West, and attracted many immigrants. In 1850 Governor Bell requested that the printing office be moved to Austin, and a weekly newspaper, 'the South Western American,' was established. It was edited by Phineas, but published by both De Cordovas. The South Western American started the idea of loaning the school fund and donating a portion of the public lands to help with the building of railroads through Texas. Initially, the idea was ridiculed. One of the most prominent men of Texas, was especially vocal, but at the next election for the Legislature he was defeated by a large majority because of this very issue.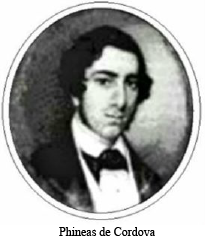 Image provided by Austin History Center Austin Public Libraries
Phineas always felt proud of this episode in his life, but when talking with friends he was careful to say that the honor of originating the measure should be given to Judge George W. Paschal and I.A. Paschal. They had suggested that 'the American' should advocate the plan and that they would also lend aid, but their names were to be kept out of it. In the 1850s de Cordova established a general land and agency business, and operated it with his son until he was forced to retire due to his health in the 1890s. He passed away in Austin on May 8, 1903, and is buried in one of the Jewish sections of Oakwood Cemetery.