Willie Mae "Ankie" Kirk (1921-2013) was a consummate humanitarian driven to work in her East Austin community by two key ideas within her personal philosophy: the belief in "the worth and dignity of each individual," and her firm stance that "if you have anything at all, you have something to share." A lifelong educator and civil rights advocate, Kirk worked with other community members and leaders to heal racial tensions and to find ways to promote social justice and create quality education in Austin. 
After graduating from Old Anderson High School and Sam Huston College (now Huston-Tillotson University) in 1947, she began teaching elementary education, which she did until she retired in 1982. She later accomplished her graduate work in education at Prairie View College and the University of Texas here in Austin. 
She was a co-founder of the 1963-1964 Mothers Action Council, which led demonstrations to integrate public facilities in Austin during the 1960s and collaborated with other citizens and community leaders on different fronts to heal racial tensions and promote social justice and education in Austin. 
In 1968 the Austin City Council appointed Kirk to its first Human Rights Commission. After a racial protest resulting from attempts to desegregate businesses in the University of Texas area, she served on an ad hoc committee to deal with the ramifications. Austin Mayor Jeffrey Friedman appointed her to the Library Commission in 1971. In order to save the George Washington Carver Library branch, Austin's first branch library, Kirk lead fundraising and supported a bond initiative that saved it from demolition. 
Staying active in the community for her entire life, she supported her alma mater, Huston-Tillotson University, was a lifelong member of the National Association for the Advancement of Colored People (NAACP), an active member of the Delta Sigma Theta Sorority, and a founding member of the Town Lake Chapter of The Links, Inc. She was also a member of Jack & Jill of America, the National Council of Negro Women, Girl Scouts of America, W.H. Passon Historical Society, and organizer of the Washington Heights/Holy Cross Neighborhood Club. 
She earned the respect of state and local leaders working from many spheres of society, political, educational, non-profit, and religious institutions. In October 2012, the City of Austin recognized her collective achievements with the naming and dedication of the Willie Mae Kirk Library (formerly Oak Springs) in East Austin.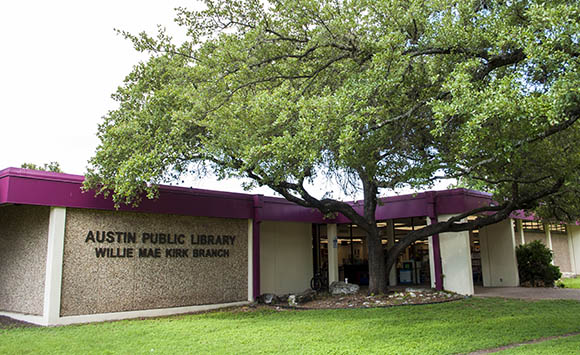 Kirk passed away in 2013 at the age of 92, but her legacy lives on through her children and grandchildren.