The next generation Climate Corps
Austin Civilian Conservation Corps (ACCC) is the next generation climate Corps. We envision and model a transformed work culture. We prioritize equity in green workforce development and expand the narrative of green vocations. ACCC is hosted by Parks and Recreation and works cross-departmentally and with external partners. There are three main programmatic areas: internal City pathways, external pathways and partnerships,and research and capacity building.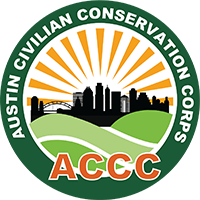 NO CURRENT JOB OPENING- Check website regularly for open jobs
Vision
We envision and model a transformed work culture in which we,
Care for ourselves, others, and the planet;

Dismantle supremacist systems that operate upon us and within us;

(from

Allied Media

)

Support leadership that represents the communities we live in and collaborate with; 

Adapt to changing circumstances and address the most pressing environmental and social challenges, (currently climate change & displacement)
Mission
Prioritize equity in green workforce development. Expand the narrative of green locations.
Examine and shape change in work cultures;

Build more equitable pathways to employment

and organizational leadership and entrepreneurship,

and strengthen networks of support  for those most impacted by a changing climate;

Cultivate and

fairly c

ompensate the next generation

of leaders;

Invest in people and projects that have direct impact on climate justice
Programmatic Areas
Internal City Pathways
ACCC internal pathways is a cross-departmental effort that consists of 53 temporary staff positions hired as individual placements within specific green job fields. These ACCC members and specialists gain exposure to environmental careers through hands-on-experience, job shadowing, mentorship, career portfolio building and exposure to equity-based green workforce curriculum. Job placement after their term is a main focus. The specialists are people who have successfully matriculated through the program who serve as team leads for the newer members and work to expand their pathways. More on Internal Pathways
 Current pathways include:
Forestry & Land Management

Forestry & Land Management is a collaboration between the Parks and Recreation Natural Resources Division's Land Management, Urban Forestry units and with the Youth Forest Council within Development Services Department's Urban Forestry. We reduce barriers into forestry careers, build a network of support,and provide hands-on-experience, training, and mentorship. Projects on public land include: planting, restoration and maintenance of natural areas, forest health analysis, invasive species mapping and control and environmental education.

Pathways to employment- Forestry

This video showcases and introduces what the Forestry pathway is and the opportunities that it brings, helping find jobs for its current employees.

ACCC Pathways into Urban Forestry-Climate Equity & Partners 

This video will act as a way to increase funding for the Urban Forestry pathway to employment model and will show our partners what we're doing. This pathway and its partners include ACCC, the Urban Forestry Units, and DSD's Youth.

 

Green Stormwater Infrastructure

Green Stormwater Infrastructure is a partnership with our Parks and Recreation and Watershed protection department to provide exposure to water conservation careers. This team supports the design process, installations, & maintenance of green stormwater infrastructure for residential and public land.  The team works with Urban Patchworks, the vendor for the Rain Catcher Pilot program, to expand opportunities for residential scale green stormwater installations. The National Wildlife Federation and Hill Country Alliance have sponsored some of this work. 

Pathways to employment- Green Stormwater Infrastructure

This video showcases and introduces Green Stormwater Infrastructure Pathway to employment.  This pathway and its partners include ACCC, Watershed Protection Department, and Urban Patchwork. 

Environmental Education

Environmental Educationis a partnership with our Parks and Recreation, Watershed Protection Department, and Development Services Department that provides exposure to environmental education careers and provides nature focused programming in recreation centers, playgrounds, parks and other spaces to hundreds of people each year. Here are some of the programs that this team supports: Watershed Protection Department's Earth Camp and Earth School, Park Rangers Junior Ranger Program , Camacho Activity Center's Dirt Diva Program and family kayaking events, Development Services Department's Urban Forestry's forest related youth programs at libraries.

Digital Media & Communications

Employs members of the community in communications related to ACCC planning and networking. This pathway is designed to shape the marketing and communication direction of ACCC. The team works to tell the story of ACCC using a variety of tools and technology to produce photos, videos, website content and more.

Museum and Cultural Programs

Exposes participants to professional development training, including public speaking, setting values and goals, creating resumes, and practicing interviewing for jobs. Jobs will include helping run summer camps at the George Washington Carver Museum, Asian American Resource Center, Dougherty Arts Center and Mexican American Cultural Center.  They collaborate on  major public events such as CelebrAsia, Midsommar and Juneteenth. Other projects include creating environmental artworks, working on landscape improvements, assisting artists and giving tours.

New Exhibit:  To Carve: Cemetery Monuments    To Carve takes a look at the monuments and markers of Oakwood Cemetery. Attention is given to the shapes, symbols and carved details found in the different types of stone within the cemetery grounds. These functional works of art are also interpreted and paid tribute to by Austin artists through different mediums of expression.  There are about 15,000 monuments for the approximate 23,000 burials within the 40 acres. Monuments are made of granite, marble, limestone, concrete, zinc, wood, and metal. There are five mausoleums, many obelisks and angels, plus hundreds of examples of architectural shapes and fonts. Symbols can be complex and mysterious, containing within them a thinly veiled message from the past. Cemetery expert Tui Snider leads a video tour of symbolism. A college art class creates digital monuments in Augmented Reality. Artists interpret their favorite monuments. Exhibit link: https://arcg.is/qiaCO0 

Works in Progress (WIP)

Works in Progress is an immersive program that prepares teens living in Austin for careers in the arts. Through workshops and networking, students will develop their professional skills, prepare for artistic careers and education beyond school, and meet with industry professionals and working artists. The goal of the program is to encourage students to follow their artistic passions and explore the diverse paths available in the creative industries. WIP members supported Dougherty Arts Center (DAC) camps and public events like the film screening of Yellow Rose and DAC Pride night.

Caminos

Created by the Latino Quality of Life Commission, Caminos is a pathway program in collaboration with the Emma S. Barrientos Mexican American Cultural Center (ESB-MACC). Caminantes gain support, career exposure and professional development relating to arts and creative sectors. In addition to training, they help do event production, curate community youth exhibits, produce a teen mental health conference and create digital media programming aimed to serve the ESB-MACC's mission. 
External Pathways & Partnerships
ACCC partners with non-profits and other organizations who have existing programs who seek to support the mission. These partners employ, train, mentor and support participants with job placement. We ask partners to center equity in program design and be open to examining and changing their own culture. ACCC partners with:
American Youth Works

Texas Conservation Corps (TXCC)

ACCC partners with the TXCC at American Youthworks to provide career exposure and hands-on experience to 8 to 10 person conservation corps crews. The ACCC crew pathway builds leadership skills and prepares young people to enter the workforce with a strong work ethic and sense of service through hands-on conservation work. AYW provides young people with opportunities to build careers, strengthen communities, and improve the environment through education, on-the-job training, and service to others. Below are the specific Austin Civilian Conservation Crews:

Eastern Crescent Crew: This workforce service crew provides vegetation control, general forest health maintenance, and trail and fence building to Onion Creek  and within Austin's Eastern Crescent . This team is composed of local Austin residents able to participate and learn on public lands directly related to their neighborhoods.

Wildfire Mitigation Crew: This crew was a partnership of the Parks and Recreation Department and Austin Water to perform fuel reduction on public lands and wildfire mitigation on public land.

Parks and Preserves Crew: These crews work currently on preserve land for the Parks and Recreation Department performing trail building, fuel thinning, invasive removal and land management activities in line with the Natural Systems section of the climate equity plan.

For more information, here's the link to American Youthworks' website https://americanyouthworks.org/programs/cc/join/ 

Learn more here:

This pathway trains residents in construction, green building and solar installation. The five-week program provides extensive experience and certifications in building-related topics, and job placement. Participants also completed a week of hands-on work at Community First! Village, which provides affordable, permanent housing and a supportive community for residents coming out of chronic homelessness. This pilot produced 100% job placement after participant completion.  ACCC is currently investigating how to expand this pathway into another cohort and future partnerships to include hourly wage for participants.
Research and Capacity Building
During it's initial pilot year ACCC conducted 3 reports to help guide the programmatic direction.
Research

In 2022 ACCC partnered with Build with Humanity and MEASURE. These two organizations are owned and operated by people of color with strong ties within communities of color as well as other underserved groups that may realize significant benefits from participating in the ACCC, but who often face barriers to accessing such programs.These two research initiatives is helping ACCC to build an understanding of the program's potential users, their current and potential future needs, their desires for income and career training, and their current and potential future barriers to participation. .In addition to these partnerships, ACCC collaborated with the University of Texas' School of Architecture's Community and Regional Planning Program to provide a framework for defining green jobs within the local context and to provide an outline of current and future green job growth. This report will help to shape the long term potential pathways of growth for future ACCC investment. These three reports will guide the programmatic outcomes of ACCC.

What Works in Works Programs: Building Equity in the Austin Civilian Conservation Corps conducted by MEASURE's Shadeequa (Dee) Miller and Janis Bookout. This report provides historical context to workforce development and provides recommendations for the ACCC program to reduce barriers for participants.  MEASURE used equity focused focus groups and an online survey to better understand the needs, desires and barriers experienced by communities most impacted by the pandemic in order to improve ACCC. The summary of this report's finding is detailed in the research section. Key take-aways and findings:

Offer sick leave and paid time off

Strengthen job placement support

Build more relationships with community organizations

Offer more programs based on interest

Implement case management and make career advancement a structured part of the program

Include representative program participants and members of the targeted community in planning meetings

Ensure that program leadership should be able to relate to the population served

Collaborate with program partners to re-evaluate their roles in the program

Lived Experience & the Austin Civilian Conservation Corps  by Build with Humanity presents a systems map of the current economic conditions facing Austin communities including micro, meso, and macro level drivers. The recommended points of integration provide effective avenues for service focused on the intersection of workforce development, sustainable development and COVID-19 pandemic recovery. This report provided a system mapping framework to better inform the design of ACCC to center equity and to address community workforce needs, The goals of system mapping in this report are to:

Define core elements of the problem(s) being tackled by the ACCC (community sustainability, employment, and workforce development)

Define and explore relationships between elements within the current employment system that serves the ACCC's target audience.

Prioritize and affirmatively target key points of leverage to understand opportunities to make ACCC more effective

Scope the domain(s) of exploration we intended to pursue in our lived-experience research with the communities we serve.

Expanding Pathways to Quality Jobs in Austin's Growing Green Economy (PDF) - This report released in the summer of 2022, will assist with future analysis of workforce sectors for green job growth. This study also included a Photovoiceresearch methodology which gathered first hand experiences of ACCC members in the field to help inform future programmatic design to address participant needs.

Green Workforce Accelerator Program: Capacity Building for Advancing Partnerships

In the fall of 2021, the City wanted to expand the number of types of potential partner organizations with programs that align with the ACCC goals and mission, and that inform strategic outcome areas, indicators, and metrics of theCity's Strategic Direction 2023 (SD23). Through the Green Workforce Accelerator, the ACCC has partnered with the City of Austin Office of Innovation to support organizations and businesses that want to expand their current capacity or build new programs that can employ Austinites, develop their career opportunities, and advance positive sustainability and resilience outcomes.

We know that there are social entrepreneurs and innovative organizations in Austin who are developing solutions that could work with or alongside the ACCC and make our collective impact even stronger. That's why we're investing $10,000 in each participating organization to further develop their solutions and create evidence around how they may work with or alongside the ACCC.

Grant Details-Grant awardees will validate whether their solutions can align with and help achieve the mission and goals of the ACCC, and what their relationship with the program might be. The grant award of $10,000 is meant to give organizations support as they focus on developing their solution, and add capacity to gather evidence on potential ACCC and SD23 alignment.

 

Throughout the accelerator, organizations will gather evidence around the following lines of inquiry:

How might your solution contribute to the mission and goals of the ACCC? To the outcome areas, indicators, and metrics in SD23?

How might your solution work alongside, or with, government?

Grant awardees will provide the City of Austin ACCC program with a midterm progress report and a full report at the end of the accelerator. Reports should include knowledge, results, and evidence like:

Development milestones

Project outcomes

How your solution is contributing SD23 strategic outcomes, indicators, and metrics, and the ACCC mission and goals

Advancement or continuation of racial equity goals in advancing green workforce development within your organization or in your product or service delivery

Evaluation methods and results

User feedback and results

Key learnings and next steps

Budget synopsis

If you think your solution might align with the ACCC, we encourage you to submit an application.
Background & Our Story
On May 7, 2020 the Austin City Council approved Resolution No. 20200507-061 . This resolution created the Austin Civilian Conservation Corps (ACCC) as a re-employment and workforce development program in response to the COVID-19 pandemic. ACCC was inspired by the original Civilian Conservation Corps (CCC) of the 1930s, which was part of Franklin Delano Roosevelt's New Deal work programs. However, the ACCC acknowledges the CCC was rooted in systemic racism and perpetuated unequal outcomes and has created a program that centers equity. 
In its first pilot year, ACCC created jobs for 100 individuals over 11 different projects. In 2022, ACCC transitioned to the Parks and Recreation Department (PARD) to continue cross-departmental collaboration. Since the transition to PARD, ACCC has an expanded  programmatic focus beyond pandemic response to address the overarching strategy of expanding green jobs through workforce development as outlined in the Austin Climate Equity Plan adopted in September of 2021. ACCC prioritizes working with communities who have been historically most impacted by extreme weather and will continue to bear the brunt of impacts as climate change accelerates, including low-income communities, those experiencing homelessness, and BIPOC (black indigenous, and people of color) communities. 
ACCC has added pathways into employment within the City of Austin (COA) to expand workforce opportunities to include the COA's own critical workforce needs. We currently have 52 additional  ACCC members and specialists who are completing green job exposures and training pathways internal to the city of Austin.  ACCC is also working within various departments to align current workforce needs with the current and future pathways of ACCC programming. 
We have hopes of the program becoming permanent. However, we see the next 1.5 years as a time to trailblaze: strengthen relationships, catalyze culture change, establish new processes,  jumpstart certain programs, expand access, and provide employment to those most impacted by climate change.