Austin Resource Recovery is conducting a pilot program to gather information about composting at multifamily properties in order to inform future policy discussions. This pilot will help the City to better understand the unique challenges faced by Austin multifamily properties and will provide participating properties the opportunity to test composting at their communities.
Although having a new service can feel overwhelming, it doesn't need to be. Follow this guide and you will be composting like a pro in no time. 
Use your community composting service
Step 1

Place food scraps, food-soiled paper, house plants and natural fibers into your kitchen collector or a paper bag. If it grows, it goes!

Step 2

Empty your kitchen collector into the community composting container.

Step 3

Rinse out your kitchen collector (if necessary) and fill it up again.
Learn what to compost in the community container; if it grows, it goes
For a complete, up-to-date list of accepted materials, please contact your property manager.
Food scraps

Cooked or raw meat, poultry and seafood (including bones), cheese, dairy products, fruits, vegetables, grains, pasta, eggshells, bread, coffee grounds, tea bags, tea leaves, baked goods, nuts, jelly, candy, snack foods, leftovers, spoiled food.

Collection tips

Use a kitchen collector to collect materials right in your kitchen. Place in a BPI-certified compostable bag, a paper bag, or another paper collector.

Compost more 

Because the material is processed at a commercial facility, the compost pile heats to very high temperatures, which can break down items like meat, dairy, seafood, seafood shells and bones, which typically cannot break down in a backyard compost pile. With this program, these items can be composted.

Keep these items out

Do not include liquids, fats, oils, grease, plastic, glass, metals, styrofoam.

House plants

Plants, flowers, leaves, stems, straw.

Keep these items out

Do not include rocks, soil, tree stumps.

Food-soiled paper

Paper bags, paper napkins, paper towels, paper plates, paper cups, paper take-out containers and take-out boxes (with no plastic or wax coating, and with metal removed), pizza boxes, coffee filters, microwavable popcorn bags, newspaper, tissues.

Collection tips

Paper can be dry or wet. Place directly into the community composting container, or place in a paper bag.

Keep these items out

Do not include glossy paper or window envelopes; recycle these items instead. Always place clean paper products in the recycling so they can be recycled into new paper products.

Natural fibers

Popsicle sticks, shredded paper, toothpicks, wooden chopsticks.

Collection tips

Place directly into the community composting container, or place in a paper bag.

Keep these items out

Do not include cotton balls or cotton swabs.
---
Keep these out of the community composting container
Prohibited items cannot break down into nutrient-rich compost and can cause a safety hazard for collection crews. Check the list below to find out what to keep out of the community composting container:
Aluminum
Animal carcasses
Ceramics
Cigarette butts and ashes
Clothing
Cotton balls and cotton swabs
Diapers
Glass
Glossy paper
Hazardous waste
Kitty litter

Liquids (including fats, oils, grease)
Medical waste
Metal
Pet waste 
Plastic of any kind (bags, bottles, containers, straws, etc.)
Rocks
Styrofoam
Trash
Tree stumps
Wine corks 
Wood that is treated or painted
Make collecting food scraps easier with a kitchen collector
A coffee can, food storage container or any other reusable container can be used as a mini compost collector in your kitchen. Collect food scraps in this container to easily set aside material for the community composting container.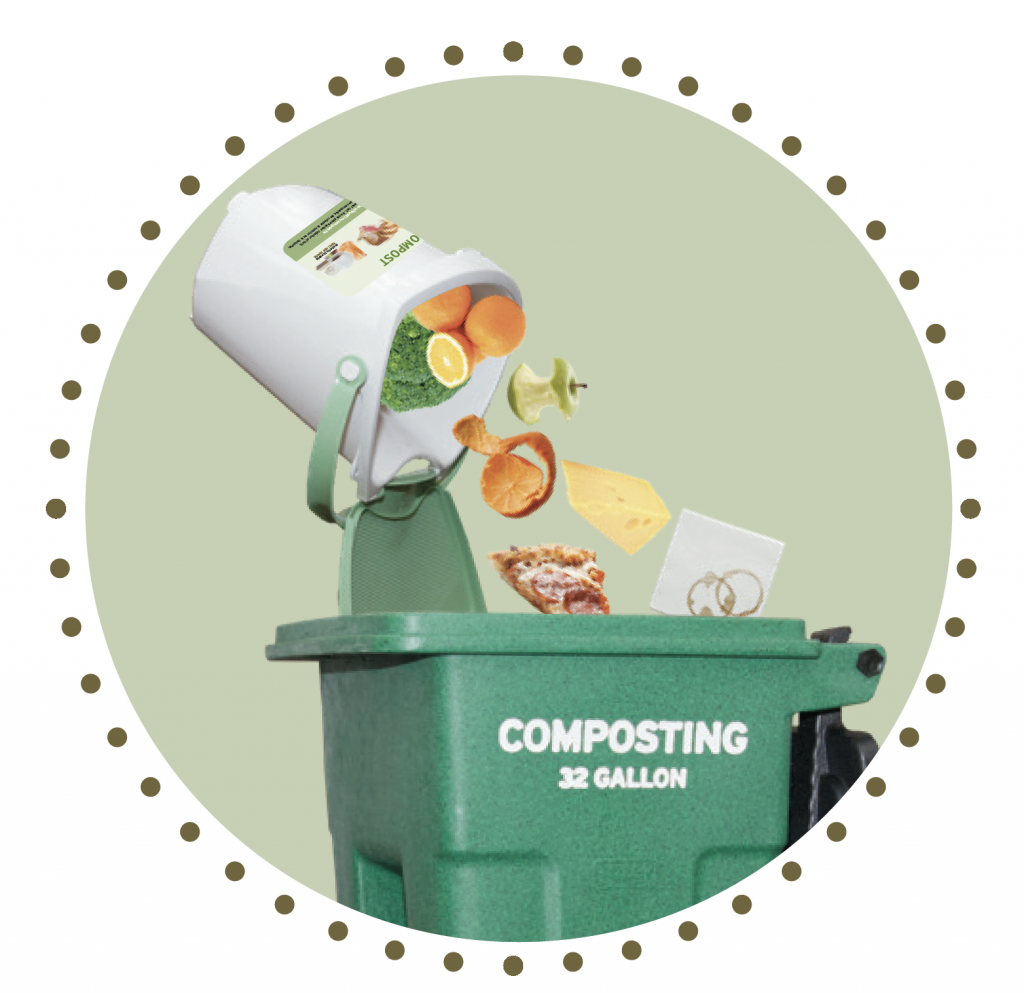 Keep your kitchen collector in a convenient location in your kitchen, such as on the countertop, under the sink or in the freezer.
While cooking or cleaning up, place leftover food scraps and food-soiled paper into your kitchen collector.
Empty the contents of your kitchen collector into the community composting container
---
 Keep everything clean
Follow these tips to help reduce odors and moisture in your kitchen collector.
Sprinkle baking soda inside of the kitchen collector. 

Collect food scraps in a cereal box or tissue box. Remove plastic lining.

Wash your kitchen collector in the dishwasher or by hand after emptying it.

Freeze food scraps like meat, poultry and fish in your kitchen collector until it's time to place them in the community composting container.

Line your kitchen collector with a BPI-certified compostable bag, paper bag or newspaper to absorb moisture. (Properties with valet waste services must place compostable items in a sealed, BPI-certified bag.)
BPI-Certified compostable bags have been tested and approved by Biodegradable Products Institute scientists to ensure they will break down completely, quickly and safely during the composting process. Look for the BPI logo on the box (or ASTM-D6400 posted in product details) when purchasing compostable bags and other compostable items. If the compostable bags or item you want to purchase does not list this certification, it may not actually be compostable. There is marketing out there for "biodegradable" products, but unless they meet the standard above, they are not accepted at the facility.

The following stores have reported carrying compostable bags for sale: Bed Bath & Beyond, Costco, H-E-B, in.gredients, Natural Grocers, Sam's Club, Sprouts, Target, Wal-Mart and Wheatsville. Inclusion in this list does not constitute an endorsement or recommendation of any particular business by Austin Resource Recovery or the City of Austin. Austin Resource Recovery does not guarantee that businesses will have bags in stock at any given time.
---
Learn about the composting process
The materials collected in your kitchen do not go to a landfill. They are transformed into a natural resource!
| | |
| --- | --- |
| | Your composting service provider collects the material from your community and transports it to a local commercial composting facility. |
| | The material is placed in a large pile, where microorganisms begin to break it down and heat up the pile to very high temperatures. |
| | After about 12 months, the material breaks down and is transformed into an earthy, soil-like material called compost.  |
| | Compost is used to fertilize plants, gardens and other outdoor areas. |
Get a PDF version of this guide
You can download a PDF version of this guide in English or Spanish.