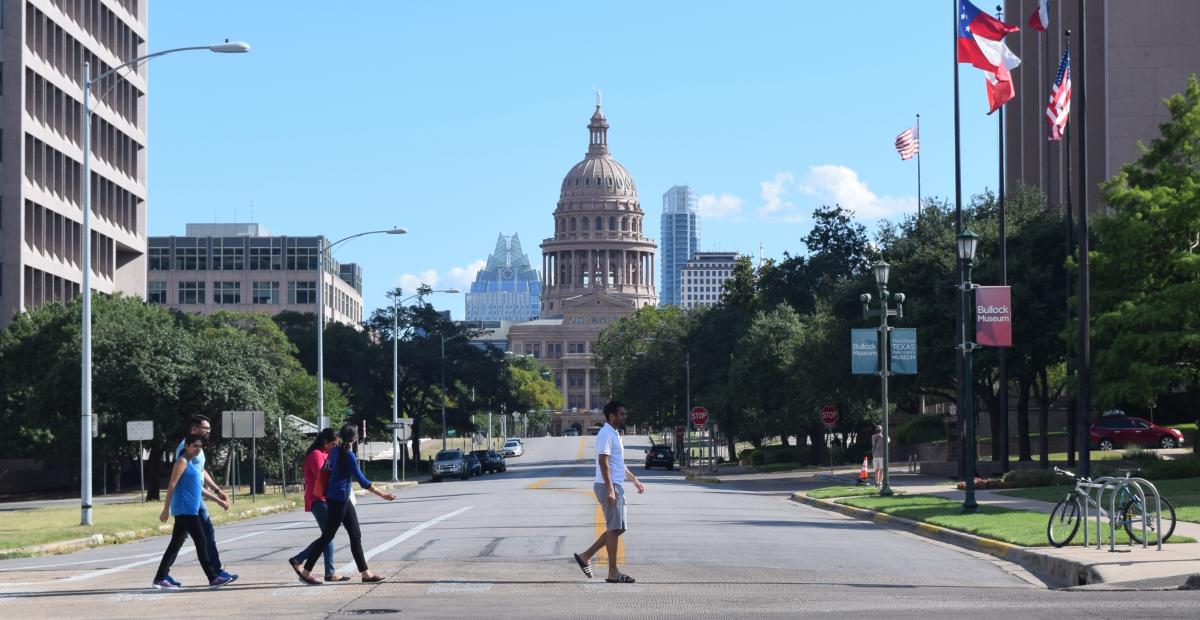 Walking is a great way to travel around Austin, and we're working to make it even better. The City of Austin's Pedestrian Program works to advance a safe, connected and appealing environment for people walking on our streets – and encourage walking and safe behaviors.
Walking delivers many benefits for our residents and our community as a whole. It's affordable transportation, a healthy daily habit, and friendly to the environment. Every trip begins and ends with a pedestrian trip, including transit and vehicle trips. Walking for short trips – to lunch, to run an errand, to school – makes it easy to meet the recommended fitness goal of 10,000 steps a day.
Pedestrian Program Areas
Safety Initiatives
Designing Streets for People Walking
Encouragement, Education and Enforcement 
Austin Transportation Department Crossing Guidelines
The ATD Crossing Guidelines provide guidance on the selection of appropriate safety treatments at uncontrolled crossings and are adapted from national research and guidance with further calibration to account for local context. This document offers treatments that may be appropriate for new crossings or crossings requiring further enhancements to meet safety standards based on vehicle speeds, volumes and roadway configuration, however, in all cases the final determination of the appropriate treatment(s) requires approval from the City Traffic Engineer or their designee.
Pedestrian Safety and the Law
See our Pedestrian Safety and Law brochure, which explains what every driver and pedestrian should know about pedestrian laws to promote a safe environment for people walking in Austin. 
Community Input
The City's volunteer Pedestrian Advisory Council, advocacy groups and diverse Austinites and groups actively help to shape our work. On individual projects, a public process invites neighborhood and stakeholder input. It includes people traveling as pedestrians with wheelchairs, scooters, or other assistance. The City is continuously upgrading sidewalks, ramps, and the pedestrian network to make it ADA accessible.
Contact
For sidewalk or street service requests, call Austin 3-1-1 (or 512-974-2000) or submit issue online.
Featured Video
Have you ever wondered whose voice you hear when you push a signal button? We introduce you to Austin Transportation's Lupe Alvarado, the person behind most of Austin's voice-guided signals and a growing population who depends on this guidance every day. Watch the video:
Pedestrian-Related Programs and Resources: Public Works Department