Bibb Augustus Falk (1899-1989), was a major League baseball player and UT coach who was respected both on the diamond and in the bullpen or behind the desk as coach for University of Texas, Austin. Falk played baseball his entire life. Beginning on the sandlot he played throughout high school and into college where he pitched for the University of Texas before signing his first contract in the summer of 1919 with the White Sox.
Falk played very little that first season, until the final three games against the St. Louis Browns. The Sox were fighting for a pennant when a Philadelphia newspaper published allegations that the 1919 World Series had been fixed. Players associated with the scandal were immediately suspended and seven of their best players were permanently sidelined and Falk was put in for Shoeless Joe Jackson.  
Photos courtesy of TLSN
During hitting practice in Chicago Falk earned his nickname, Jockey. He'd make comments about a player heading to the cage and have one of his teammates relay it to the guy in question as he walked by, thereby rattling his concentration. Falk asserts he wasn't riding anybody, he was simply kidding around and 'jockeying' between players.
Falk played for the Chicago White Sox, 1920-1928, and the Cleveland Indians, 1929-1932. He had a .314 batting average in 1,354 games. Falk had an 11 year run in the majors, playing his last game Sept. 23, 1931.  In 1924 he finished 2nd to Babe Ruth for the Hitting Crown and was a great outfielder making only 3 errors. 
After a few years in the Midwest coaching and managing teams from Chicago to Boston, Falk returned to Texas as a scout for the Boston Red Sox. He returned to UT Austin in 1940 as head baseball coach to the Longhorns at the request of his mentor and good friend, Coach Billy Disch. However, two years later he enlisted in the U.S. Army Air Corp when threats of WWII began to grow. He was stationed at Randolph Field and became head coach of their baseball team as well as trainer for the Ramblers, the Randolph Field football team. 
Photos courtesy of TLSN
After the war, Falk returned to UT where he shared coaching responsibilities with his old friend, Billy Disch. While Disch was alive, Falk was 'field coach' while Disch remained head coach.
He guided the Longhorns on to win 2 National Championships and 20 conference titles, finishing with a 478-176-10 record. In early 1975, the University of Texas completed construction of the $2.5 million Disch-Falk Field, honoring Billy Disch and Bibb Falk, two men who served Longhorns baseball faithfully for years. In 1988 he was inducted into the Texas Baseball Hall of Fame and then the College Baseball Hall of Fame in 2007.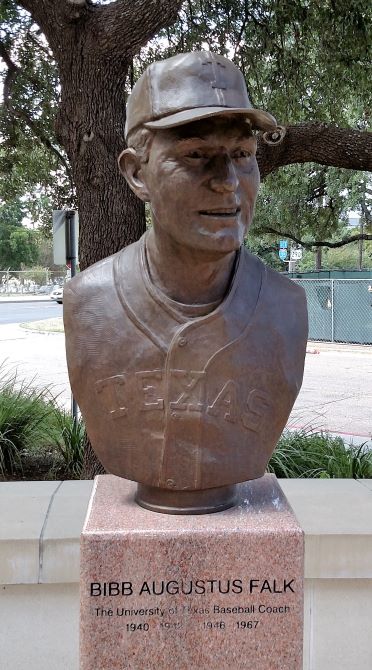 Photos courtesy of TLSN
During Bibb 'Jockey' Falk's 8-year tenure with the White Sox, he is distinguished as one of their top ten all-time doubles (245) hitters. On the field and off Bibbs wasn't known to mince words. A world-class cusser, his most contemptuous epithet was "bush league," and he would not tolerate anyone wearing a Texas uniform acting in an unprofessional manner.
Falk's advice? Swing hard and hit even. Simple, straight-forward and successful, Bibb Falk was a respected pitcher, hitter and coach. He passed on to his Field of Dreams at age 90 on June 8, 1989 and is buried alongside his family in Austin Memorial Park Cemetery, Austin, Texas.