Meet our new employee: Sydnee Landry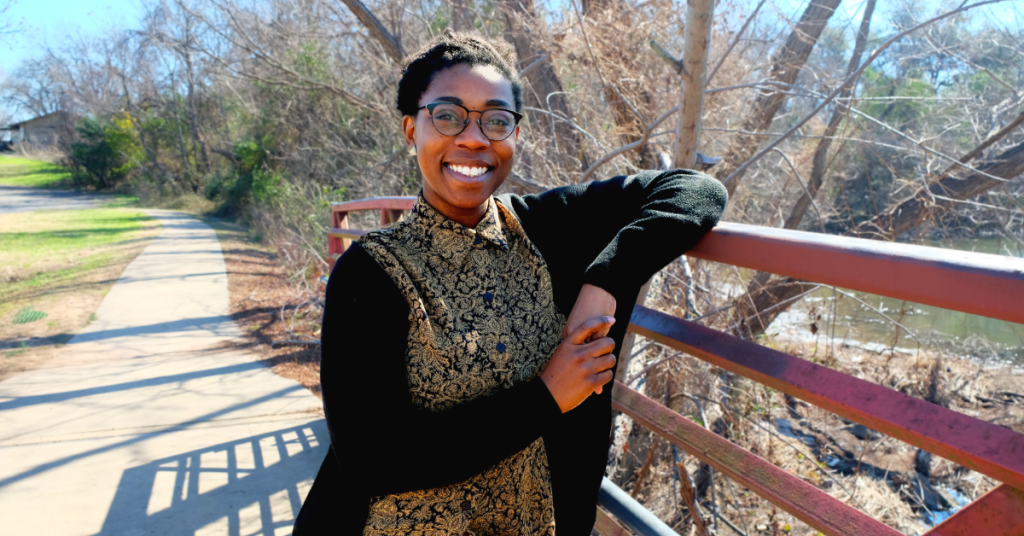 We're excited to welcome Sydnee Landry, the Office of Sustainability's newest team member! Sydnee joins our team in the role of Climate Equity Engagement Associate. In this role, Sydnee will be managing the Community Climate Ambassador program to support the implementation of the Austin Climate Equity Plan. We asked Sydnee a few questions to learn more about her, her passions, and what drew her to this new job.
Q: Where are you from, and what do you like best about your hometown?
A: I grew up in the Houston area. Something I really appreciate about the area is its diversity. Having friends from all kinds of cultures was really the norm for me as a kid, so it wasn't until I became an adult that I realized that isn't the norm for everyone else. Now in hindsight, I see that I'm fortunate to have grown up around a variety of cultures. 
Q: Tell us a little bit about yourself and what interested you in joining the Office of Sustainability.
A: When I stumbled upon the Office of Sustainability's Climate Ambassador program, what really stood out to me was its focus on community engagement. Engaging as many communities as possible is vital to coming up with equitable sustainability solutions, so I think it's really important that this work is done. More people are being forced to face the realities of extreme weather events, so I think that more people are wanting to get involved and figure out how they can protect their communities. I would love to help the Office of Sustainability seize that momentum and make space for people to talk about climate change openly. 
Q: What are you most excited to accomplish during your time with the Office of Sustainability?
A: I'm looking forward to connecting with and learning from the community members that take part in the Community Climate Ambassador program. I'm also hoping that I can spotlight some of the great work that folks might not be aware is already happening in communities throughout Austin. 
Q: What are some of your favorite things to do or places to go in Austin?
A: I love taking walks around Zilker and going to different pop-up markets around town. Every weekend it seems like there's a different market to go to! Markets have been an awesome way to connect with local artists and vendors. I'm also a big coffee fan, so checking out new coffee shops has been a highlight of my Austin experience, too. 
Q: What is your favorite sustainable thing to do in your personal life?
A: I love trying new plant-based dishes around Austin! It seems like restaurants are starting to get a lot more inventive and creative with their plant-based options, so that's been exciting to see. 
Q: What is your favorite food and why?
A: Probably pizza. I basically eat it every week, and I'm one of those weirdos that likes pineapple on it!