Susanna Wilkerson Dickinson
Susanna Wilkerson Dickinson is best known today as a survivor of the Alamo. Like many of those known in early Texas history, she was born far from here in Tennessee and in 1829 she married Almeron Dickinson. The couple moved to Texas almost 2 years later and arrived at Gonzales, TX along with fifty-four other settlers. 
The Dickinsons lived just north of town on the San Marcos River, where Susanna had at least one boarder in the house that helped to supplement their income. 
In October of 1835 Mexican troops from San Antonio demanded the return of an old cannon that had been lent to Gonzales four years earlier. It is likely Susanna and her daughter joined other families hiding in the wooded area along the Guadalupe River while this was going on.
This event is known as the Battle of Gonzales and was the first fight of the Texas Revolution. Almeron left on October 13 with the other volunteers for San Antonio under the command of Stephen F. Austin while Susanna and her daughter, Angelina, followed a few months later.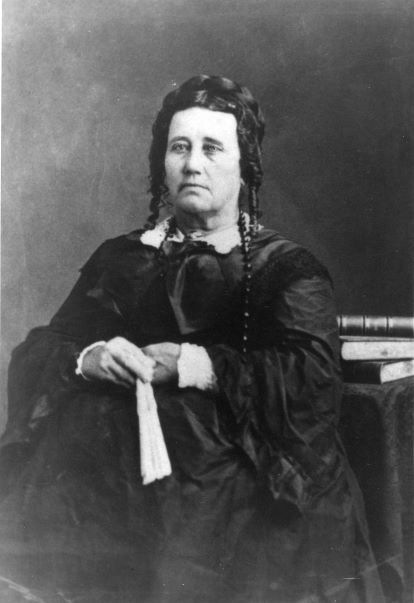 Photo Courtesy of Susanna Dickinson Wilkerson Museum
After the Battle of the Alamo on March 6, 1835 Mexican soldiers found all of the women and children and took them all to Ramón Músquiz's home.
Santa Anna interviewed and released the other women and children and sent Susanna and her daughter to Sam Houston with a letter of warning.
She met with Houston in Gonzales, but then not much is known about her location for the rest of the revolution. She likely followed the army eastward with the other Gonzales women and may have fled with them as part of the Runaway Scrape. She petitioned for a $500 pension from the Texas Government in 1836 but was denied. Without any means of support, she eventually married John Williams in November 1837. He began to beat her and Angelina, and she petitioned in Harrisburg (later Harris) County for a divorce, which was granted on March 24, 1838—one of the first divorces in the county.
Eventually, as Almeron Dickinson's heirs they received rights to 2,560 acres for his military service; they sold the land when Angelina reached twenty-one. Subsequent requests to the state legislature in November 1849 were turned down. 
Susanna married again a few more times. She wed Francis P. Herring in 1838 and he died in 1843. In 1847, she married Pennsylvania drayman Peter Bellows, but by 1854 Susanna had left Bellows, though he didn't file for divorce until 1857. The divorce petition may have accused her of taking up residence in a "house of ill fame." but this didn't stop the praise from the Baptist minister Rufus C. Burleson for her work nursing cholera victims in Houston.
The last time she was married was to Joseph William Hannig in 1857. He was an immigrant from Germany living in Lockhart. They soon moved to Austin, where Hannig became prosperous with a cabinet shop then furniture store and undertaking parlor. Susanna became ill in February 1883 and died in October. Hannig buried her in Oakwood Cemetery, and even though he married again, he was buried next to Susanna after his death in 1890.