William H. Holland was born a slave in Marshall, but the exact year is not known for sure. In Negro Legislatures of Texas his birth year is recorded as 1849 but other sources like Dictionary of American Biography has it listed as 1841. He and his brothers were likely the sons of Capt. Bird Holland, a white man who bought their freedom and moved them to Ohio in the late 1850s. William and his brother Milton attended the Albany Enterprise Academy, a black owned and operated school.
In 1864 Holland enlisted in the Union Army's Sixteenth United States Colored Troops. Holland participated in the battles of Nashville, the Overton Hill campaign, and in the pursuit of John Bell Hood. 
He also did garrison duty in Chattanooga and eastern and middle Tennessee. His brother Milton enlisted as well, but in the 5th US Colored Troops and won the Medal of Honor for his role in the battle of New Market Heights in 1864.
After the war, Holland attended Oberlin College for two years before returning to Texas and teaching in multiple counties and in many of the city schools of Austin. He was also appointed to a position with the Austin post office.
In 1873 Holland was on the committee at the Colored Men's Convention in Brenham to discuss support for friendly race relations, a federal civil rights act, open political meetings, black landholding, internal improvements, immigration to the United States, President U. S. Grant, and the Republican party, as well as criticism for the violence faced by blacks and efforts to repudiate state debts.
In 1876 he won election to the 15th Legislature as a representative and sponsored the bill establishing the Prairie View Normal College (now Prairie View A&M Univ) and in 1876 and 1880 he was a delegate to the Republican national convention.
He later submitted to the Texas legislature for the est of a school for the deaf, mute, and blind in Texas. The Deaf, Dumb, and Blind Institute for Colored Youth was established April 5, 1887 (became part of the Texas School for the Deaf in 1965). About $50,000 was appropriated to build the school 2 miles outside of Austin and the school offered instruction in trades like broom, mattress, and shoe making as well as repair work and cooking. Holland himself was appointed as the first superintendent by Governor Ross making him the first black man in the United States to head a public institution. His wife, Eliza, also joined the staff in 1890 as an instructor. Holland remained for ten years before being succeeded by S. J. Jenkins, who served until he died in 1904. Holland resumed the position and served until his death in 1907.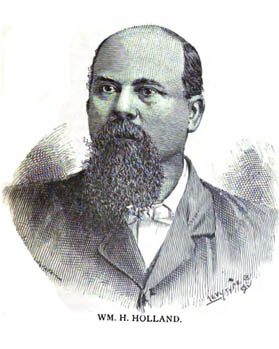 Image: drawing of William Holland courtesy of Austin History Center, Austin Public Libraries