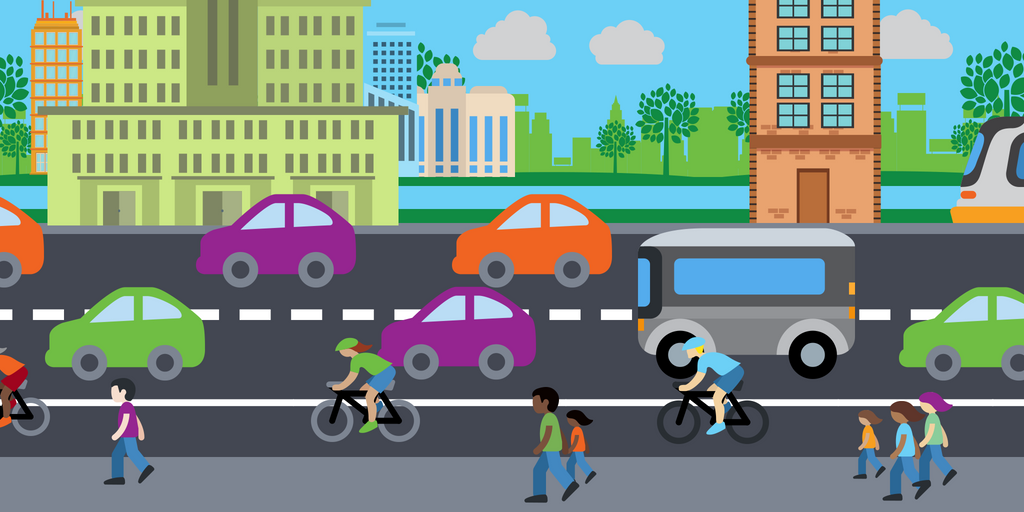 The Austin Strategic Mobility Plan (ASMP) is the City's new transportation plan. It guides our transportation policies, programs, projects, and investments for the next 20+ years. The ASMP covers all the ways we get around Austin. This includes: driving, walking, bicycling, and taking public transportation like buses and trains.
Keep reading to learn more about the ASMP, what it will do, and how you can get involved with the ASMP.
Para español, vea esta página de internet.
Why do we have a new plan?
The ASMP helps all our transportation plans and programs work together instead of competing for space, funding, and support.
Our last plan was the Austin Metropolitan Area Transportation Plan. We adopted this plan in 1995. Austin's population has doubled since then, and we expect it to keep on growing.
The ASMP covers traveling to, from, and through Austin.
It can also help us win grants and save taxpayers' money on transportation projects.
What will this plan do?
The ASMP will build connections, improve our current systems, increase accountability, and plan for our city's long-term transportation future.
Building Connections
Covering all modes of transportation in one plan.
Making sure our programs, plans, and policies work together.
Connecting our transportation plan to Imagine Austin.
Improving Current Systems
Finding ways to make our roads, bus routes, sidewalks, and bicycle lanes more efficient.
Finding ways for more people to use all modes of transportation.
Increasing Accountability
Adding milestones to track our progress.
Planning for Austin's Transportation Future
Creating more travel choices.
Making sure our systems can adapt to new technology.
What's next for the ASMP?
Although the ASMP has been adopted, there's still work to be done! The ASMP team will continue to be in the community discussing transportation issues, learning about local transportation challenges, and discussing the ASMP as adopted by City Council. You can find the ASMP team at events listed on the Get Involved page or request a presentation from the team by filling out the presentation request form or emailing ASMP@austintexas.gov.
Staff from multiple departments are already hard at work beginning to implement our plan, with several next steps already underway! If you have a question about the implementation of specific action items or next steps, send the ASMP team an email. And look for our first progress report in 2020, including how we are doing on our targets and indicators.
Watch the video below for an animated overview of the Austin Strategic Mobility Plan!