WIC Mobile Unit Schedule
IMPORTANT: Mobile Unit schedules will change due to extreme temperatures or weather that would make travel or be outdoors hazardous. Please check our Facebook page for any updates on where the mobile unit is. Please check out monthly schedule.
 Questions? For the most up-to-date schedule, text the WIC Mobile Unit team at (512) 972-5860.
IMPORTANTE: Los horarios de la unidad móvil cambiarán debido a temperaturas extremas o clima que haría que viajar o estar al aire libre fuera peligroso. Consulte nuestra página de Facebook para obtener actualizaciones sobre dónde se encuentra la unidad móvil. Por favor revise bien nuestro horario de la unidad movil aqui.
¿Preguntas? Para los horarios más actualizados, puede enviar un mensaje de texto a nuestro equipo al (512) 972-5860.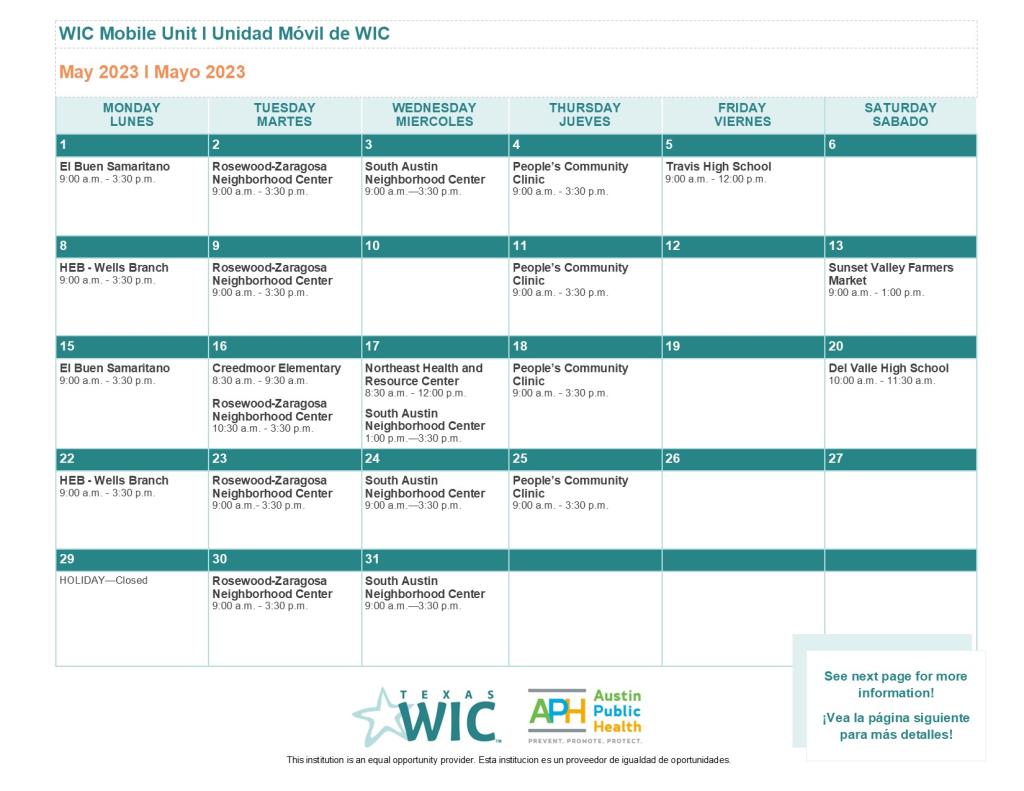 Mobile Units Locations I

Ubicaciones de

l

as

Unidades

M

ó

viles
Austin
· El Buen Samaritano: 7000 Woodhue Drive, Austin, TX 78745
· Northeast Health and Resource Center: 6711 Johnny Morris Road, Austin, TX 78724
· People's Community Clinic: 1101 Camino La Costa, Austin, TX 78752
· Rosewood-Zaragosa Neighborhood Center: 2800 Webberville Road, Austin, TX 78702
· SFC Farmers Market at Sunset Valley: 3200 Jones Road, Austin, TX 78745
· Travis High School: 1211 E Oltorf Street, Austin, TX 78704
Creedmoor
· Creedmoor Elementary: 5604 FM1327, Creedmoor, TX 78610
Del Valle
· Del Valle High School: 5201 Ross Road, Del Valle, TX 78617
Pflugerville
· HEB Wells Branch:  1434 Wells Branch Parkway, Pflugerville, TX, 78660
BASTROP WIC MOBILE UNIT 
Bastrop WIC will be providing mobile services in Bastrop County starting today Monday, May 2nd, and will no longer be located at 443 TX-71 Bastrop, TX 78602.
Please click here for the mobile unit schedule, where you can drop off your EBT cards for issuance.
Haga clic aquí para ver el horario de la unidad movil donde puede dejar sus tarjetas EBT para su emisión.