Behind the Scenes with AUS Project Manager, Robert Mercado: Navigating the Skies of the AUS Expansion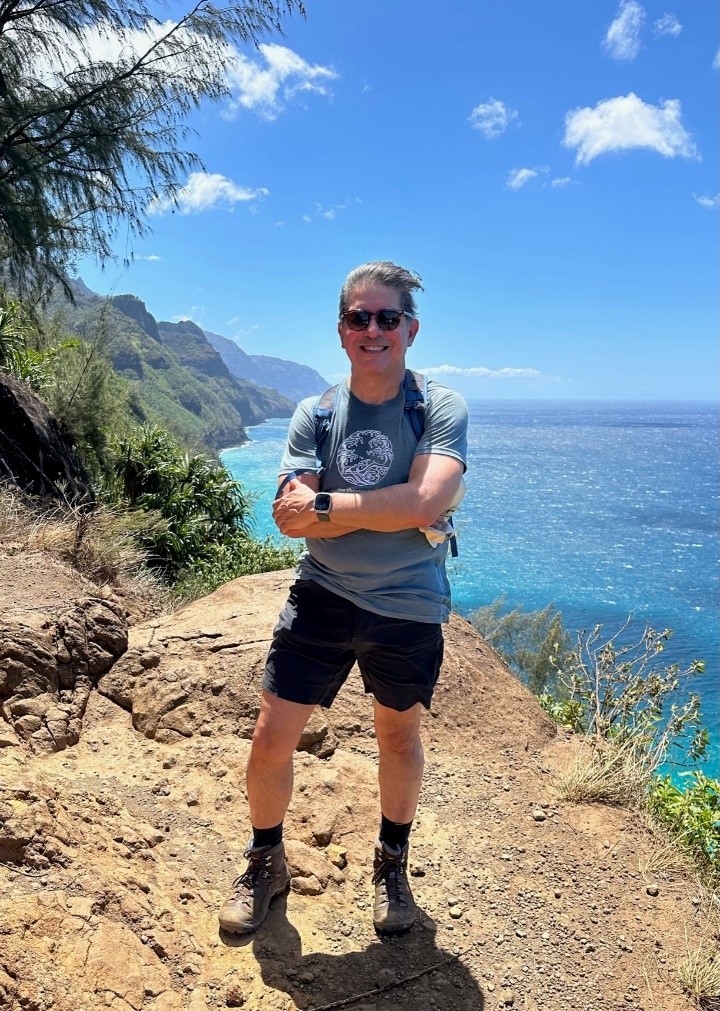 Meet Robert Mercado, one of the Project Managers behind the scenes, making things happen at the Austin-Bergstrom International Airport (AUS). If you have ever wondered who is responsible for many of our Journey With AUS airport improvement projects, look no further. Robert, Project Manager extraordinaire, is here to give us a glimpse into his life, his work, and his love for the city of Austin. Robert is a true Austinite through and through. Born and raised in Austin, he's a proud product of the city's rich culture and vibrant atmosphere. He attended Austin High School and the University of Texas at Austin School of Architecture. If you ever need a dining recommendation in the city, Robert's your guy – he's a self-proclaimed food snob and sushi expert, who enjoys treating his two sons to the finest culinary experiences Austin has to offer.
Twelve years ago, Robert embarked on a new chapter in his career when he joined the team at AUS as a Project Manager. The decision to work in aviation and project management came after receiving high praise for the airport's work environment from friends in the Planning and Engineering division. Robert's love for the city and a chance to contribute to its growth made the decision even easier. Since then, he hasn't looked back.
Robert thrives on challenges, and his favorite projects are the ones that keep him on his toes and he often reminds his project teams that "it wouldn't be fun if it was easy." One that stands out is the East Infill Project that was completed March 2016 and was the first major addition to the original airport building. This project touched every aspect of airport operations – from Customs and Transportation Security Administration (TSA) to baggage handling and rental car agencies. Robert believes that the more complicated a project is, the more fun it becomes. With the ongoing expansion of Austin's airport, he's eager for the next set of complex and exciting projects on the horizon. 
Outside of work, Robert has a few favorite ways to unwind in Austin. He's committed to staying active and healthy, incorporating regular workouts and yoga sessions into his routine. Additionally, he's an avid supporter of Austin FC, the city's soccer team. Robert has been a season ticket holder since the team's inception in Austin, and he never misses a home game.
"Creative, complex, and fun." Robert sums up his role in three words that capture the essence of his work at Austin-Bergstrom International Airport. To aspiring Project Managers and architects, he offers the simple advice to start young. This is a career that requires innovation, navigates complexity, and, most importantly, is incredibly enjoyable. Starting young allows one to enjoy it for a long time. While Robert might not have any airport-related quirks or superstitions, he does have a steadfast rule: project meetings start on time, down to the minute. His punctuality has become a hallmark, instilling a sense of discipline and professionalism in his project teams.
One of the most rewarding aspects of Robert's job as a Project Manager at AUS is the tangible impact he has on the community. He is currently the Project Manager for multiple Journey with AUS projects, the largest of which is the West Gate Expansion. This just started construction and will add 84,000+ square feet to the terminal over three levels. He takes his responsibility to serve the public seriously, and he's proud to be a part of the team that brings great projects to fruition. Robert Mercado is more than just a Project Manager; he's a passionate Austinite who's helping shape the future of Austin's airport. With his dedication to excellence and love for his city, the sky's the limit for what he and the exceptional people at AUS he works with can achieve.