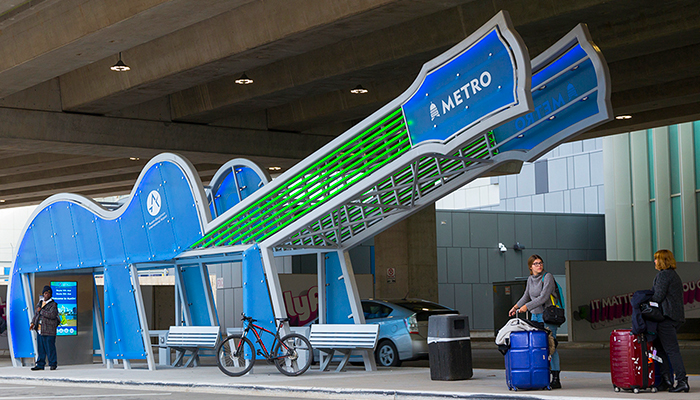 ---
Passenger Drop-Off
AUS is busy! Both the upper and lower level roadways are open for passenger drop-off. People dropping passengers off are encouraged to use whichever level has the least amount of congestion. Passengers getting dropped off on the lower level/arrivals can take the elevator, escalator or stairs up to ticketing and TSA security. 
If you require assistance, such as wheelchair service or an escort to your gate, please provide advance notice to your airline; they will assist you through the airport and the screening queue line. Visit our Accessibility page for more information.
---
Customers can choose from Economy Lot parking or one of our two parking garages. To see real-time parking availability, rates, and to book a parking spot ahead of time, visit ABIAParking.com. On-site parking at AUS is managed by ABIA Parking.
---
AUS Cell Phone Waiting Lot
The Barbara Jordan Terminal cell phone lot is available 24/7 for drivers waiting to pick up arriving passengers and is located at 2901 Spirit of Texas Drive. Click here to learn more about amenities and vendors at the AUS Cell Phone Waiting lot. 
You can also monitor flight arrival/departure times on your phone or device.
---
CapMetro is Austin's public transportation provider, operating buses, MetroRail, and more. Passengers traveling to Austin-Bergstrom International Airport can take Capital Metro's high-frequency Route 20. For more information, visit CapMetro.org or call 512-474-1200.
---
Rideshare and taxi drop-off for passengers flying out use the upper level/departures curbside for passenger drop-off. 
Rideshare and taxi pick-up for passengers flying into Austin is located under the Consolidated Rental Car Facility, just north or behind the Red Garage. Click here to see a map of rideshare pick-up from baggage claim.
Accessible rideshare pick-up
For passengers with mobility assistive devices such as wheelchairs, scooters, or crutches, or those who need additional mobility assistance, the Mobility Assistance Zone is free and open daily 7 a.m. to 2 a.m. for Wheelchair Accessible Vehicles, taxis and rideshares. Please visit our Accessibility webpage to learn about the Mobility Assistance Zone.
Take the tram to rideshare pick-up
AUS has 2 tram services for passengers to easily get to the rental car facility and rideshare/tax pick-up areas:
Shuttles

Carter Transportation (formerly known as Super Shuttle):

Airport Reservations: 1-512-BLUE VAN (258-3826) Sales: 512-929-3900 ext. 4 (after hours use ext. 2)  

Airport Transportation | Caring Hands2 Shuttle, LLC | Georgetown 

737.235.1076, info@cartertransportationaustin.com  

 

Limousine Services

Charter Services
---
Getting Around Austin 
Discover transportation options in Austin with

GetThereATX.com

– the ultimate resource to discovering easy, fast and more sustainable ways to travel around Austin. 

 
How To Pick Up Your Ride App & Taxi Passengers at AUS
Ground Transportation Rules
Ground Transportation Permit Application
1. COMPANY
2. GENERAL LINKS
3. TAXI