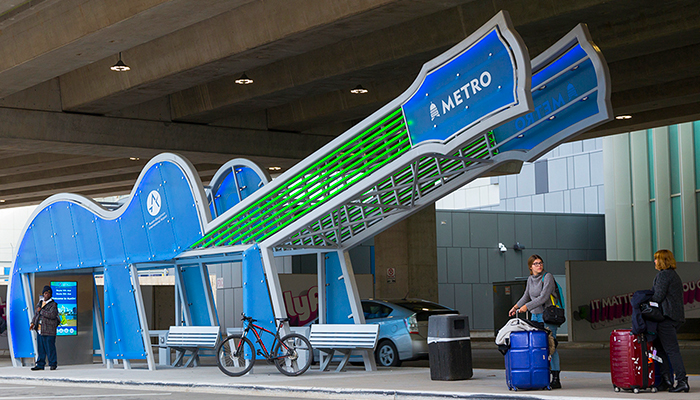 Getting to Austin-Bergstrom International Airport
Park at AUS
AUS has many parking options for those who choose to drive to the airport.
For information on parking at the Barbara Jordan Terminal, click here.
Reserved parking is available for our two on-airport parking garages. Reserve your space today to ensure one of the closest and most convenient spots available.  
For information on parking at the South Terminal, click here.
Capital Metro is Austin's public transportation provider, operating buses, MetroRail, and more. Passengers traveling to Austin-Bergstrom International Airport can take Capital Metro's high-frequency Route 20. For more information, click here or call 512-474-1200.
Getting from Austin-Bergstrom International Airport
Several taxi services operate at AUS. The minimum fare for taxi customers is $13.80, including a $2.50 airport surcharge. All taxis have a four passenger maximum, excluding children 12-years and under. All taxis accept major credit cards.
Need to fill your rental car before returning it?  There is a Texaco gas station at 2901 Spirit of Texas Drive.
Other Ground Transportation Services at AUS
Carter Transportation (formerly known as Super Shuttle):
Airport Reservations: 1-512-BLUE VAN (258-3826)
Sales: 512-929-3900 ext. 4 (after hours use ext. 2)
info@cartertransportationaustin.com  
 Airport Transportation | Caring Hands2 Shuttle, LLC | Georgetown 
4Leaf Limo: 512-633-0004
AAA Limousine: 512-833-5466
ABC Limousines of Austin: 512-656-7161
Ace Limos: 512-259-5466
AJL International: 800-546-6508      
Alvin's Limousine: 512-947-4552; Fax: 512-491-0462
Austin Premier Transportation: 512-669-9328
Austin Private Car Service: 512-765-4410
Boulevard Chauffeur: 512-704-4447
Capital City Limo of Austin:  512-413-1068
Carey Limousine: 512-929-5009
Corporate Transportation Associates: 512-222-3209
Crown Limousine Services: 512-250-5466; Fax: 512-257-2920
Echelon Limousine: 512-219-9447; Fax: 512-597-0629
Elegant Limousine and Charter: 512-477-5466
Elektrica Limo: 512-236-5668
Carter Transportation/ExecuCar - (512) 929-3900 Ext 3
ExecuCar of Austin: 512-929-3900 #2 or 800-410-4444
Fresch Limousine Service:  512-632-6134
H&L Limo LLC: 512-584-3392
J and I Transportation : 512-825-0652
Johnston Transportation Austin: 817-682-3110
Krystal Luxuries, LLC: 512-944-8470
Krystal Transportation: 210-496-5466
Lakeway Executive Transportation: 512-261-1515
Limos of Austin: 512-345-5466
Lone Star Black Car
Lone Star Limo: 512-291-1222
Lux Limo & Black Car: 512-215-4971
M&M Austin Limousine: 512-577-1003
MS Luxury VIP Transportation, LLC:888-285-7779
Nikko's Transportation Service, LLC: 866-571-5466
One World Limo: 512-293-7630
Premium Limousine: 512-834-8000; Fax: 512-342-9973
R&R Limousine & Bus: 512-947-7433
Ross Elite Chauffeur Service: 512-580-6611
Royal Executive Transportation: 512-989-7272; Fax: 512-990-5656
Roy's Limousine: 512-293-1494
Sedan's, Inc.: 512-372-9000; Fax: 512-372-9099
Texas Pride Limousine: 512-701-9323
TopRideLimo: 512-705-6065
Uptown Valet and Transportation: 512-343-5466; Fax: 512-343-5468
Walker Productions, Inc.: 512-589-1144
Aero-Nautical Services (ANS Airport Shuttle): 254-690-6725; Fax: 254-690-1323
AJE Transportation Charters: 512-296-7871
Austin Brewery Tours: 512-412-9268
Banks Bus Line: 512-840-1245
Clark Travel: 512-365-1511
Corporate Services International: 512-736-9600
ETI Transportation: 210-599-9999
Flash Transportation: 512-868-1000
Ground Shuttle: 855-303-4415
Icon Charter Services: 512-917-0555
J & G Citywide Express: 512-786-8131
Killeen Express Shuttle:  254-338-7788
Lone Star Express: 254-423-5653
R&R Limousine & Bus: 512-947-7433
Road Runner Charters: 512-960-4813
Shire Charter: 512-796-6059
Towncar Shuttle:  512-826-2868
SuperShuttle:
     - Airport Reservations: 1-800-BLUE VAN (258-3826)
     - Groups and Charters: 512-929-3900 ext. 4 (after hours use ext. 2)
     - AusSales@supershuttle.net
Other Transportation Resources
Get There ATX – the ultimate resource to discovering easy, fast and more sustainable ways to travel around Austin. www.GetThereATX.com
Information for Ground Transportation Providers
Video directions to rideshare location
Ground Transportation Rules
Ground Transportation Permit Application