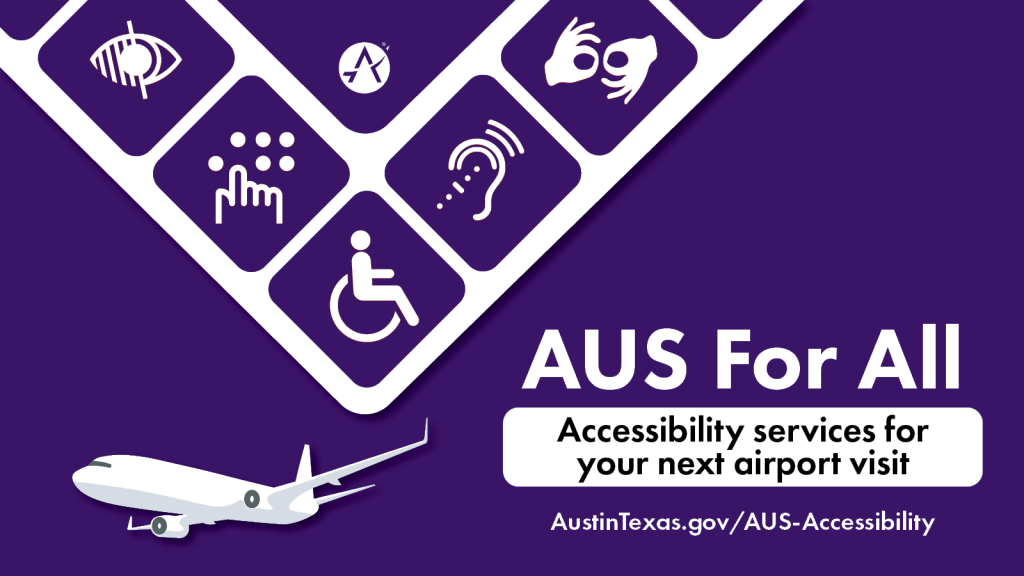 Austin-Bergstrom International Airport (AUS) is designed to meet the needs of our diverse travel population in accordance with the Americans with Disabilities Act. We offer a wide range of accessibility services as part of AUS For All for travelers flying AUS.
The program looks for opportunities to improve our airport for passengers with mobility and accessibility needs, and with visible and non-visible disabilities. From garages to ticket counters to gates, the services offered at AUS are intended to ensure a safe and comfortable experience for all of our passengers.
Accessibility options & services
Before, during and after your flight
Airlines provide wheelchair services from the ticket counters through security and to the departure gates, and from arrivals to baggage claim. Please contact your airline ahead of your trip to coordinate wheelchair services.
Pedestrian walkways in the terminal have accessible contrasting floor surfaces to help those with visual impairments navigate more easily.
Escorts are available for those who need assistance through the airport, such as individuals with visual or mobility impairments. You can request an escort from your airline in the terminal.
AUS has a hearing loop on the east side of the terminal, approximately between Gates 1 and 12.
Aira is a live on-demand visual interpretation service for passengers who are blind or low-vision to safely navigate the airport. It is free for passengers in the terminal who have downloaded the app on their mobile device.
Economy lot shuttles
Wheelchair accessible shuttles are available traveling to and from economy lots and the terminal. Shuttles pick up right outside of baggage claim; use the AUS digital map to find the exact location.
Getting picked up by a friend or family member
Friends or family members can pick up passengers from baggage claim (lower level) using the curb cuts for easier access (waiting or lingering curbside is not permitted).
Short-Term Hourly Parking is available on Level 3 of the Red Garage for meeters & greeters who're picking up or dropping off departing and arriving passengers. This parking area is located directly across from airline check-in counters on Level 3 of the Red Garage and allows easy access to the Barbara Jordan Terminal. Short-Term Hourly Parking is fully automated and credit cards are the only accepted form of payment.
Mobility Assistance Zone
Rideshares, taxis and WAVs can also pick up passengers with mobility assistive devices (wheelchairs, scooters or crutches) at the Mobility Assistance Zone located on the lower level curbside (this is a separate location from the general rideshare pick-up area). To use the free service, after arriving at AUS, submit a request for pick up at the MAZ in the following ways:
Request assistance from your wheelchair attendant
Call the airport at (512) 530-2242
Use a white paging phone located throughout the terminal
Hours of operation (subject to change): Daily from 7 am–2 am (CST)
This is a pilot program that launched at AUS in July 2022.
Tram services
AUS has 2 tram services for passengers to easily get to the rental car facility and rideshare/tax pick-up areas:
Red Garage First Floor to Rideshare Tram

The rideshare tram picks travelers up from both entrances of the Red Garage on the first floor. The first floor of the Red Garage is easily accessible from Baggage Claim.
Hours of operation: Every day (Mon-Sun) from 4 a.m. to Midnight

Mobility Tram Pilot - Red Garage Third Floor to Rental Car Facility & Rideshare Tram

The Mobility Tram is located on the third floor of the Red Garage – just across the pedestrian walkway from the departures/upper level of the terminal. This tram takes travelers across the Red Garage to the Rental Car Facility entrance and offers another easy way to access rideshare pick-up. From the Rental Car Facility front doors, take the elevator or stairwell to your left down to the second floor for rideshare pick-up.
Hours of operation (subject to change): Every day (Mon–Sun) from 4 am–8:00 pm (CST)
Accessible parking
Accessible parking spaces are located in the Red Garage closest to the terminal, and adjacent to the covered shuttle stops in the parking lots. Please note: There are no designated parking spaces for passengers at the curbside of the terminal.
The Barbara Jordan Terminal has several features for our passengers with mobility assistance needs or other disabilities. Our wayfinding map online can help you navigate our airport and the features offered to passengers; these include:
Additional support services
The Transportation Security Administration (TSA) has special procedures for travelers with disabilities and/or medical conditions.
Traveling with mobility devices & medications per TSA guidelines:
The limit of one carry-on and one personal item (purse briefcase or computer case) doesn't apply to medical supplies, equipment, mobility aids, and/or assistive devices carried by, and/or used by a person with a disability.
TSA recommends packing medications in a separate pouch/bag to facilitate the inspection process. Ensure that containers holding medications are not too densely filled and that all medication is clearly labeled. It is recommended that passengers do not pack medications in checked baggage. Tip: Mail large quantities of medications ahead of time.
To learn more, visit TSA.Gov/Travel/Special-Procedures. Have more questions? Call TSA at (855) 787-2227.
TSA Cares
TSA Cares is a helpline that provides travelers with disabilities, medical conditions and other special circumstances additional assistance during the security screening process. The program can also connect passengers with someone to accompany them during the security screening process (this service must be booked 72 hours in advance of the flight). Learn more about or request assistance through TSA Cares online or reach them at (855) 787-2227.
TSA Consumer Hotline
To file a complaint against TSA, call (866) 289-9673 or e-mail TSA-ContactCenter@dhs.gov.
Non-visible disabilities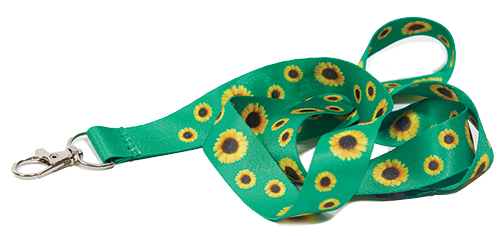 Sunflower lanyards or pins are available for passengers with non-visible disabilities to wear at the airport. The lanyards discreetly notify airport staff and other passengers that you may need more time, patience and support. Order your free lanyard 48 hours ahead of your trip by contacting the AUS Guest Services team via email at AUS.GuestServices@FlyAustin.com or by calling them at (512) 530-2414. Learn more about the Hidden Disabilities Sunflower Program.
Service animals
Language Access Services
The City of Austin Department of Aviation is committed to compliance with the Americans with Disabilities Act. Reasonable modifications and equal access to communications will be provided upon request. To request modifications including American Sign Language (only offered before security) or translation services, look for an AUS Guest Services team member wearing a blue shirt or call (512) 530-2414 ahead of your trip.
---
Airline Passengers with Disabilities Bill of Rights
Airports are committed to doing their part to ensure an accessible and inclusive airport experience for all passengers.  To learn more about your rights as an air passenger traveling with a disability, visit the U.S. Department of Transportation's "Airline Passengers with Disabilities Bill of Rights" webpage. 
---
Americans with Disabilities Act (ADA) and Title VI
Click here to visit our ADA and Title VI webpage to review the complaint process, access plans, complaint forms and more. 
<iframe width="560" height="315" src="https://www.youtube.com/embed/Qz9LAx20BIo?si=oIt6zr_rdP50lEIO" title="YouTube video player" frameborder="0" allow="accelerometer; autoplay; clipboard-write; encrypted-media; gyroscope; picture-in-picture; web-share" allowfullscreen></iframe>