Music is in Austin's roots and it's our passion! This is a city filled with venues and musicians that truly make it The Live Music Capital of the World®. The minute you step into the terminal you can catch local musicians at one of our venues Monday through Friday, and overhead music is provided by our partners at KUTX 98.9.
AUS Live Performances
Saxon Pub/Asleep at the Wheel Stage (gate 19) 
January 27 – Tiger Alley from 3 to 5pm
January 28 – NU Standard Band from 3 to 5pm
January 31 – Red Young from 1 to 3pm
February 3 – Sarah Hall from 3 to 5pm
February 4 – Crystal Finger from 3 to 5pm
24 Diner (gate 11) from 1 to 3pm unless otherwise noted
January 27 – Lindsey Beaver
January 28 – Ruby Dice
February 3 – Andrew Noble
February 4 – Charlie Pierce from 1:15 to 3:15pm
Hut's (gate 14) from 1 to 3pm
January 28 – Katie Marie
January 31 – Oscar Ornelas
February 4 – gum B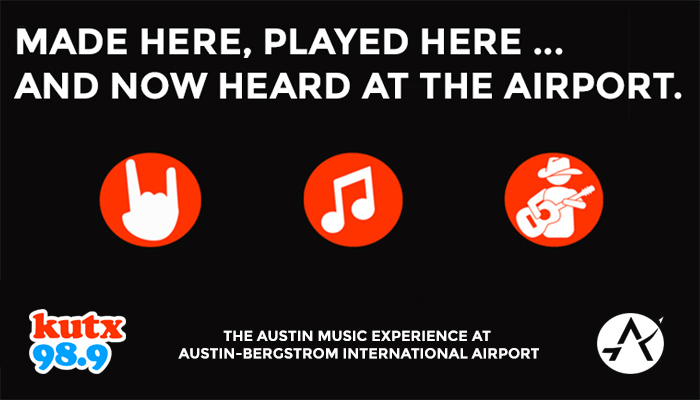 Austin is home to many bands and performing artists. Live music venues are all over the city, including the airport make for a lively scene for locals and visitors. Be a part of the Austin music experience by becoming a live music sponsor at Austin-Bergstrom International Airport.
Promote your Brand or Business to this diverse audience and help support local Musicians & Live Music by becoming a sponsor. Sponsoring the Live Music Stage will provide your company or brand with exposure to passenger traffic through the inclusion of electronic signage at the main-stage.
For more information on live music sponsorships, contact airport Music Coordinator, Michael Pennock at 512-530-6508 or e-mail Michael.Pennock@austintexas.gov
https://kutx.org/hd2-playlist