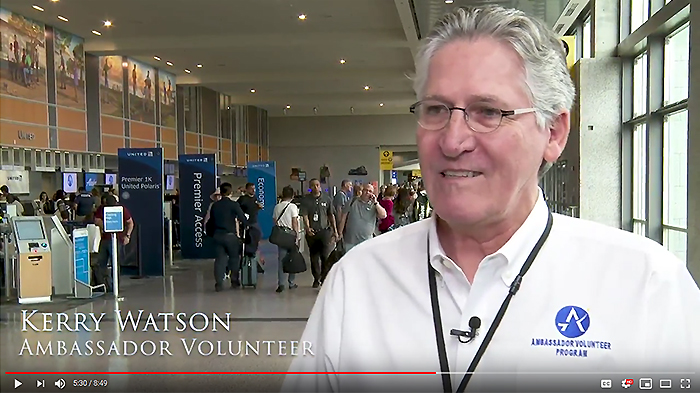 Click on the image or here to watch the Ambassador Volunteer Program video

Mission Statement:
Airport Ambassadors is a volunteer organization designed to provide exceptional customer service to airport passengers and visitors. Volunteers offer assistance to customers in need of guidance or information.
Purpose:
Welcome and assist visitors to Austin-Bergstrom International Airport
Provide a professional, courteous image to passengers and visitors, leaving them with the knowledge that AUS is friendly and hospitable part of the Austin community.
Work with Department of Aviation staff members providing passengers and visitors with accurate and timely airport, Austin, and regional information.
Volunteer Qualifications:
Friendly, outgoing personality
Must be at least 18 years of age
Ability to approach and communicate clearly in English and comfortably articulate with a wide diversity of individuals.
Ability to interact with fellow volunteers and work in a team environment
A willingness to learn about all aspects of the Airport and be informed about tourist and cultural offerings in the Austin region.
Be flexible and able to adapt to fluctuating passenger demands and airport changes.
Reliability – a minimum commitment of 4 hours per week.
Dedication – commit at least 6 months to the program after training.
Be physically able to perform the duties of the job.
Be committed to providing exceptional customer service.
Punctuality
Enthusiasm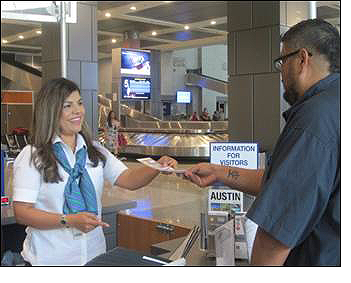 Volunteer Days and Times Needed:
Sunday - Saturday:
9:00 a.m. - 1 p.m.
1:00 p.m. - 5:00 p.m.
5:00 p.m. - 9:00 p.m.
To be considered as a volunteer, applicants must first complete a 10 year back ground check to have access to secured areas in the terminal. 
Volunteer Duties:
Respond to inquiries in a positive, professional manner.
Use the volunteer manual and other reference materials to direct passengers appropriately and accurately.
Provide directions to and from the airport to local tourist attractions and landmarks
Provide information on accessing airport services and navigating the terminals and airport grounds.
Assist travelers in the use of the digital courtesy phone
Keep accurate records of all services and information provided (tally sheets)
Stock supplies and brochures/maps in the appropriate racks.
Be alert to airport changes; read updates before starting every shift; inform staff when changes occur.
Project a warm, friendly, and hospitable impression of the Airport and the City of Austin
Volunteer Benefits:
Discounts on airport concessions
Free Airport parking (for work or vacation)
Free Cap Metro I-Ride cards for volunteers wishing to use the system for commuting to/from volunteering
Special recognition/social functions with fellow volunteers
The satisfaction that comes with helping other
Volunteer Commitments:
Attend a 2 hour comprehensive interview/orientation session
Attend a minimum of 16 hours training with staff/volunteers before working a shift alone.
A commitment to teamwork
Volunteer at least 4 hours a week
Be flexible and reliable
Volunteer at least 6 months after training.
Volunteer Attire:
Airport Volunteer shirt provided by the AUS Information Program
Blue or black pants or skirt (provided by volunteer)
Comfortable closed-toe shoes (provided by volunteer)
Volunteer airport badge (provided by AUS)
A welcoming smile
For More Information:
AUS Volunteer Programs are adding qualified individuals. Interested individuals may contact the Visitor Information Center Supervisor for more information at volunteeratabia@FlyAustin.com or call 512-530-6302.