Journey With AUS is Austin-Bergstrom's airport improvement program. The program is a strategic, phased approach to guiding construction and improvement projects, including select 2040 Master Plan projects, at AUS over the next several years.
Journey With AUS projects will improve the passenger experience and meet the rising demand for air service at AUS in three phases; optimizing the Barbara Jordan Terminal through improvements that accommodate forecasted demand and enhance operations; expanding infrastructure to increase gates; constructing a new midfield concourse, and connecting tunnel.
Driving regional economic recovery and supporting Austin's growth is a primary goal of the program. The program will create jobs and provide opportunities for local businesses and the Minority-owned (MBE) and Woman-owned businesses (WBE) in the contracting community.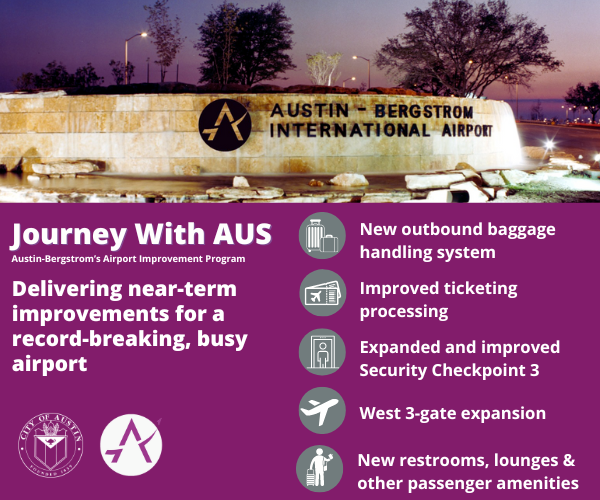 ---
Events

Stay tuned for information about upcoming events for contractors!

Department of Aviation Resources for Contractors 

Visit the Airport Advisory Commission webpage for project information presented to the Commission.

---

On May 20, 2021, the Department of Aviation and Small and Minority Business Resources Department hosted a virtual outreach session . 

Virtual Outreach Session - May 20, 2021

City of Austin Resources for Contractors

All contractors, consultants, and vendors can register with the City's Purchasing Department here:  Vendor Registration with the City of Austin

Contractors, consultants, and vendors can also register with the City's SMBR Department here: City of Austin Small & Minority Business Department

For IT contractors and vendors, it is helpful to participate as a Texas Department of Information Resources vendor.  For more information, please visit their website here: Texas Department of Information Resources

The Capital Contracting Office provides current bid and RFQ opportunities, standard bid documents, and links to other key pages here: City of Austin Capital Contracting Office

More information about contracting opportunities at the City of Austin can be found at the below: