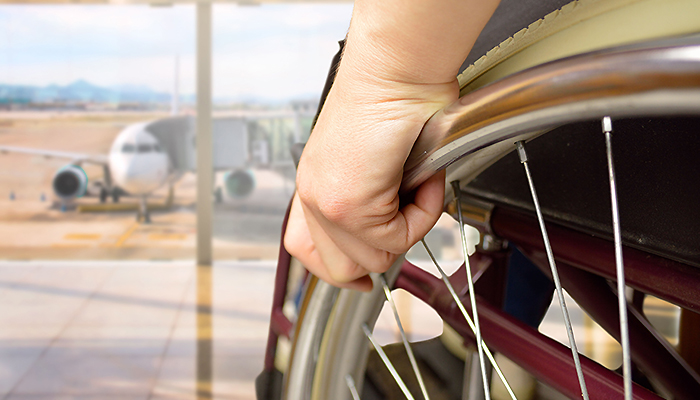 ADA & Accessibility at AUS
In accordance with the Americans with Disabilities Act (ADA), Austin-Bergstrom International Airport has been designed to meet the needs of our diverse travel population. 
Travelers who know in advance that assistance is needed, please contact your airline prior to your travel date. For travelers with immediate needs, please call 512-530-2242.
All airlines provide wheelchair service from curb to aircraft. Please contact your airline prior to your flight to make arrangements for this service. The floors of the airport are level to facilitate wheelchair mobility. 

Seating on aircraft can accommodate special needs. Inform your airline of your needs when booking your travel arrangements. The Air Carriers Access Act ensures that passengers with disabilities are accommodated in their travel needs.

Escorts are available for those needing assistance through the airport, such as those with visual or mobility impairments. You can request an escort from an airline representative in the terminal.

You'll find accessible elevators, water fountains, restroom facilities, videophones, and signs with raised lettering and Braille, as well as convenient parking with designated accessible parking spaces in the parking garage closest to the terminal.

Accessible parking places are located in the parking garage closest to the terminal, and adjacent to the covered shuttle stops in the parking lots.

Accessible airport shuttles are available to assist passengers from the parking garages and economy lots to the terminal.

Pedestrian walkways have accessible contrasting floor surfaces to aid those with visual impairments in navigating through the terminal more easily.

Pet relief areas are available for service animals both before and after security. Dog parks can be found on the lower level (Baggage Claim) in front of both the Blue Garage and the Rental Car Facility. After security, a pet relief area is located near Gate 11.
If you have experienced a specific issue regarding accessibility or ADA compliance, click here to submit an ADA compliance issue form to the Department of Aviation. General comments regarding airport accessibility should be made to the ADA Coordinator at AUS.ADA@FlyAustin.com
---
TSA Screening ADA Procedures
TSA has special procedures for travelers with disabilities or medical conditions.  To learn more, visit TSA.Gov/Travel/Special-Procedures
Private screening areas are available upon request at each checkpoint at AUS.

Have questions about passenger screening and medical conditions or disabilities?
Call TSA at 1-855-787-2227.
Transportation Security Administration Consumer Hotline
To file a complaint call  866-289-9673 or e-mail TSA-ContactCenter@dhs.gov
---
Accessibility Services and Travel Tips
Before You Arrive
Provide advance notice to your 

airline

if you require assistance, like wheelchair service or an escort to your gate. Your airline will assist you through the airport and the screening queue line.

If you require a companion or assistant to accompany you through security, talk to your airline about obtaining a gate pass for your companion before entering the security checkpoint.

The limit of one carry-on and one personal item (purse briefcase or computer case) does not apply to medical supplies, equipment, mobility aids, and/or assistive devices carried by, and/or used by a person with a disability.

Pack

medications

in a separate pouch/bag to facilitate the inspection process. Ensure that containers holding medications are not too densely filled and that all medication is clearly labeled. It is recommended that passengers do not pack medications in checked baggage. Tip: Mail large quantities of medications ahead of time.
Consider requesting TSA Cares Assistance.

TSA Cares is a helpline that provides travelers with disabilities, medical conditions and other special circumstances additional assistance during the security screening process. TSA Cares can be reached at (855) 787-2227.
Upon Arrival
When you arrive at the airport, you must check-in with your airline for wheelchair service to be dispatched.

AUS has a Mobility Lounge for passengers using wheelchairs and other mobility assistive devices located on the ticketing/departures level.
If You Are An Arriving Passenger

Getting Picked Up by a Family Member, Friend or Caretaker
When you land in Austin, your airline is responsible for providing wheelchair service to baggage claim and to the curb. Here are a couple of ways to meet the person who is picking you up:
Option 1: Meet at Curbside
The wheelchair attendant will bring you to the lower level, "Arrivals" curb to be picked up by your family member, friend or caretaker; they will pick you up from one of the pick-up areas assigned by letters "A" to "L." The curb cuts can be utilized for easier access. (During warm Central Texas heat or inclement weather, you may ask the wheelchair attendant to wait indoors with you until your ride is on its way.)
Please note: Your family member, friend or caretaker that is picking you up is not permitted to wait for you at and/or park curbside. If they arrive to AUS before you are at the curbside pick-up area, they can wait in the AUS Cell Phone Lot.
Option 2: Park and Meet Inside the Airport
The person picking you up may utilize any of the airport's parking options, such as the Red Garage or Blue Garage and meet you inside the Terminal near Baggage Claim. The parking fee is $5 per hour in both garages. The Red Garage is the closest to baggage claim and you may park in any available designated ADA parking space. Please note: The Austin airport is very busy and sometimes parking spaces are not immediately available. To see real-time parking availability and rates, visit ABIAParking.com.
If You Are An Arriving Passenger Needing Taxi Service, or Using a Rideshare App Such as Uber, Lyft or Wingz 
Mobility Assistance Zone (MAZ)
The Mobility Assistance Zone is only for passengers using mobility assistive devices such as wheelchairs, scooters, or crutches, or those who need additional mobility assistance. It provides priority access for Wheelchair Accessible Vehicles (WAVs), taxis and rideshares to reduce travel time and provide a convenient pick-up area for passengers with limited mobility. It is free and open daily from 7 a.m. to 2 a.m.  It is located on the lower level curbside, one lane across from the G and H pick-up areas.
To use the MAZ upon your arrival, please submit a request by doing one of the following:
Request assistance from your wheelchair attendant,

Visit the Airport Information Desk in front of baggage claim #3,

Call the airport at (512) 530-2242, or

Use a white paging phone located throughout the terminal.
After submitting your request, you will be directed to the MAZ and the next available taxicab or rideshare that is queued in the airport's Ground Transportation Center will be dispatched to the MAZ to pick you up.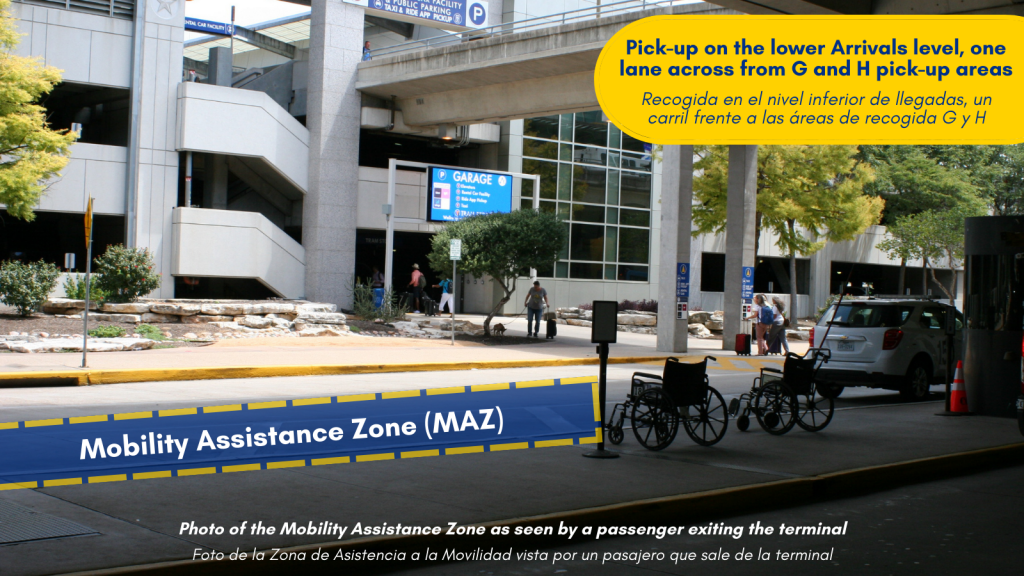 The MAZ is a pilot program launched in July 2022. Feedback on the program is welcome!
Please email feedback to AUS.ADA@FlyAustin.com.
If you do not wish to use the MAZ, please watch the below video to see how to get to our Tram, which can transport you to the taxi and rideshare pick-up area.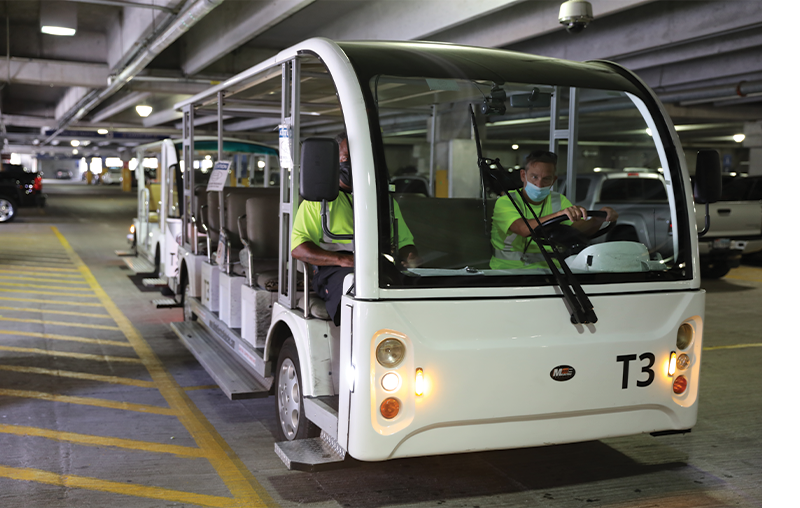 Video for Rideshare / Taxi pick-up for passengers from Baggage Claim
Picking Up or Dropping Off a Rental Car
The rental car facility is located across the red garage from the departures level of the terminal (2nd floor). AUS currently provides a tram service to and from the car rental facility to the curbside of the terminal for passengers with limited mobility. The tram service runs Monday-Tuesday, Friday-Sunday from 4:00 a.m. to 12:30 p.m. Please note: Wheelchair services are provided by your airline; please be sure to have your wheelchair service set up ahead of time for pick up from the curbside of the terminal.
---
SkySquad

Starting November 21st, AUS will offer a new service known as SkySquad, which connects passengers with a trained, pre-vetted airport assistant to provide an extra pair of hands from the curbside to their gate (from ticketing, checking bags, loading items onto the security belt, keeping an eye on travel items when they go to the restroom and more). Passengers need to book 24 hours in advance. Visit the SkySquad website or call (877) – 359 – 2256.
---
ADA & Accessibility Policy
Americans with Disabilities Act

The City of Austin Department of Aviation is committed to compliance with the Americans with Disabilities Act. Reasonable modifications and equal access to communications will be provided upon request. To request modifications or translation services, email AirportInfo@FlyAustin.com.

Relay Texas: 711 is available for deaf, deaf-blind and hard of hearing customers. Relay Texas is a free public service that provides a communication link between standard telephone (voice) users and persons who are deaf, deaf-blind, hard of hearing and speech-disabled using text telephones (TTYs), captioned telephones (CapTel) or personal computers via the Internet.Just dial 7-1-1 to reach a relay operator.

FAA: Title VI  of the Civil Rights Act of 1964 - Regulation on Unlawful Discrimination

It is unlawful for airport operators and their lessees, tenants, concessionaires and contractors to discriminate against any person because of race, color, national origin, sex, creed or disability in public services and employment opportunities. Allegations of discrimination should be promptly reported to Airport Administration or:

Federal Aviation Administration
Office of Civil Rights, ACR-1
800 Independance Avenue, S.W.
Washington, D.C. 20591

Federal regulations on unlawful discrimination are available for review in the Airport Administrative Office. 

Contact the Austin-Bergstrom International Airport via email if you wish to file a Title VI complaint, compliment or comment: AUS.ADA@FlyAustin.com

E-mail is checked Mondays-Fridays 8 a.m. - 4 p.m.