Interview: Meet the local musician who's rocking the airport scene and kicking off the She Rises Festival hype at AUS this week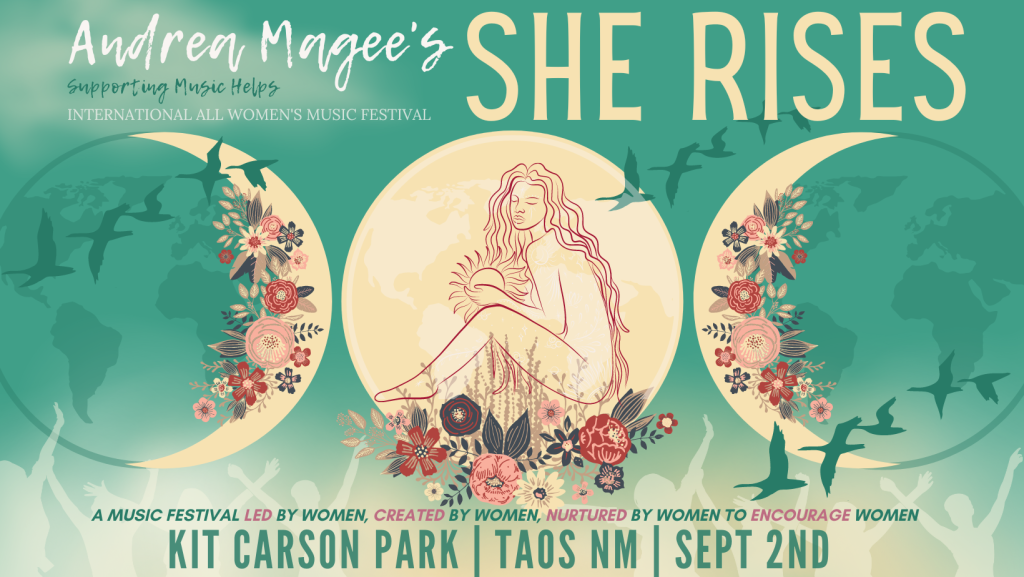 Hey there, flier! Ever seen an Irish musician perform with a bodhran celtic Irish drum in an airport? Well, if you're at AUS the afternoon of Wednesday, August 16, 2023, then you're in luck!
It's this writer's pleasure to introduce you to a seriously cool local musician who's been making those airport wait times more magical with her soulful jams, and will be back to do it again this Wednesday at the Asleep at the Wheel stage: Andrea Magee. But there's more to Andrea's story than the bodhran. Outside of the airport, she's about to make a big splash with the She Rises Festival, aimed at supporting women in music. And what better way to get the party started early than by getting an airport grooving with a lineup of fellow female artists?
Ahead of the concert at AUS this Wednesday and She Rises Festival in Taos on September 2nd, we wanted to sit down to learn more about Andrea's journey in Austin and down the path that led her launch her career and festival. And before we let you go, learn more about the She Rises Fest!
What's your musical background and what got you into music?
Magee: The essence of music got me at a very early age. I remember vividly the energy I felt in my entire body and still get that same childlike excitement when creating or performing to this day. Music is a gift that everyone can share, as a performing artist we get to bask in its joys and become the vessel for this sharing to continue. I started playing the bodhran (my celtic Irish drum) at the age of 7. Then went on to get a degree in music. Music and performing has always been a part of my life and always will be.
When did you move to Austin and why? What makes it special and a good place for you to be an artist?
Magee: Moved to ATX in 2015. It was love at first performance for me. I had been touring around the country with my duo Beat Root Revival at the time and we had visited 21 cities in USA. Each city had its own magic but Austin had something special. It had a sense of home, a sense of truth. I feel like Austin wants you to be authentically yourself and this is something I was craving for a long time.
How did you hear about the AUS music program and/or what got you interested in performing here? How often do you perform at the airport?
Magee: The community in Austin is so special, especially the music community. We started attending a venue called Donn's Depot and were fortunate enough to be accepted into the musical family there on Monday nights with Chris Gage. Chris had us get up and introduced us to so many and that was how I got to come and play at the airport.
What inspired you to start the She Rises Festival?
Magee: I have always been a team player and I love lifting people up around me. In January I attended my first Brandi Carlisle's Girls Just Wanna weekend in Mexico and was blown away by the energy and community she had cultivated, this planted a seed in my head. A couple of months later this opportunity presented itself and I jumped at the opportunity to lift women up in music and beyond. Being based in Austin I am so fortunate to be so connected with the talented artists here and was over the moon to able to share these artists with a new market in Taos.
Why did you select New Mexico as the festival location?
Magee: Taos was the perfect place, The community seems to support creativity and nourishes it. I've performed at the Big Barn Dance for the last five years and I'm originally from Ireland. When I first played in Taos, I was completely blown away from the response to my drum. There's something in the air for creative energy.
What do women bring to the music world that make them so unique and critical to the arts?
Magee: Women have a special gift of bringing people together and nourishing their needs, this comes through in all the artists performing at She Rises.
What is the best thing about being a performer? Anything unique about performing at our airport that you'd like to mention?
Magee: I love performing. It's my free space. It is an opportunity to connect with people through a new language, a language of expression and its always something different. I love the airport performances as the energy is so vastly different with all the travelers. When you perform there you get to offer a little light into their day and connect with so many unique individuals.