Keep on the sunny side of AUS: Join the AUS Ambassador Volunteer Program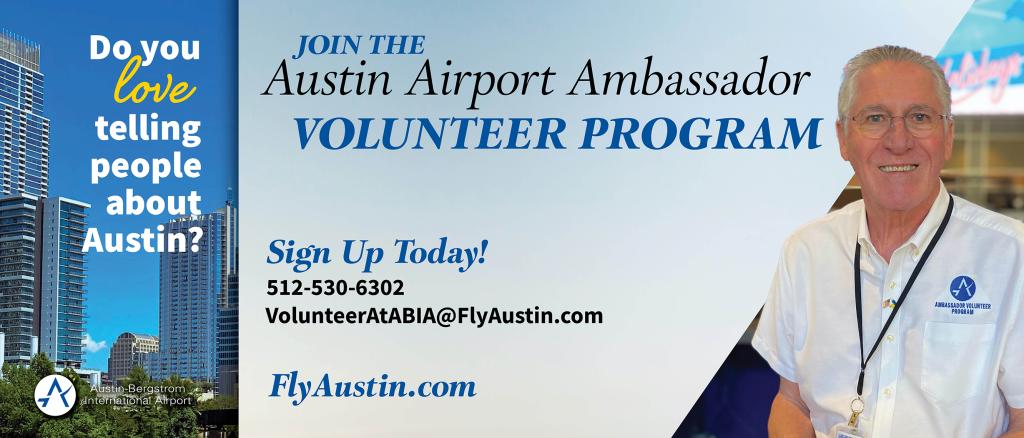 Airports can be bustling and overwhelming places for travelers. Navigating through a sea of unfamiliar faces and terminal signs can cause anxiety, especially for first-time visitors. However, Austin-Bergstrom International Airport (AUS) has found an innovative way to address this challenge - the AUS Airport Ambassadors program.
At the heart of the program are the dedicated volunteers who warmly welcome and assist visitors at the airport. They are not only representatives of the airport but also embody the friendly and hospitable spirit of Austin.
Their smiling faces and open willingness to help our passengers through volunteerism create a positive impression, leaving them with a lasting memory of our airport as a friendly and welcoming gateway to the city. These volunteers serve as a bridge between the airport and its guests, making sure that everyone feels at ease during their travels.
Each ambassador volunteer has comprehensive training and the knowledge and skills needed to assist passengers effectively in the airport. These volunteers also do such a good job of promoting the city of Austin itself. They are well-informed about airport operations, but also local attractions, dining options, and transportation services. As volunteers living in the city or surrounding areas, their input and unique perspective of Austin is something passengers can trust.
A goal of the program is to support and play an active role in community engagement and collaboration. Developed in partnership with the Department of Aviation staff, the program integrates community members into the airport's operations.
Want to become an AUS Ambassador?
There are certain qualifications to become an ambassador, but as the writer of this blog, the main criteria I'll highlight is a smile. We love bringing in friendly, outgoing individuals with a passion for helping others into the program and our airport. As a volunteer, you'll get certain perks, too:
Discounts on airport concessions

Free Airport parking (for work or vacation)

Free Cap Metro I-Ride cards for volunteers wishing to use the system for commuting to/from volunteering

Special recognition/social functions with fellow volunteers
Some intangible perks include meeting new people, welcoming and helping excited visitors to Austin, learning the ins and outs of your airport, and representing the spirit of Austin.
If you meet the requirements to become an ambassador, you can apply by emailing the airport's Visitor Information Center Supervisor at volunteeratabia@flyaustin.com or calling 512-530-6302.