Meet our new employee: Phillip Duran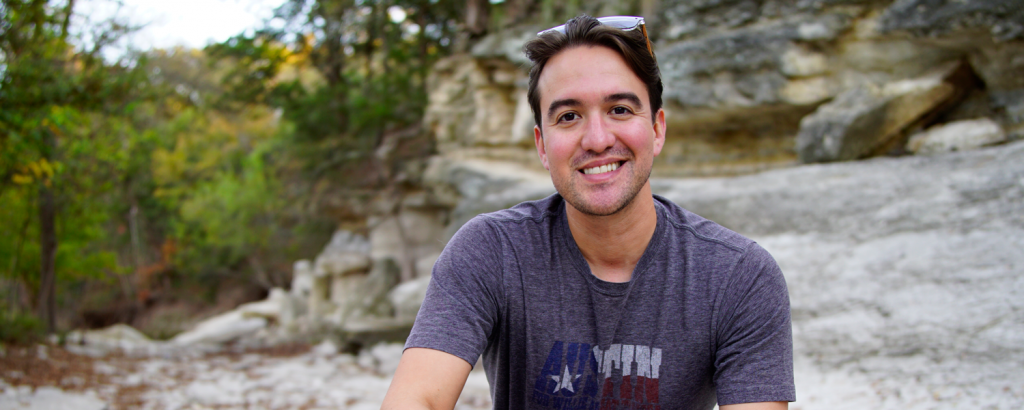 We're pleased to introduce you to Phillip Duran, a new Senior Climate Analyst in our office. Phillip will be working on data analysis, specifically calculating citywide and municipal greenhouse gas emissions.
We asked Phillip a few get-to-know-you questions so you can learn more about him and his background.
Q: Where are you from and what do you like best about your hometown?
A: I'm from a little place just east of Dallas called Rockwall, Texas – it's the littlest county in the biggest state in the USA (if we don't count Alaska). I should probably say what I like best about it are the family, friends, and memories, and that's all true, but my first priority (after hugging my parents, of course) is always to go get a cheeseburger at one of the oldest greasy spoons in town: Boot's Burgers. I know, it's a guilty pleasure!
Q: Tell us a little bit about yourself and what interested you in joining the Office of Sustainability.
A: After graduating with a BS in Electrical and Computer Engineering from the University of Texas at Austin, I was fortunate enough to spend some time in Ecuador teaching English and worked in the Galapagos Islands as a translator for a couple of months. The juxtaposition between a struggling local population and the influx of affluent tourists was difficult to ignore. The way that tension played out dramatically affected the islands' amazing endemic ecosystems and didn't necessarily improve the lives of locals either. I became much more interested in how humans interact with their environment and one another in a rapidly shrinking world.
After a period working on Capitol Hill in DC, I went back to school, receiving master's degrees in Energy Analysis and Public Affairs from the University of Wisconsin-Madison. That led to opportunities working with a number of energy stakeholders, public and private, including the National Renewable Energy Laboratory in Golden, Colorado. What interests me most about the Office of Sustainability is that it's tackling the difficult problems in a city that I love, even if the solutions aren't always easy or comfortable. It's an effort I wanted to be a part of and to which I hope to apply my technical skillset and diverse experiences.
 
Q: What are you most excited to accomplish during your time with the Office of Sustainability?
A: Between resilience efforts in the wake of winter storm Uri, a strong focus on equity, the difficult recovery from Covid-19, and the Austin Climate Equity Plan, there is so much good work being done at the Office of Sustainability and the City of Austin. Most importantly, it's all connected. I hope to contribute to those efforts and to help plan for a future made increasingly uncertain by climate change in as holistic a manner as possible.
Q: What are some of your favorite things to do or places to go in Austin?
A: When the weather's right we really enjoy getting out on the water in a little inflatable canoe with our pup, Huckleberry. At dusk the views from Ladybird Lake are stunning. The city shines like liquid gold and the colors as the sun sets over the west Austin hills are Texas skies at their finest! We like to stay out after dark too. Once the rental boats and paddleboards go in, we have the place to ourselves. It's so peaceful and a rare treat in such a bustling city.
Q: What is your favorite sustainable thing to do in your personal life?
A: I love to ride my bike and take the train. Riding my bike to the train? Even better! These have both been interests of mine from a young age and the fact that they're sustainable makes them even more enjoyable.
Q: What is your favorite food and why?
A: Cheeseburgers notwithstanding, my favorite food in the world is my late grandma's (Ama) enchiladas montadas (stacked, not rolled). With her homemade red chili sauce, melty cheese, onions, cilantro, and avocado on top *chef's kiss*. We still make the recipe and one bite takes me straight back to her little kitchen out in West Texas.