Special Information for F1 Visitors Flying out of AUS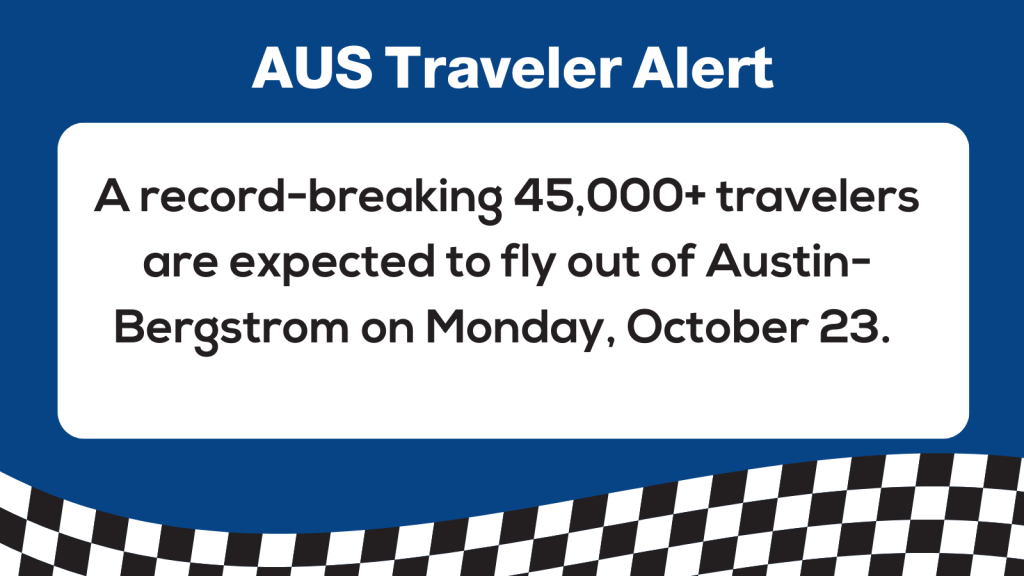 A record-breaking 45,000+ people will fly out of the Austin-Bergstrom International Airport on Monday, October 23 - the Monday after the Formula One United States Grand Prix. Here is everything travelers need to know: 
---
Arrival times
All passengers using General TSA Screening should arrive at least 2.5 hours before departure for domestic flights and at least 3 hours before departure for international flights.

Travelers using TSA Pre-Check and Clear can expect a faster TSA experience.
Travelers need to budget in extra time to return a rental car or check luggage. AUS expects a high volume of departing visitors that will need to return rental cars and check luggage on the Sundays – Tuesdays after each weekend of events. Lines at the rental car facility and the airline ticket counters should  be expected.
Dropping off
Use the lower-curbside at the "Arrivals" area instead of "Departures" if traffic is backed up. Once you're dropped off at Arrivals, head up one floor to Departures to proceed to the airline ticket counters and security screening.
Packing souvenirs and event merchandise
Bulky souvenirs, like posters and free giveaway items, should be packed in carry-on luggage, not checked luggage. This is to help prevent delays in the checked luggage security screening process.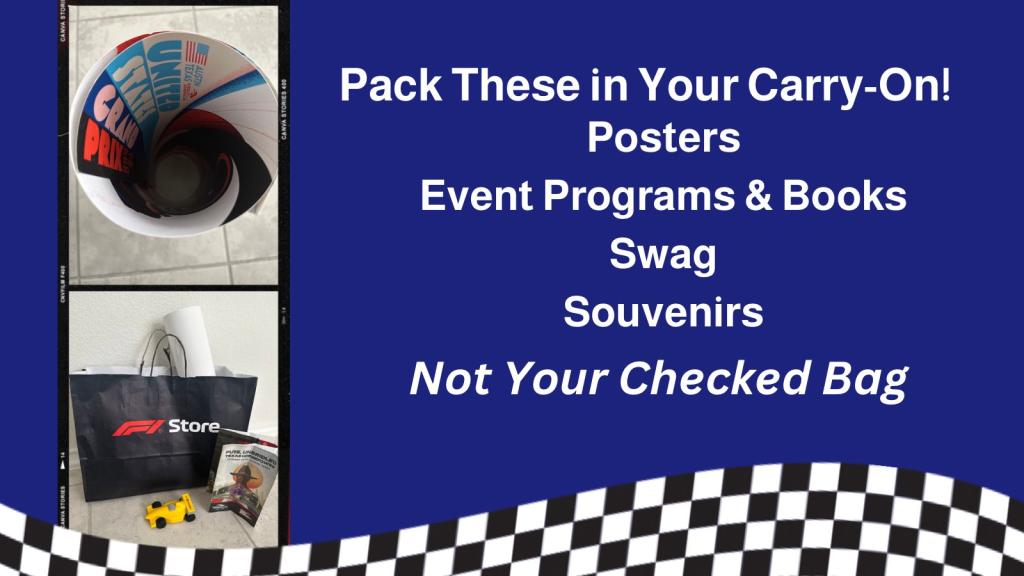 TSA security screening 
Make sure your carry-ons don't have any prohibited items that can slow you and others behind you down. GGet familiar with the TSA's packing guidelines to avoid delays.
​​​​​​​TSA has new screening equipment at AUS which means you don't have to pull out your laptop, electronics or liquids anymore! Keep those in your bag.

AUS has 4 checkpoints & they all lead to all gates. Sometimes, our TSA partners will ask travelers to go to a different one if lines are starting to get long. Trust the experts! A busy, large checkpoint can move faster than the smaller ones with fewer people.
Food and shopping at AUS - Extend hours!
AUS has many 24/7 grab-and-go and kiosk options in the terminal. Additionally, for this special travel occasion, several of our airport concession dining options including Jo's Coffee, Mad Greens, the Salt Lick and Starbucks will have extended hours.
Finding your way around AUS: Use our digital map 
AUS has a range of fun and unique experiences in the terminal including live music, art galleries, restaurants, retail shops with Austin memorabilia and more - just use the airport's digital map to help you find your way around.
We have Gates 1 – 34 with Gate 1 starting on the far east side of the airport AKA hang a left after you get screened through TSA! The 20s + 30s gates are over to the west side.
Information for Allegiant and Frontier travelers: Know your terminal
Passengers flying Allegiant or Frontier will depart from The South Terminal, which is a separate terminal located near US 183 and Burleson Road, at 10000 Logistics Lane and is not accessible from the main Barbara Jordan Terminal. Allegiant and Frontier passengers are encouraged to park onsite at the South Terminal to save time.
Allegiant and Frontier passengers going to the South Terminal should expect a detour to the terminal entrance and keep an eye out for directional signs that are posted along the streets in the area. A map of the detour is below: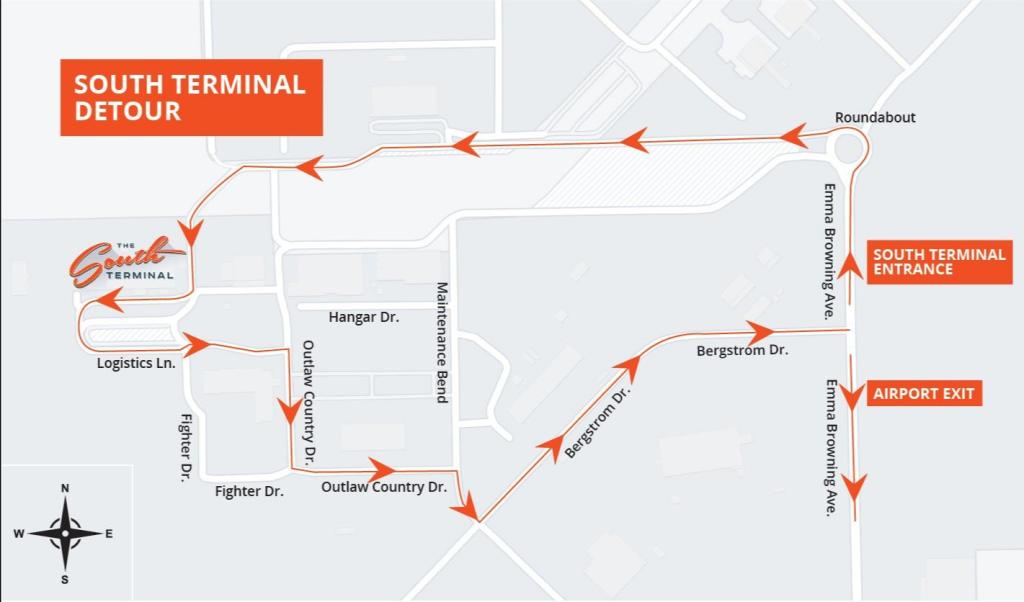 Construction activities
Journey With AUS airport improvement construction projects may be noticeable to passengers in the terminal. Visit AustinTexas.gov/AUSConstructionUpdates for a list of scheduled and active construction activities.