The City of Austin is committed to restoring our local economy in a manner that is safe, equitable, and prosperous for all. 
We are working diligently to help businesses and individuals recover from the financial hardships caused by the COVID-19 pandemic. By working together, we will overcome this unprecedented time in our city's history. 
Sign up to receive Austin economic recovery updates.
Latest City of Austin Grant Opportunities:
---
Helping You Recover
Use the ConnectATX box to find COVID-19 services by ZIP code:
Recent Economic Recovery News
Updated May 18, 2020
 
Governor Abbott Expands Business Openings
Governor Greg Abbott issued an Executive Order on May 18, 2020 to expand openings of certain businesses and activities. 
The most recent Executive Order allows restaurants to increase their occupancy to 50%. Bars—including wine tasting rooms, craft breweries, and similar businesses—may open at 25% occupancy but like restaurants, these occupancy limits do not apply to outdoor areas that maintain safe distancing among parties.
Additional services and activities that remained closed under Phase One may open with restricted occupancy levels and minimum standard health protocols laid out by the Texas Department of State Health Services (DSHS).
Via Executive Order, the following services and activities may open under Phase II.
Child Care Centers (May 18)
Massage and Personal-Care Centers (May 18)
Youth Clubs (May 18)
Rodeo and Equestrian Events (May 22)
Bowling Alleys, Bingo Halls, Simulcast Racing, and Skating Rinks (May 22)
Bars (May 22)
Aquariums and Natural Caverns (May 22)
Zoos (May 29)
Day Youth Camps (May 31)
Overnight Youth Camps (May 31)
Youth Sports (May 31)
Certain professional sports without in-person spectators (May 31)
Businesses planning to reopen should visit the Open Texas webpage for minimum standard health protocols outlined by the Texas Department of State Health Services.
Austin Energy and Austin Water Announce $12.3M in Utility Bill Assistance
Austin Energy and Austin Water have added $12.3M to the Plus1 program to make sure Austinites have the help they need when it comes to paying their utility bill. Customers are eligible for Plus 1 emergency assistance if they, or a member of their household, have experienced a financial hardship, loss of job, or reduction in income related to COVID-19. This includes financial hardships based on illness, caring for a family member, shelter in place orders and the resulting closure of non-essential businesses, as well as school and child care facility closures.
Apply for assistance at AustinBillHelp.com.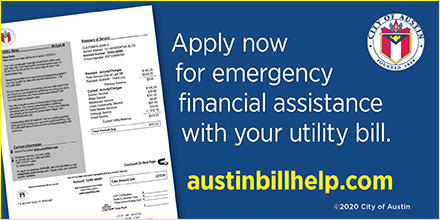 Mayor Adler, Judge Eckhardt Update Local Orders
Austin Mayor Steve Adler and Travis County Judge Sarah Eckhardt issued updated local orders in response to Texas Governor Greg Abbott's decision to re-open businesses and industries. The revised Orders include provisions aimed at sustaining support for the community's Stay Home-Work Safe efforts.
 
The modified Orders continue to:
Ask individuals to stay home and refrain from attending social gatherings of any size outside a single household, subject to stated exceptions.
Require face coverings in public, while making it clear that no civil or criminal penalty will be imposed for failure to wear one.
Ask individuals to practice social distancing, maintaining at least a six-foot distance from other individuals, and to wash their hands regularly with soap.
Under Mayor Adler's Order for the City of Austin, businesses that reopen are asked to help Austin Public Health track and trace customers who may have been exposed to COVID-19.
View the City of Austin Order, which expires May 30.
View the Travis County Order, which expires June 15.
Texas Workforce Commission Guidance for Unemployment Claims
The Texas Workforce Commission will allow unemployment claimants to receive unemployment benefits throughout the COVID-19 response if they choose not to return to work for one of the following reasons: 
At High Risk: People 65 years or older are at a higher risk for getting very sick from COVID-19.
Household member at high risk: People 65 years or older are at a higher risk of getting very sick from COVID-19.
Diagnosed with COVID: The individual has tested positive for COVID-19 by a source authorized by the State of Texas and is not recovered.
Family member with COVID: Anybody in the household has tested positive for COVID-19 by a source authorized by the State of Texas and is not recovered and 14 days have not yet passed.
Quarantined: Individual is currently in 14-day quarantine due to close contact exposure to COVID-19.
Child care: Child's school or daycare closed and no alternatives are available.
Any other situation will be subject to a case by case review by TWC based on individual circumstances.