This project will protect the integrity of 3,580 feet of Buttermilk Creek, stabilize the banks, and prevent property damage resulting from erosion. 
Sign up for email updates 
Please visit publicinput.com/buttermilk to join our email list for quarterly updates! 
Location  
Buttermilk Creek is a tributary to Little Walnut Creek in northeast Austin. This project focuses on the section between Cameron Road and Little Walnut Creek. This section of creek runs through the Coronado Hills and Old Towne neighborhoods.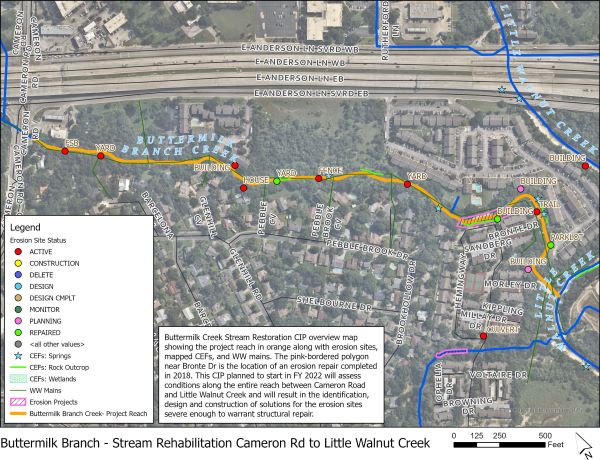 Overview 
We have identified multiple erosion sites in the project area. The creek has cut down to rock throughout this portion of the creek and is continuing to widen as bank erosion progresses.  
Water is present in the creek much of the year, and there are several springs and seeps as well as small wetland areas. However, during storms, large amounts of fast-flowing water run through the creek. These episodes are short-lived, but cause damage to the creek and its banks. This type of flow is due to development upstream of I-35. In this area, the watershed is fully developed with high amounts of impervious cover, such as roads, parking lots and rooftops.  
Project Goals 
Stabilize the banks of the creek 
Prevent more erosion damage to private and public property 
Enhance the health of the creek 
Public Meeting 
An initial public meeting was held in December 2022. Download a copy of the PowerPoint presentation. 
Status/Timeline 
Our capital improvement projects take many years from start to finish. The process typically includes the following phases: 
Feasibility Study – when information is collected to identify potential solutions. 
Preliminary Engineering – when a solution is identified and costs are estimated. 
Design – when the details are worked out and construction plans drawn up. 
Permitting and Bidding – when all permits are acquired and a contractor is hired. 
Construction – when the project is built. 
Currently this project is in the preliminary engineering phase which is expected to go through 2023. Construction is current anticipated to begin in 2025. 
Contacts