City of Austin
FOR IMMEDIATE RELEASE
Release Date:

---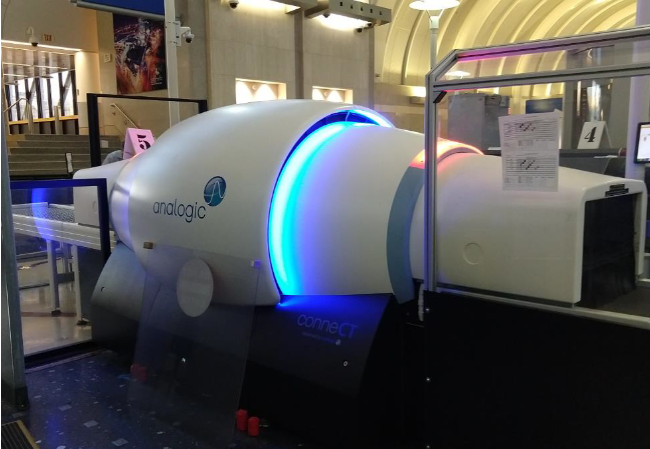 AUSTIN, Texas – Officials with the Transportation Security Administration (TSA) and the Austin-Bergstrom International Airport (AUS) have announced the preliminary construction work for the installation of new Computed Tomography (CT) X-ray scanners at TSA checkpoints has begun. AUS has four TSA security checkpoints that will each have these new screening machines at every checkpoint lane by the end of the project.
The new CT systems are for carry-on items at TSA checkpoints. These full-size CT systems feature fully automated screening lanes with side-by side stations for more passengers to place personal items in bins at the same time, automated bin return, and high threat containment. When a carry-on bag is screened through a CT scanner, travelers can leave everything in their carry-on bag, including electronics larger than a cell phone and food. These new features enable passengers to move through checkpoints more quickly and with greater ease.
CT units apply a sophisticated algorithm as they generate a 3-D image of the contents of the carry-on bag. A TSA officer can manipulate the 3-D X-ray image on-screen to allow for a better view of the bag's contents, ultimately reducing the number of bag checks that are required.
"Use of CT technology at our security checkpoints is a win-win for TSA and passengers," said Gilbert Almaraz, TSA Federal Security Director for AUS.  "We get increased detection capability which leads to fewer bag checks, and passengers get to leave their electronics and 3-1-1 liquids in their bags."
AUS is responsible for the preliminary work needed at the TSA checkpoints to accommodate the new screening machines. This construction is currently underway and will continue through mid-April. Presently, all TSA checkpoint 3 gates and the checkpoint 2 West exit area are closed for demolition and reconfiguring work. Work at checkpoints 1 and 2 East has been completed.
Installation of the new equipment will occur in a phased approach, with one new lane being equipped weekly over the next few months to minimize passenger impacts. Once a lane is modified and completes certification, it will open for screening before installation of the next lane begins.
 
"Improving the quality and convenience of the passenger experience is a priority goal for the airport, TSA and all AUS partners. We are pleased to partner with TSA to improve security and enhance our passenger experience. The technology upgrades at our checkpoints  will efficiently increase the volume of passengers passing through, making it faster, more efficient and less stressful" said Ghizlane Badawi, Chief Experience and Performance Officer, Department of Aviation. "Faster checkpoint processing is especially important during peak travel periods which are becoming more frequent at AUS."
Full installation of the CT scanners at AUS is expected to be completed by late summer.