City of Austin
FOR IMMEDIATE RELEASE
Release Date:

---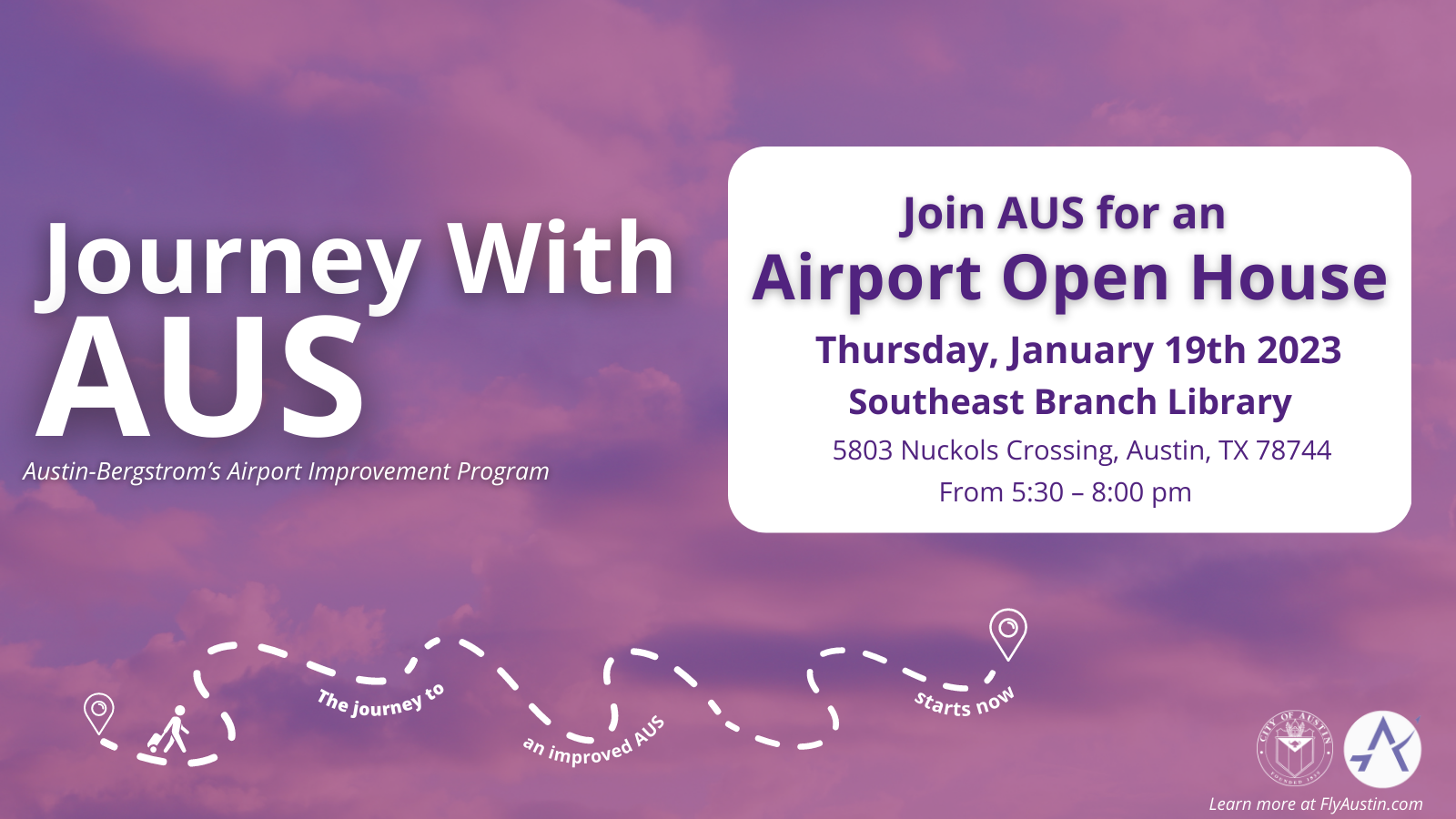 AUSTIN, Texas – Austin-Bergstrom International Airport (AUS) will host an Airport Open House community event for Southeast Austin neighbors, travelers and Central Texas community members to learn more about current and upcoming projects through the airport's improvement program and multi-year capital development program, Journey With AUS.
 
"To start 2023 with a community event where we can connect with neighbors and travelers to talk about what is on the horizon for our record-breaking busy airport is very exciting," said Jacqueline Yaft, Chief Executive Officer for AUS. "A critical component to our improvement Journey is bringing our neighbors and community members along with us. We look forward to the first of many opportunities to connect with our neighbors in person to listen to their questions and comments as well as to share more information about what they can expect to see at AUS over the next several years."
 
Over the last 12 months, the Journey With AUS program has met several milestones critical for a capital development program of this scale, including a completed National Environmental Policy Act (NEPA) Environmental Assessment, the selection of architecture and management support services firm, HNTB and WSP, and the hiring of a Chief Development Officer to provide executive leadership to the program and program team.
 
"Austin-Bergstrom is the strongest recovering airport in the country following the COVID-19 pandemic," said Somer Shindler, Chief Development Officer for AUS. "Our airline partners have launched more nonstop services from AUS than ever before. Our Journey with AUS program is delivering near-term improvements to meet the needs of travelers and airlines today, along with long-term investments in our facility and infrastructure to meet the needs of the projected 30 million annual passengers before the year 2040. We want to engage our neighbors and the community throughout the program to hear feedback on what growth means to them."
 
Neighbors and airport users are invited to talk with AUS staff at the open house style meeting, which will feature different stations with display boards and project leaders for various improvement projects underway, such as the west-side terminal expansion, the new airplane fuel facility, the midfield concourse along with others. Along with providing capital project information, AUS staff will be available to answer general questions about the airport as well as discuss career opportunities for a growing airport.
This is an opportunity for community members to learn about the Austin airport, how planes fly in and out and also how planning and development happens in order to adapt to an ever-changing environment and meet the needs of a growing Austin and Central Texas. Attendees will get a taste of AUS amenities with live music from Dave Madden, who is a regular performer at the Austin airport, and free food from Salvation Pizza along with sweets from AUS's Shop. Savor. Groove airport concession program.
This event is free and open to all community members. Spanish interpretation will be provided. Event Details:
DATE: January 19, 2023
TIME: 5:30 p.m. – 8:00 p.m.
PLACE: Southeast Branch Library, 5803 Nuckols Crossing, Austin, Tx, 78744
PARKING: Available on-site or street parking on Escuelita Dr next to the library
 
For media: Media are invited to attend the Open House. Airport PIO will be available for on-site interviews through the duration of the event.