City of Austin
FOR IMMEDIATE RELEASE
Release Date:

---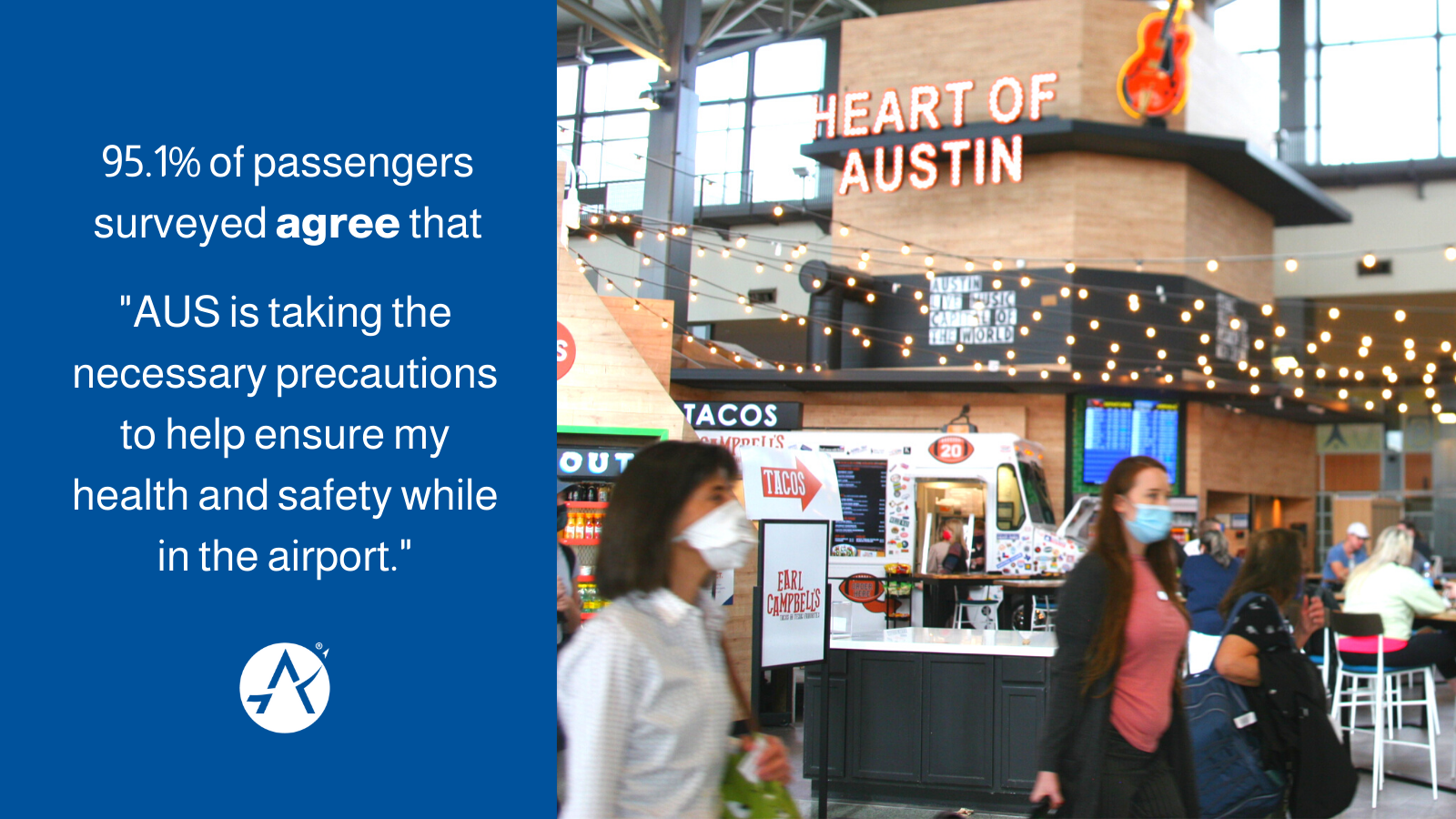 AUSTIN, TEXAS – The results of a recent survey conducted by Austin-Bergstrom International Airport (AUS) show high levels of passenger confidence. These high levels of confidence are primarily due to the airport's COVID-19 protocols and passengers' taking appropriate steps toward responsible travel. 
The survey, conducted both online and in-person, was open between September and October 2020 to collect feedback from passengers who have traveled through AUS at least once since March 2020. Over 790 passengers provided input through the survey. View a summary of responses here.  
"The City has listened to and heard the concerns from people traveling, or considering travel, during this time," said Gina Fiandaca, Assistant City Manager over the SD23 Mobility Outcome. "We continue to prioritize the safety of our community and our customers, and are using this feedback in the daily operation of AUS to provide the safest traveling and working experience possible."
Key findings include:
Passengers cite the cleanliness of AUS facilities, mask-wearing, and physical distancing as the top three reasons they feel safe at the airport. Other contributing factors include new airline protocols and health and safety protocols at AUS food and beverage locations.
95.1% of passengers agree that AUS is taking the necessary precautions to ensure the health and safety of passengers. 
More than half of passengers who felt concerned about flying prior to their trip said they feel safer about flying after their trip.  
"The health and safety of our passengers and employees remains our top priority and we are confident in the protective measures AUS is taking," said Jacqueline Yaft, Chief Executive Officer. "We do anticipate passenger demand will increase over the holidays. For those traveling through AUS, we ask that passengers help keep each other and our employees safe by wearing a mask, practicing good hygiene, and maintaining distance so we may all enjoy this holiday season safely."
With 52 percent of surveyed passengers reporting they have plans to travel again before the end of the year, AUS asks that passengers travel responsibly. AUS appreciates those who have traveled recently taking necessary precautions to keep all those in the airport safe, including airport frontline employees who are working hard to protect the traveling public.
Passengers indicated the following as the most important health and safety features to them — all of which AUS includes in its COVID-19 procedures: 
Hand sanitizing stations,
Clean restrooms, 
Frequent cleaning of commonly-touched surfaces, and
Air filtration systems in the terminal that clean and refresh the air.
While a majority of passengers reported being familiar with enhanced protocols, AUS recommends travelers visit AustinTexas.gov/Airport for the latest health and safety updates and to learn more about what to expect when traveling through AUS and how to prepare before a flight. 
AUS reminds travelers that masks must be worn at all times while at the airport. Those who feel sick or who have tested positive for COVID-19 should not travel and should contact their respective airlines to inquire about the possibility of rescheduling their flights. Austin Public Health encourages travelers to review the health guidelines in the area of their destination to best protect their loved ones and reminds those to wash hands frequently, wear a mask, and watch distance even after they leave the airport.
For more COVID-19 information and resources, visit AustinTexas.gov/COVID19.
###
 
Owned and operated by the City of Austin, Austin-Bergstrom International Airport is an economic engine in Central Texas, supplying over 74,000 direct and indirect jobs in the Central Texas region. Its reflection of local food, music, art, and customer service has earned Austin-Bergstrom recognition—including Runner-Up for Best U.S. Airport in Fodor's 2019 Travel Awards.