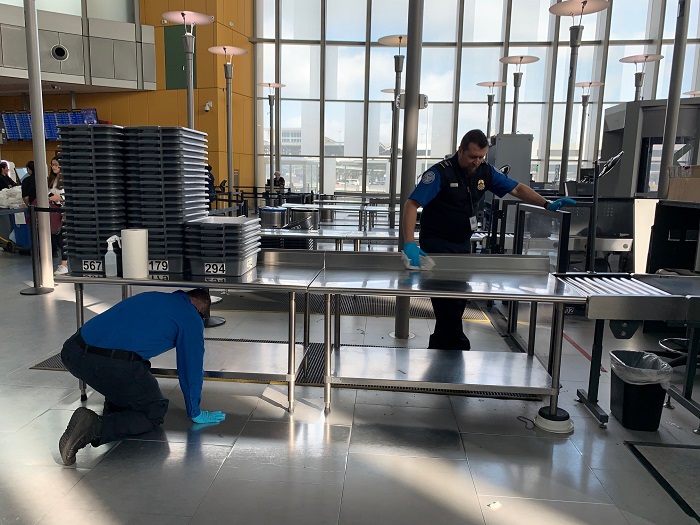 Stay up to date on actions we're taking to support public health at AUS and learn about our commitment to your safety and well-being. We post regular updates for the traveling public as new information is available on this page, as well as this one.
To ensure you're always up to date on the latest information:
Bookmark this page and check back for updates regularly.
Follow us on Twitter for the latest updates.
For information regarding changes to air service, contact your airline. 
Impacts/Changes at AUS
Flights/Air Service

Air service at AUS has been impacted, including the suspension of various international flights. We recommend customers contact their airline regarding future travels.
Gates 1-4, 32, and 34 have been disinfected and temporarily closed. AUS will monitor passenger levels to determine when they will reopen. 

Concessions

Some concessions are closed or operating under limited hours based on passenger demand and staffing considerations.

Parking

Exiting through credit card express lanes is encouraged to avoid person-to-person contact.
Valet parking operations are suspended and the third floor of the Red Garage/Garage 1 is closed to the public. The remaining floors of the Red Garage will remain open.
Economy Parking is temporarily closed to avoid the crowded nature of parking shuttles. Economy Parking will reopen as soon as it is safe to do so.
For a limited time, AUS passengers can park in the Blue Garage for $10/Day or the Red Garage for $20/Day. The Blue Garage and Red Garage are the closest available parking options to the Barbara Jordan Terminal giving easier access to airline check-in counters and security screening.

Security

Transportation Security Administration (TSA) has closed Security Checkpoint 3 and will continue to monitor passenger levels to determine when it will be reopened. All passengers will be screened through Checkpoint 1 and 2 until further notice.

Administrative/Other Services

All employees working inside the airport must wear a face covering.
The AUS volunteer program is temporarily suspended.
All AUS live music performances are temporarily suspended.
What we're doing
New stanchion signage throughout the terminal to encourage physical distancing.
New digital signage in gate areas and visitors' center to encourage physical distancing, face coverings, and good hygiene.
Additional hand sanitizing stations.
Visual aids for physical distancing in the terminal, garages, and other facilities.
Overhead announcements promoting adherence to public health best practices, such as wearing a face covering, physical distancing, and other CDC-recommended protocols.
Protective Plexiglass barriers in common areas including ticket counters and gate counters.
Additional cleaning throughout the terminal, including TSA security checkpoints, the Customs & Border Protection Federal Inspection Services (FIS) area, and hold room areas. Restrooms will be cleaned every 90 minutes and deep-cleaned overnight. 
An on-call disinfectant team for decontamination, deep cleaning, and other protocols when necessary.
Employees in all areas have been encouraged to practice good personal hygiene such as regular hand-washing and to engage in social distancing, keeping at least 6 feet from the adjacent person where possible, and avoid large group settings or meetings.
Aviation employees are implementing staggered staffing to support airport operations. Where possible, Aviation employees are working from home.
AUS is also working to keep vehicles clean and customers safe. Shuttles are cleaned with disinfectant and contact areas such as handrails are wiped down multiple times a day.
What you can do
As outlined by Orders from the State of Texas and the City of Austin, you must wear a face covering while visiting Austin-Bergstrom International Airport. Non-compliance with these Orders could result in a fine or an inability to board your flight. Most airlines also require passengers to wear a face covering throughout the duration of your flight. Limited face coverings can be purchased at the following locations:

Pre-security:

The convenience store in our cell phone lot
Z-Cafe near Checkpoint 2

Post-security:

Barton Springs East near Gate 14
Austin Article near Gate 18
Book People near Gate 20
Jetset between Gates 23 & 24

South Terminal

When you visit AUS, please maintain a safe distance between yourself and other passengers. This includes while standing in line, sitting in your gate area, etc.
Wash your hands often with soap and water for at least 20 seconds. If soap and water are unavailable, use an alcohol-based hand sanitizer that contains at least 60% alcohol. Cover all surfaces of your hands and rub them together until they feel dry.
Avoid touching your eyes, nose, and mouth with unwashed hands.
Stay home if you're sick or experiencing symptoms.
Cough or sneeze into your elbow or use a tissue to cover it, then throw the tissue in the trash.