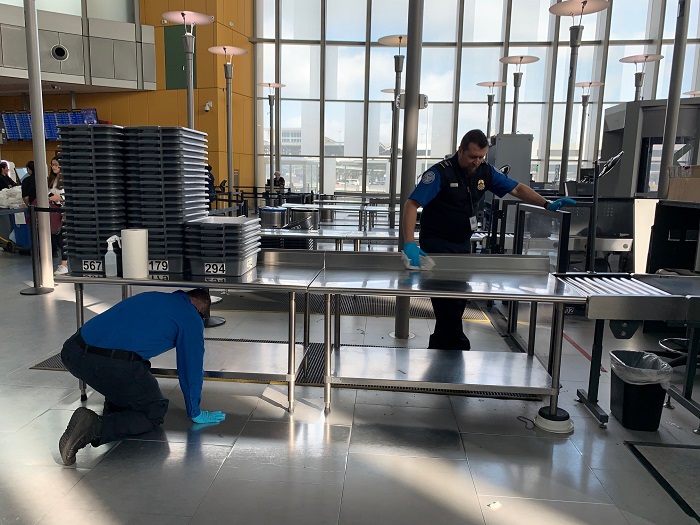 Austin-Bergstrom International Airport is open to provide essential services for those who need to travel. Our team is working around the clock to ensure enhanced cleaning operations and continuity of our services for everyone who needs to access the airport. 
For information regarding changes to air service, passengers are encouraged to contact their airlines. 
Impacts/Changes at AUS
Air Service

Air service at AUS has been impacted, including the suspension of various international flights. We recommend customers contact their airline regarding future travels.

Concessions

Some concessions are closed or operating under limited hours based on passenger demand and staffing considerations.

Parking

Exiting through credit card express lanes is encouraged to avoid person-to-person contact.

Beginning Friday, March 27, 2020, AUS is suspending valet parking operations and closing the third floor of the Red Garage/Garage 1 to the public. The remaining floors of Red Garage will remain open. Blue Garage and the Economy parking lots will remain open for now. 
Shuttle

service will remain

available from the Economy lot

to

the Barbara Jordan Termina

l at a level commensurate with demand, as will the shuttle service to the South Terminal.

AUS Parking s

huttles are cleaned with disinfectant and contact areas such as handrails are wiped down multiple times a day. Additionally, to adhere to social distancing, we are limiting the number of passengers on board shuttles at one time.

Security

Transportation Security Administration (TSA) has closed Security Checkpoints 1 and 3, and will continue to monitor passenger levels to determine when they will be reopened. All passengers will be screened through Checkpoint 2 until further notice.

Administrative/Other Services

The AUS volunteer program has been temporarily suspended.

On the recommendation of Austin Public Health, all AUS live music performances are being cancelled through April 30, 2020.
What we're doing
Providing more hand sanitizer stations in high-traffic areas (such as after TSA checkpoints).

Posting signage and making announcements communicating general hygiene best practices and social distancing.

Adding a focus on disinfecting "high-touch" areas, such as kiosks, podiums, door handles, keypads, railings, water fountains, seating, and security bins.

Ensuring cleaning staff are concentrated in public areas, and in some cases, pulling in staff from other divisions to assist with enhanced cleaning procedures.

Providing all facilities staff with bottles of disinfectant solution to use as they work. All cleaning staff also use gloves and have access to face masks if requested.

Employees in all areas have been encouraged to practice good personal hygiene such as regular hand-washing and to engage in social distancing, keeping at least 6 feet from the adjacent person where possible and avoid large group settings or meetings.

Aviation employees are implementing staggered staffing to support airport operations. Where possible, Aviation employees are working from home.

AUS is also working to keep vehicles clean and customers safe. Shuttles are cleaned with disinfectant and contact areas such as handrails are wiped down multiple times a day.
What you can do
Wash your hands often with soap and water for at least 20 seconds. If soap and water are unavailable, use an alcohol-based hand sanitizer that contains at least 60% alcohol. Cover all surfaces of your hands and rub them together until they feel dry.

Avoid touching your eyes, nose, and mouth with unwashed hands.

Avoid close contact with people who are sick.

Stay home when you are sick.

Cough or sneeze into your elbow or use a tissue to cover it, then throw the tissue in the trash.

According to the CDC, if you are NOT sick: You do not need to wear a facemask unless you are caring for someone who is sick (and they are not able to wear a facemask). Facemasks may be in short supply and they should be saved for caregivers.