How Austin Water is Keeping Lead Out of Our Customer's Water
The City of Austin benefits from extremely low levels of lead when compared to the rest of the country. Austin Water meets all EPA standards for lead in water and continues to be well below the state and federal action levels for lead. Austin Water protects drinking water quality for all customers and actively minimizes any risk of lead.
Sources of Lead
Where does lead in water come from?

There is no lead in Austin's water source (Lake Austin and Lake Travis). There is also no lead in our treated drinking water. However, it is possible for lead to enter water through corroding plumbing materials found in water service lines and home plumbing. Some common sources of lead can include: pipes, solder, brass plumbing fixtures, faucets and pipe fittings. These lead sources are more likely to be found in homes built before 1986. In Austin, these lead sources are less common than many other major cities across the United States.
 

Lead Exposure Risk

Austin Water uses a process called lime softening at our treatment plants. Over time, this process has resulted in Austin's treated water forming a protective scale on the inside of pipes that prevents the leaching out of materials such as lead.
 

Understanding Your Water Service Plumbing

It is the shared responsibility of both Austin Water and property owners to protect from lead in drinking water. While Austin Water has few potential sources of lead, Austin Water takes proactive steps to identify and replace lead piping. Nonetheless, Austin Water is not responsible for the private piping inside your home up to your water meter.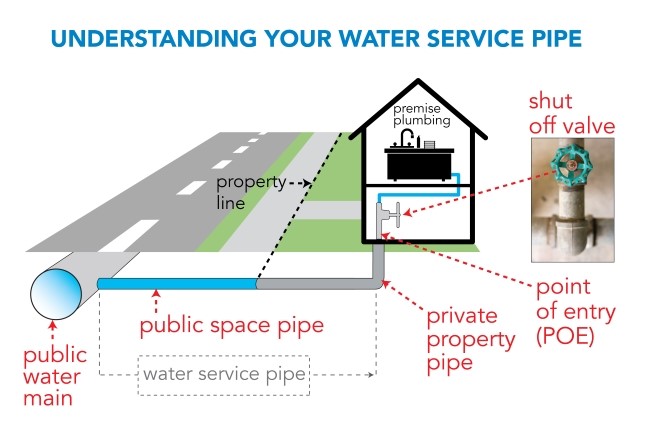 Source: https://www.dcwater.com/leadmap
What Austin Water is doing to eliminate public lead service lines
Austin Water is performing a lead service line inventory

No in-service lead service lines have been identified to date
Field verification of services of unknown material is underway
Researched service material at all schools we serve – none are lead
Researched service material at all licensed daycares we serve – no lead identified
Expanded testing beyond what the EPA requires
Provided customers with support if a lead service line is found

Free filter pitcher
Flushing instructions
Free water testing
Getting rid of lead?
Lead sources are often found on the property owner's side of the meter. Although a property owner may have lead piping it does not mean they are likely exposed to lead. This is due to Austin Water's lime softening process. However, a good strategy to protect against lead is to identify and replace potential sources of lead on private property. A plumber can advise on the type of pipes in your home.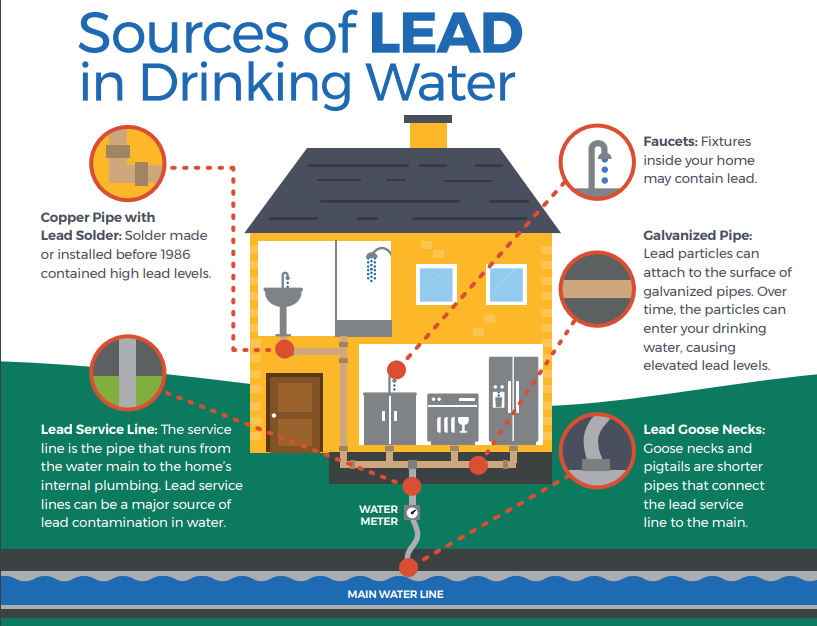 Free Testing and Minimizing Exposure
If you think your home's plumbing and fixtures may contain lead, testing can identify whether lead has leached into your water.
For free testing, call Austin Water at 512-972-0153 or 512-972-2133. The Texas Commission on Environmental Quality also offers free sampling and analysis for lead in drinking water at schools and childcare facilities. Find out more here.
To reduce exposure to lead, you can also:
Flush your pipes before using by running water shortly (one to two minutes), doing laundry or washing dishes

Use only cold water for drinking or cooking

Clean faucet screens or aerators

Use a filter certified to remove lead
Information
Information on lead in drinking water, testing methods, and steps you can take to minimize exposure is available from the Safe Drinking Water Hotline 800-426-4791 or epa.gov/safewater/lead.