Image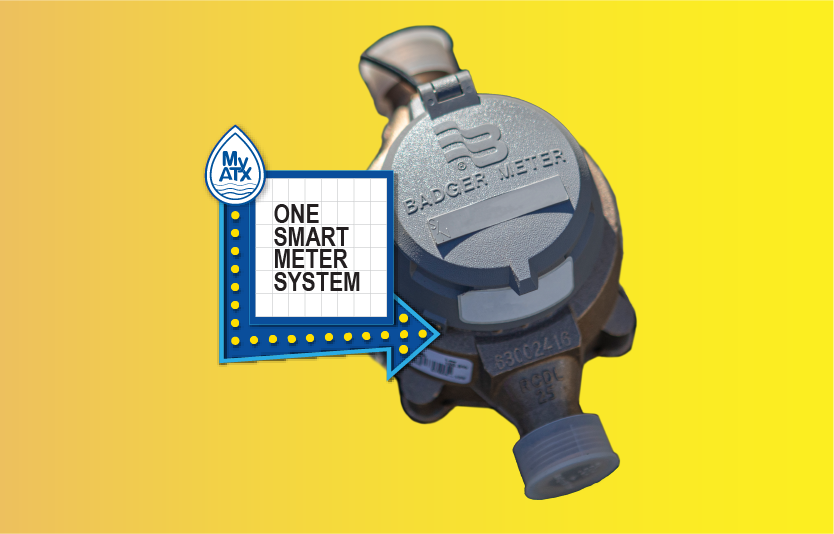 Welcome to My ATX Water, Austin's Smart Water Meter System!

As lake levels drop and temperatures rise, the My ATX Water portal will help your household save water and cut back on your bills.

Sign up today to get continuous usage and leak notifications, personalized alerts, water budgeting features, customized water-saving tips, and much more! 

Austin Water is helping build smart neighbors, one smart meter at a time.
Subtext
All full time positions include robust benefits with no waiting period for you and your qualified dependents.  
Did you know that Austin Water serves more than a million customers?  Austin Water operates three water treatment plants and two wastewater treatment plants 24 hours a day, 7 days a week.  
Join our team of dedicated employees and you'll have access to even more benefits like tuition reimbursement, wellness and commuter programs, and more!
Start your career at Austin Water Utility and email AWemployment@austintexas.gov with questions.
Important Water Resources
Description
Winter Storm Uri After Action Report
Austin Water has been working hard to be prepared for extreme winter weather. Many improvements to our water and wastewater treatment plants and drinking water infrastructure have been completed with many more planned to help us be more resilient to the threat of extreme weather.
Stop the Grease Blob
Did you know that fats, oil, and grease, including food scraps sent through the garbage disposal, can stick to the insides of the wastewater pipes, and can cause:
Sewage back-ups & overflows
Very costly repairs
Threats to public health and the environment
Visit the Stop the Grease Blob webpage for more information and helpful tips to help you protect the sewer system and avoid costly repairs. 
Austin is currently in Stage 1 Drought Response 
Find Your Watering Schedule 
The combined storage level of water in Lakes Travis and Buchanan has dropped below 1.4 million acre-feet. Austin residents can protect the lakes, the environment, and our future water supply by following Stage 1 Watering Schedule Restrictions. Learn more.
Awards & Recognition
EPA recognizes Effective Utility Management in action at Austin Water
The United States Environmental Protection Agency recognized Austin Water for its implementation of Effective Utility Management strategies to meet the challenges ahead. The utility has chosen to focus on Enterprise Resiliency, Customer Satisfaction, Employee Leadership and Development, and Infrastructure Strategy and Performance. Taken together, improvements in these target areas are helping the utility continue to be an industry leader and improve operations and resiliency.
Read the case study featured on the EPA web site and other recognition and awards received.
Water & Wastewater Rates
Each month your utility bill arrives. Ever wonder what goes into the price of your water?  Learn more about how Austin Water sets affordable water and wastewater rates while promoting water conservation and sustainability. 
Recent News
Bills for water services at an 8-year low as a percentage of household income
Over 50,000 new digital meters installed throughout the City of Austin