Special events within the City of Austin are required to submit waste management information.
All event organizers are responsible for providing sufficient waste management services for the event. Additionally, event areas (set-up, staging, clean-up) need to be cleaned and restored to the same condition as prior to the event.
 
---
Material Bans and Prohibitions
Styrofoam and glass containers are not allowed at any event held in City facilities and park grounds, or on City streets and sidewalks. 
 
---
Tier Requirements
Tier 1 events need to complete the following at least 3 business days prior to the event: 
The Waste/Wastewater/Trash section included in the ACE Application.  
Include the location of dumpsters, roll offs, trash and collection bins on your event map or site plan.

Note: This is in addition to the minimum requirements for a site plan on the permit application.
Tier 2, 3, & 4 events need to submit a Waste Reduction and Diversion Plan at least 30 calendar days prior to the event & must: 
Complete all Tier 1 requirements (see above)
Provide the same capacity for recycling as landfill trash (1:1 ratio)
Recycle all aluminum, plastics, and cardboard
Educate event staff and vendors on the availability and location of dumpsters
Group, label, and regularly maintain all collection bins
Store and maintain dumpsters to prevent overflow, leaking and to deter wildlife or illegal dumping
After an event, organizers are required to provide proof of waste management services through copies of invoices, receipts or weight tickets to ensure requirements have been met. 
Failure to comply may result in denial of future special event permits or penalties and fees.
 
ACCEPTED: Dumpsters and collection bins are paired together and properly labeled.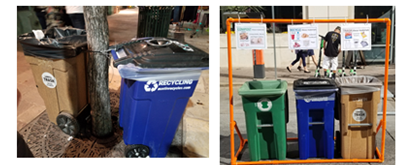 NOT ACCEPTED: Dumpsters and collection bins are overflowing and are not labeled.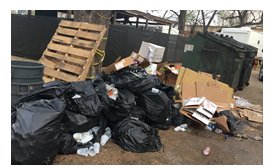 Events not in compliance may be subject to denial of future special event permit applications or penalties and fees.  
 
---
Reduce and Divert Waste 
Follow these tips to help reduce and divert material as much as possible:
Before the Event 
Check with your event venue about on-site recycling and waste management.
Anticipate the kinds of waste your event might have. 
Talk with vendors about how to meet the ordinance requirements.
Incorporate Zero Waste guidelines and policies into vendor service agreements.  
Arrange for services from a licensed private hauler.  
Make sure your landfill trash and recycling dumpsters are large enough for your event.  
Find FREE reuse and recycling solutions through the Austin Materials Marketplace.
Use different colored bags in collection areas (clear for recycling, black for trash, green for compost). 
Coordinate with Keep Austin Beautiful for event clean-ups or free recycling bins.  
Create signs for your collection bins. 
Consider donating extra food.  
 
 During the Event 
Announce recycling and/or compost bin locations. 
Train volunteers to show attendees how to properly discard waste.  
Empty dumpsters and bins throughout the event, as needed.
 
After the Event
Ensure dumpsters are picked up on time. 
Submit proof of services to Austin Resource Recovery.
Review your waste reduction and diversion efforts with Austin Resource Recovery and discuss goals for your next event. 
 
---
Contact Us 
Austin Resource Recovery offers free consultations and training to help meet the Waste Reduction and Diversion Requirements and host a zero waste event. Assessments are offered on a first come, first serve basis. 
For more information, email staff at ARRspecialevents@austintexas.gov.