AUS Achieves Carbon Neutrality for Airport Operations during Busiest Year Ever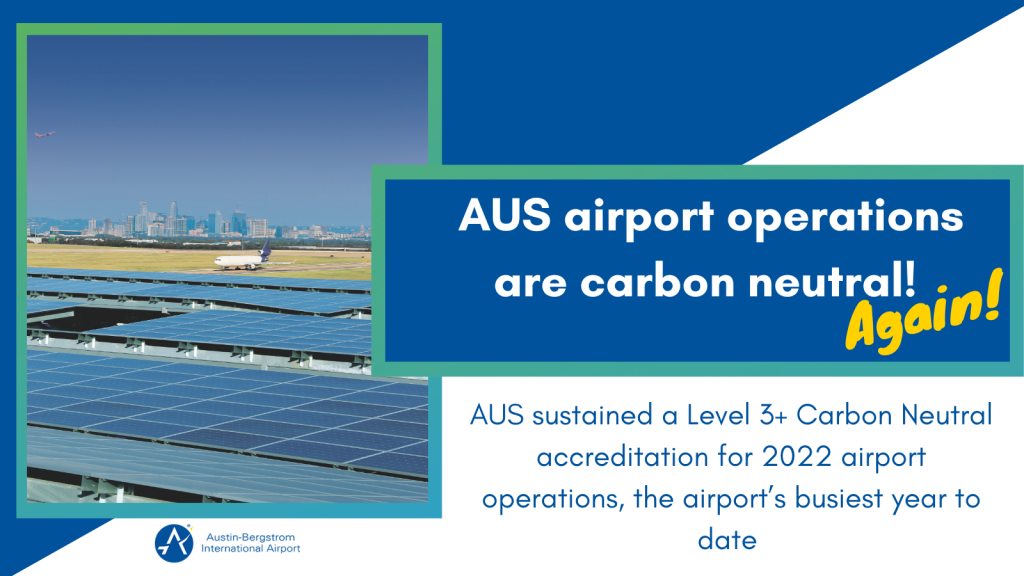 In an age of climate crisis and heightened environmental awareness, we believe it's every institution's job to aim lower – reduce activities that are harmful to the environment – and higher – increase contributions and activities that impact the environment in positive ways and offset harmful activities.
As an airport, we run a critical, 24/7 operation for Austin and the Central Texas region. We do our part in assessing the daily operations and activities that are under our (the airport, not the airlines or our partners) control to find either alternative or more environmentally friendly solutions, or ways to reduce our reliance on environmentally unfriendly things. We're proud to say that back in 2020, we did this successfully to the point that we were recognized in 2021 by the Airports Council International – North America's Airport Carbon Accreditation Program as the first (and at that time only) medium-sized airport to achieve carbon neutrality with a Level 3+ accreditation in North America.
Then, we kept it carbon neutral in 2021.
THENNN (i.e. today), we maintained our status as a carbon neutral airport for the 3rd year in a row in 2022. But, "maintain" doesn't do this seemingly repetitive announcement justice. This carbon neutrality accreditation is high on our environmental brag list because it shows that during our airport's busiest year ever (with over 21 million passengers), we were able to maintain a carbon neutral operation. If you think about the increasing number of passengers, you can also think about it in terms of an increase in energy consumption: energy supplied in the terminal for more passengers, the number of shuttles buses in operation on the airport's campus, more staff working in the terminal + other buildings on campus, and so on and so forth.
Reaching a Level 3+ accreditation means that AUS's City of Austin Department of Aviation has reduced emissions as much as possible and successfully offset residual emissions by investing in and implementing projects that reduce carbon dioxide. These combined efforts have led to a fully carbon neutral airport operation. AUS's robust environmental and sustainability portfolio helps achieve carbon neutrality and minimizes impacts on the environment, and includes: 
A partnership with Austin Energy to generate 1.8 megawatts of renewable solar energy on the airport campus which provides power to the airport and 160 local homes through the Community Solar Program
Using 100% renewable energy in the Barbara Jordan Terminal through Austin Energy's GreenChoice Program
Using renewable natural gas to power AUS's shuttle bus fleet and piloting a renewable natural gas credit-sharing program with Clean Energy to aid airport partners in reducing their emissions
Achieving an Austin Energy Green Building 3-star rating on the newest completed airport facility, the Airport Career and Development Center
Purchasing renewable energy and carbon offsets from sustainable sources and promoting The Good Traveler program to AUS passengers
Establishing the AUS Food Rescue Program, which donates unused perishable food from concessions to Keep Austin Fed, and a campus-wide composting and recycling program
Partnering with airlines to support electric-powered airline ground service equipment
This is a remarkable achievement because it shows that even with over 21 million passengers and more staff on the airport campus for that year, there were enough environmental efforts and investments across our airport operations to reduce the carbon footprint. You'll find electric shuttles, waste management systems, water reclamation initiatives, eco-partnerships, and other efforts throughout the airport's sustainable ecosystem that keep us 100. 100% carbon neutral, that is.
Keep it green, y'all.