Equitable Navigation at AUS: Accessibility Services for Our Passengers with Visible and Non-visible Disabilities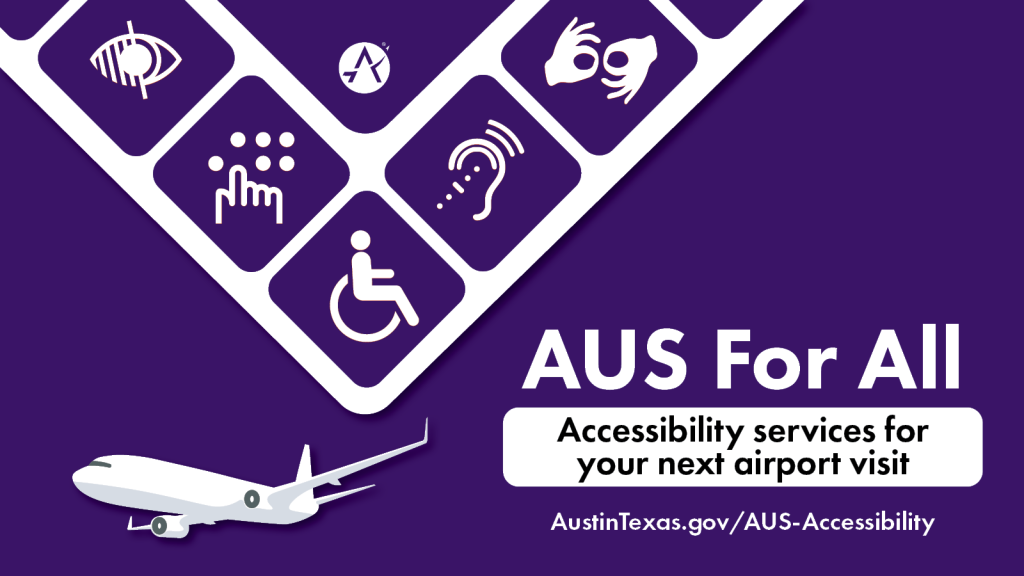 Air travel is amazing. A marvel in and of itself. I mean, we really went above and beyond with that one. Right now, there are humans going 500+ miles an hour 30,000+ feet above our heads – HUH?!
But one thing that isn't a marvel and remains true about air travel: it's stressful. Buying tickets for the best price and time, packing luggage for you and the family, coordinating getting to and from the airport, going through security, checking luggage, being on time and keeping your BPM healthy the whole time. It's a lot to juggle.
At AUS, we want to ensure every passenger has as comfortable and smooth experience as they can while in the airport. Below, we're exploring why accessibility services are critical to our operations and for passengers, which services you can use at our airport, and ways in which you can contribute to improving our services.
Why Accessibility Services Matter
Airports are bustling hubs of activity, where millions of travelers from diverse backgrounds visit daily. These travelers may have varying needs and abilities, and it's crucial to recognize and accommodate these differences. Here's why accessibility services matter:
Inclusivity: Accessibility services promote inclusivity, ensuring that all passengers, regardless of physical or cognitive challenges, can access and enjoy the airport facilities and services.
Independence: These services empower individuals with disabilities to maintain their independence while traveling, allowing them to enjoy the same rights and privileges as any other passenger.
Compliance: Accessibility services also align with legal requirements and regulations, such as the Americans with Disabilities Act (ADA), ensuring our airport remains in compliance.
Positive Reputation: An airport that actively promotes accessibility services fosters a positive reputation, signaling its commitment to passengers' well-being and comfort.
Our Accessibility Services
We've invested in a range of accessibility services to ensure that no traveler feels excluded. Here's an overview of what we offer:
Accessible Facilities: Our airport is designed with accessibility in mind. We offer accessible restrooms, elevators, ramps, and designated parking spaces close to terminal entrances.
Visual Aids: Passengers who are blind or low-vision can safely navigate the airport by downloading Aira on their mobile device. This is a live, on-demand visual interpretation service that is free for passengers in the terminal.
Auditory Assistance: For passengers with limited hearing, there is a hearing loop on the east side of the terminal, approximately between Gates 1 and 12. For additional assistance, call 512-530-2242.
Non-visible disabilities: AUS is part of the Hidden Disabilities Sunflower Program. As part of the program, sunflower lanyards or pins are available for passengers with non-visible disabilities to wear at the airport to discreetly notify airport staff and other passengers that you may need more time, patience, and support. Order a free lanyard 48 hours ahead of your trip by emailing AUS.GuestServices@FlyAustin.com or by calling (512) 530-2414.
Accessibility Information: Detailed information about our accessibility services is available at airport information desks or online, making it easy for passengers to plan their journey.
Trams and Priority Rideshare Pick-Up:
AUS has 2 tram services for passengers to easily get to the rental car facility and general public rideshare/tax pick-up areas. Hours of operation can vary.

For priority rideshare, taxi or wheelchair accessible van pick-up, passengers with mobility

assistive devices (wheelchairs, scooters or crutches) can use the Mobility Assistance Zone located on the lower level curbside to get picked up. This is a separate location from the general rideshare pick-up area. Learn more about setting up this service before your trip.
Other accessibility services (offered by our partners)
Wheelchairs: Airlines provide wheelchair services from the ticket counters through security and to the departure gates, and from arrivals to baggage claim. Contact them to set up the service!
TSA Cares: Helpline that provides travelers with disabilities, medical conditions and other special circumstances additional assistance during the security screening process at AUS. Book the service 72 hours before your flight. Learn more about or request assistance through TSA Cares online or reach them at (855) 787-2227.
Your Voice Matters
Passenger feedback is powerful. If you encounter any issues with or have suggestions for improving accessibility services at AUS, there are many ways for you to voice your concerns:
Feedback Forms: At the airport and on the Americans with Disabilities Act and Title VI webpage, you can find feedback forms specifically designed for accessibility-related comments and suggestions.
Customer Service: Our customer service team is available 24/7 to address your concerns and gather feedback. You can reach out via phone at (512) 530-2414, email at AUS.GuestServices@FlyAustin.com, or in person at the airport.
We encourage you to take advantage of the above resources, as your insights help shape a more inclusive and accessible airport for all.