Net-Zero Hero: Stephanie Webb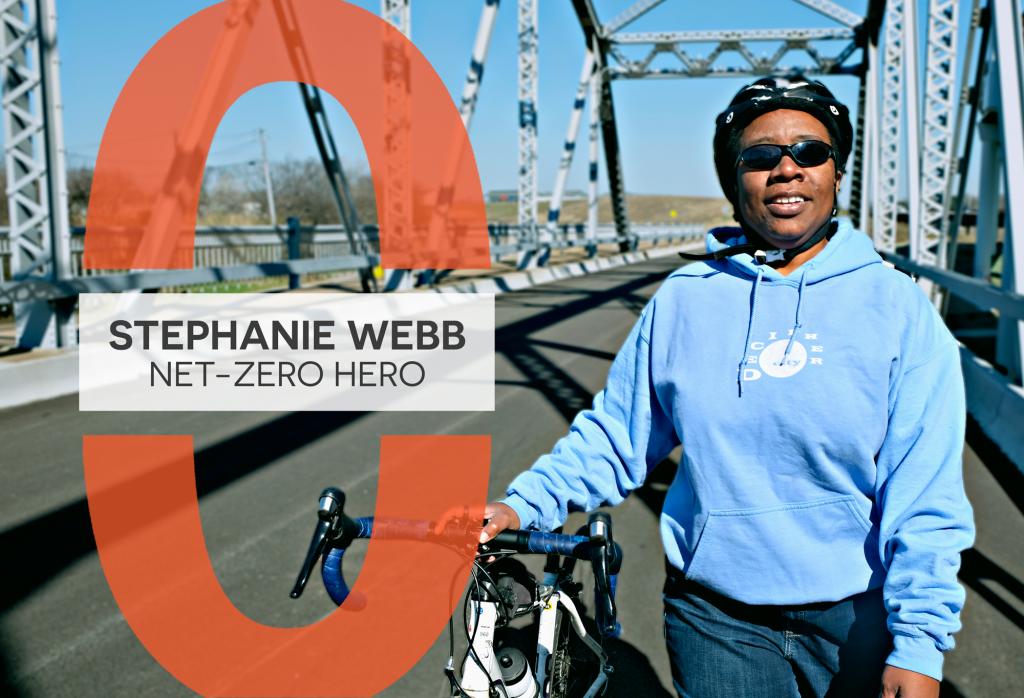 I'm helping to make Austin Net-Zero by discussing how climate discrimination keeps most BIPOCQ* in areas of urban sprawl and how safe, sustainable transportation is accessible to few.
Meet Stephanie Webb, an activist, analyst, athlete, and our newest Net-Zero Hero! As the founder of Decipher City, Stephanie has spent years exploring and writing about how planning decisions and our built environment have impacted marginalized communities in Austin. As a bicyclist and East Austin resident herself, the data is personal. 
In addition to running Decipher City, Stephanie has served as a full member of the City of Austin's Bicycle Advisory Council and is currently working with the ATX Walk, Bike, Roll program.
We met up with Stephanie at the Montopolis Bridge to chat about her work, what it means to her to be an East Austin resident, and her journey to local activism.
* BIPOCQ stands for Black, Indigenous, People of Color, Queer.
---
What inspired you to take action?
In 2013, I had a car accident that totaled my vehicle while I was moving from West to East Austin. I was left with a bicycle, public transportation, and my physical capabilities – and it was fortunate that I was an endurance athlete. With paid-off the car totaled and being unemployed, I had no interest in acquiring another vehicle. I began to notice that it was really difficult to get anywhere from where I had moved in East Austin. When I was looking for jobs, I noticed that most of the major employers that Austin previously courted were nowhere near public transportation or had a very narrow window for commuting.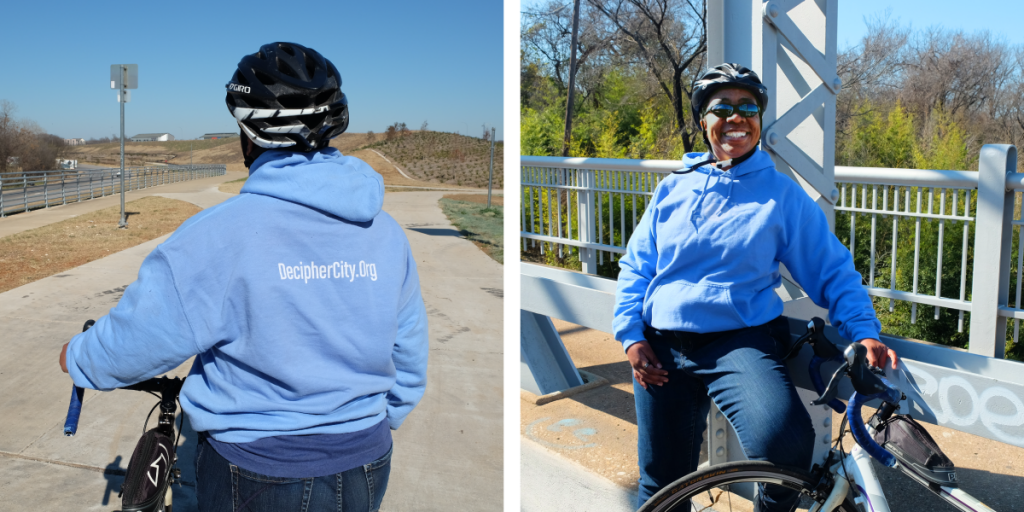 Once I became employed, I inexplicably decided to train for triathlons, but when I tried networking with triathlon teams at a race, none of the teams I met trained in places accessible by bus or in areas where it was safe to bicycle. There were plenty of sidewalks where I lived, but much less shade, and I discovered that I was very sensitive to heat and dehydration, unnoticeable while living near Crestview Station. Moreover, I lived two miles away from the nearest grocery store, limiting me to a gas station and a pizza parlor across the street for quick trips.
I became disgusted after comparing my East Austin athletic experience to that of West Austin. From that point on, I made more effort to demonstrate just how disparate the experience is between living near resources and having resources limit where you live.
 
How did you do it?
I have been incredibly lucky to remain in Austin's core, within the limits of highways 183, MoPac, and 71, now only affordable with cooperative living by most people. I refuse to own a vehicle, only renting one on occasion, so I mostly commute by foot or public transportation, because cycling feels much more dangerous than when I trained for triathlons several years back. When I ride, I remain in the inner city because there are protected bicycle lanes, shade, and enough public infrastructure (water, benches, people) that if I were in an accident, I would be close to help.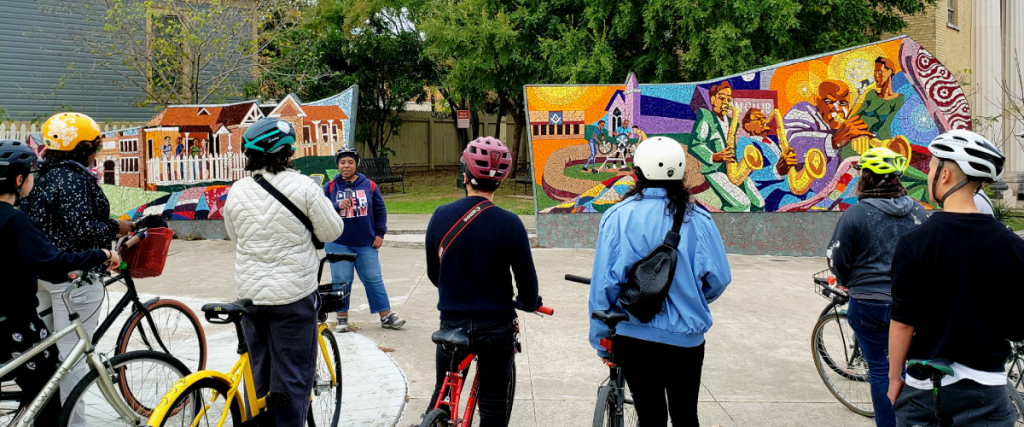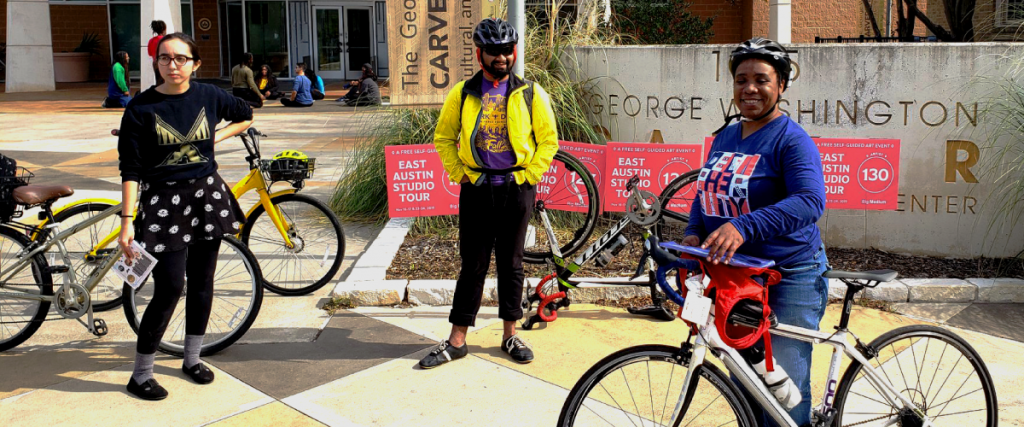 Above: Stephanie leads fellow Austinites on a bicycling tour of East Austin as part of Decipher City's Woven In Among Us project. The project was in partnership with Ghisallo Cycling Initiative and discussed the effects of displacement and urban renewal in the East Austin area just east of IH-35. Photos courtesy of Ghisallo Cycling Initiative.
 
What's been most rewarding about getting involved in this way?
I have regained my love of writing and engaging with people about how everyone deserves a place in the city. I do what I do because it makes sense. People are hungry for substantive change and meeting more peers as I move through life has been incredibly validating.
What's been the toughest part?
I trained as a GIS analyst but never got a job in this field, so I lost my skills, trapping me in entry-level work. The constantly rising cost of living started forcing me to move further away from areas I could access without a car. My choices started being made for me, and no one should be excluded from making environmentally-conscious choices simply because they lack a "good job." 
Spending time outside walking and biking has shown me so much about why people need to respect how vulnerable members of our community are to climate change and its effects. Moreover, the research I do makes me incredibly frustrated that so much of my hometown was built by kicking out people who look like me so that others could have a good time.
Our interview will come out in February during the celebration of Black History Month. This year's theme is "Black Health and Wellness". As an athlete and researcher, how does this theme speak to you and how do you see it connecting to sustainability?
People have a right to exist free from harassment. Racial justice demands that Black people be able to exist in public spaces without being under the control of someone else. In my work, I often talk about a socioecosystem because human beings cannot exist in good health without being connected to their surroundings. Black life has always involved a positive relationship with the outdoors, and when we can enjoy it without being controlled, we thrive.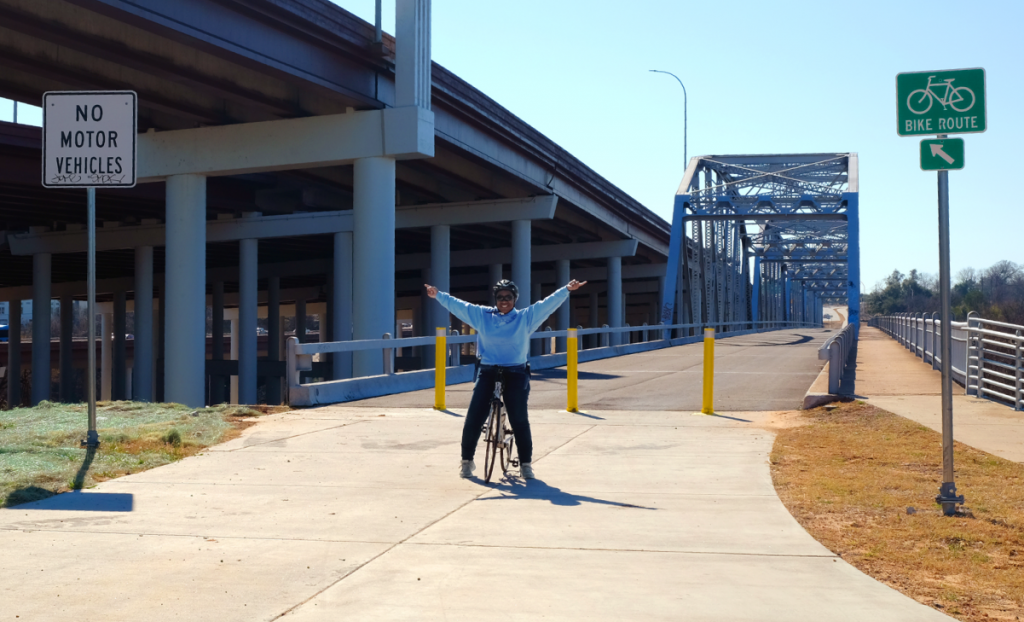 What advice do you have for others?
Belittling others because of things like their dietary choices or not having a personal vehicle is a way to make those without resources feel even worse. Combatting climate change begins with making it possible for everyone to live without a car and still be able to enjoy a decent life.
Is there a book, documentary, or other piece of media you would recommend for folks wanting to learn more about these topics? What inspires you about this or why did you choose to share it?
I maintain DecipherCity.Org, which discusses race and the built environment. When the previous presidential administration came into office, I knew that I wanted to be more of an advocate. Also, I realize that most people do not understand how racial injustice is literally the basis of most urban planning. The organization started as an app, but became more of an information portal. That switch came with the realization that there are enough apps, but there is precious little response to the status quo's narrative.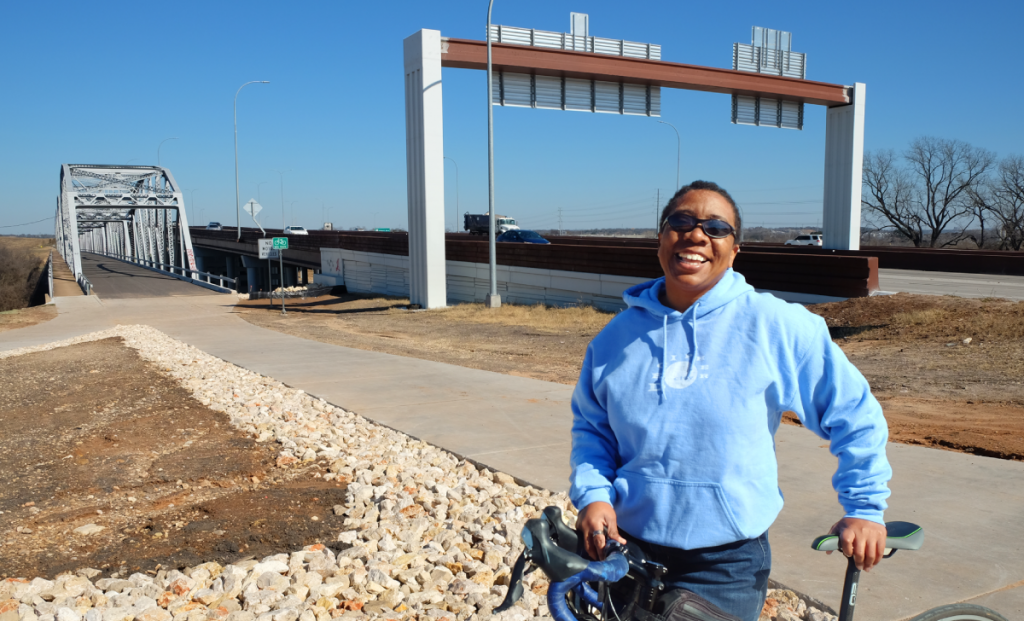 ---
You can start your own bicycling journey while learning more about Stephanie's work and the history of Austin on self-guided bicycle tours brought to you by Decipher City and the Ghisallo Cycling Initiative.
To learn more about Austin's net-zero goal and explore actions you can take to support a greener community, view the Austin Climate Equity Plan.
Share your Net-Zero contributions with us on Twitter or Facebook and use #NetZeroHero. If you know a Net-Zero Hero (or heroes!) who should be recognized for their efforts, send your nomination to sustainability@austintexas.gov.