In 2019, the Phase 2 Plan for the Asian American Resource Center (2019 Plan) was adopted by the Austin City Council. This Phase 2 project seeks to implement aspects of the plan through the addition of a live performance theater and associated programming as well as parking to increase programmatic possibilities for the popular AARC. The facility expansion will provide a place for Austin's diverse Asian communities to share culture and life-enhancing opportunities.  
Sign up for email updates for Phase 2 Implementation
AARC Phase 2 Building Program Feedback: Open May 14 to 29, 2022
Updates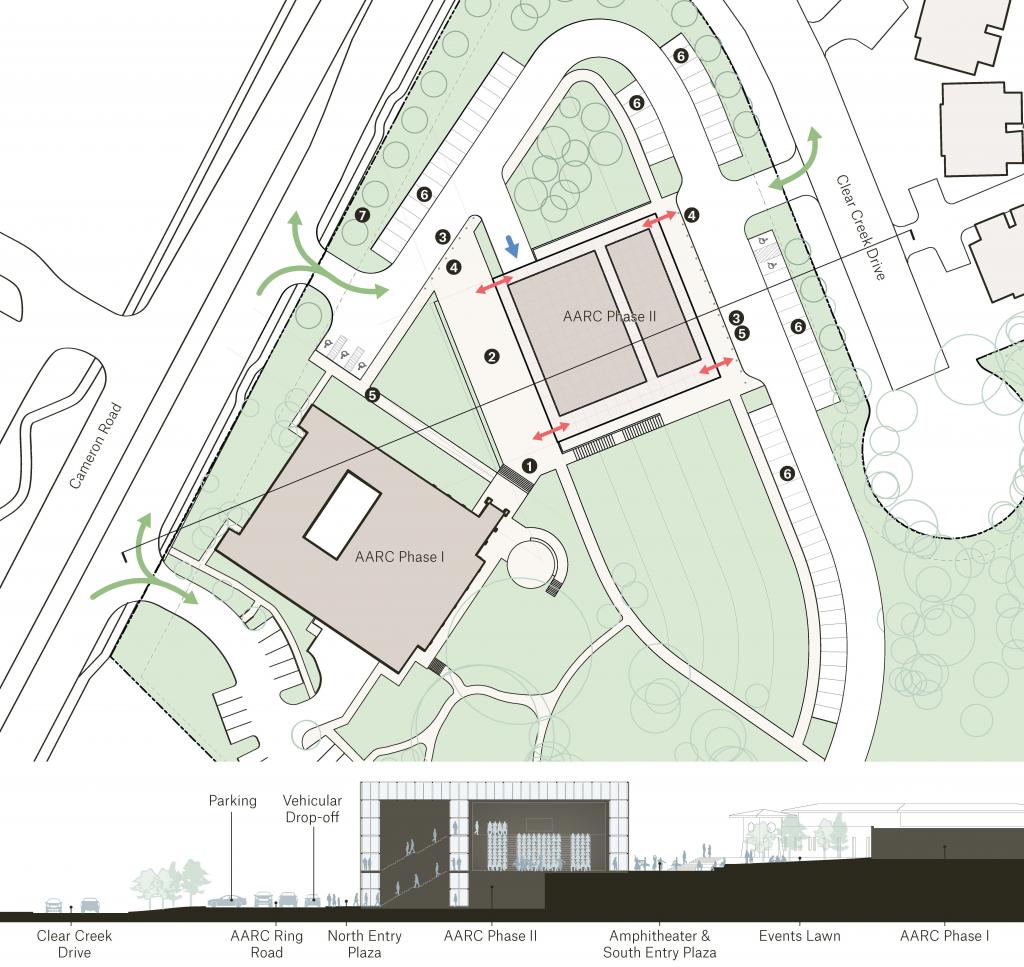 Proposed site plan shown at CelebrASIA, May 14, 2022. View PDF here.
Project Background
The Asian American Resource Center's mission is to create a space of belonging and healing for Asian American communities in Austin and beyond. This is accomplished through community collaborations and partnerships; providing rental space; organizing cultural, educational and health wellness programs; and curating art and historical exhibitions. We lead with our values and our vision, so that our diverse communities are supported and connected. The AARC opened in 2013 on a 15-acre site that serves a large, actively engaged Asian American community in Austin. This center represents a long-awaited dream for many in the community and was made possible through an Austin voter-approved 2006 Bond Package for $5 million with a $750,000 investment from the U.S. Department of Commerce's Economic Development Administration. Members of the local Asian American Pacific Islander community contributed pro-bono services for the design. 
In 2003, the Network of Asian American Organization, a consortium of 15 Asian cultural organizations, was the driving force behind the establishment of the AARC through a City Ordinance and followed through with the creation of a community-led 2006 Master Plan*. Today, the Asian American Quality of Life Advisory Commission is a driving force behind expanding the ability of the AARC to better serve its growing community. The 2006 Plan and the 2019 Plan Update with associated Community Engagement Report (below) outline the varied needs and desires of the community. The AARC vision and planning stretches back more than 20 years.
Project Description
This project focuses on the addition of a 200- to 400-seat live performance theater, associated programmatic spaces, parking stalls, and associated site improvements. The scope will be refined based on the available budget. The expansion of the facility will serve as much-needed space to serve the rapidly growing community.
Anticipated Schedule
Winter 2021-22: Community Engagement Goals and Design Process began
Winter to Spring 2022: Community Engagement process for Building Programming and Building Design
Spring 2023: Design completed and Start of Construction
Summer 2024: Construction completed
Please note that as in any construction project, schedules are projected as accurately as possible, but all dates are subject to change due to the nature of construction and the weather.
Funding and Resources
The Phase 2 Project is supported by $7 million in bonds approved by Austin voters as part of Proposition B of the 2018 GO Bond Election.
Community Engagement
The community engagement plan outlines the process that will be followed through the Phase 2 Implementation process and will be updated as needed. Due to COVID-19 restrictions, community engagement will take place in part or in whole virtually. 
AARC Phase 2 Building Program Feedback: Open May 14 to 29, 2022
Community Survey on Future Performing Arts Center (closed April 11)
Community Kickoff Meeting at the AARC
Tuesday, March 29, 2022, 6:30 p.m.
8401 Cameron Rd., Austin, TX 78754
Meeting Presentation (PDF) | Meeting Stations (PDF, 27 MB)
Small Group Discussions: Building Program 
Presentation (PDF)
NAAO Meeting: January 26, 6 p.m. | recording
AARC Staff
Asian American Quality of Life Commission AARC Working Group: February 8, noon | recording
Artists and Creatives: February 8, 6 p.m. | recording
Consultant Team
Trahan Architects was selected as the prime consultant for the Zilker Park Vision Plan.
Contact Information
For questions or comments, please contact Christina Bies, Associate Project Manager, Parks and Recreation Department, by email or phone at (512) 974-9490.
2019 Planning Process
2019 AARC Plan Update Final Report

 

2006 AARC Master Plan Final Report

The 2006 Master Plan was conducted by private entities before the City of Austin began managing the process.

Presentations to Boards, Commissions and Council (2019)

Community members were invited to the following presentations before boards, commissions, and City Council:

July 16, 2019: Asian American Quality of Life Advisory Commission

July 31, 2019: Network of Asian American Organization (6 p.m. at AARC)

 

View the presentation and draft site plan that will be shared at each meeting.

 

Community Engagement Process (2018-2019)

The 2019 Plan update provided several opportunities for the community to provide input and comment on the process. The process included stakeholder meetings, open houses, small group conversations, surveys, and online updates. In addition, there were multiple opportunities to share on SpeakUp Austin!

Community Meeting #1
Tuesday, December 11, 2018, 6:00 PM to 8:00 PM
Asian American Resource Center
8401 Cameron Rd

Community Meeting #1 Presentation

Master Plan* Values Concept Questionnaire results

Community Meeting #4 (Final Meeting)
Wednesday, May 1, 2019, 6 p.m.
Asian American Resource Center
8401 Cameron Rd

Community Meeting #3
Thursday March 28, 2019, 6 p.m.
Asian American Resource Center
8401 Cameron Rd

Community Meeting #2
Thursday, January 31, 2019, 6 p.m.
Asian American Resource Center
8401 Cameron Rd
* Please note: In 2020, PARD shifted from using the term "master plan" to describe all planning projects to other phrases that were more descriptive and could be used to identify the level of the planning process. For more information, please visit the Project Terms and Definitions webpage.