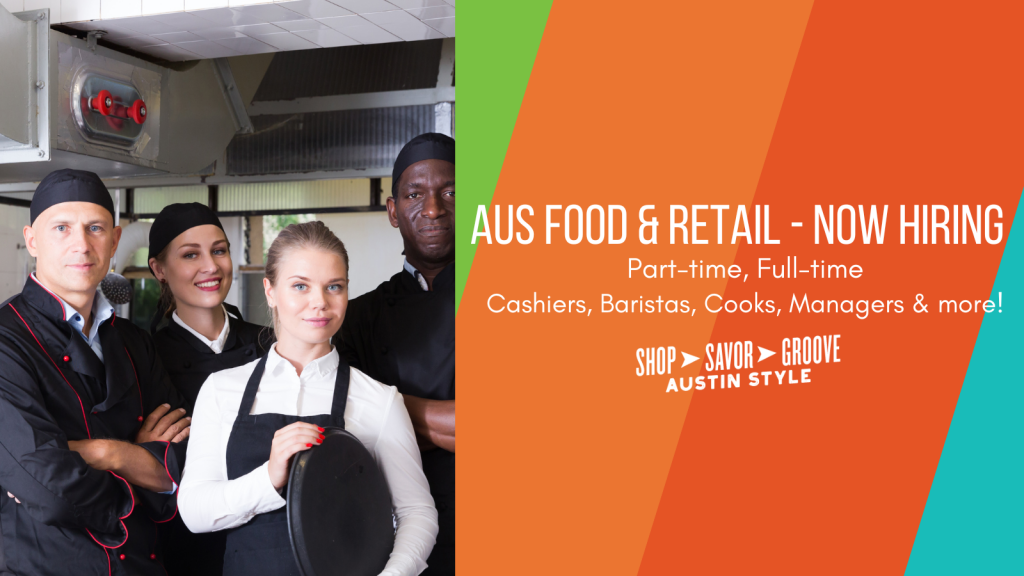 Austin-Bergstrom International Airport (AUS) is home to over 80 concessions. Our partners Paradies Lagardère, Delaware North, and HMSHost operate all food and retail locations. See below to learn more about the companies and the variety of positions they offer.
Employers and Current Job Opportunities 
Paradies Lagardère brings 70 years of experience in pioneering trends, developing innovative shopping and dining options, and delivering engaging experiences for airport travelers across North America. Paradies Lagardère offers superior design, special operations, and management. Here are a few concessions they operate at AUS:

Salvation Pizza
Vino Volo Hill Country
The Scoreboard
Berry Austin
Hut's Hamburgers

Deleware North manages and provides food and beverage concessions, premium dining, entertainment, lodging, and retail at many large venues. Delaware North culinary and hospitality staff offer extradition experiences to guests. Here are a few concessions they operate at AUS:

Peached Tortilla
Toy Joy
Taste of ATX
Juiceland
Salt Lick BBQ

At more than 120 airports worldwide, HMSHost brings travelers exciting food and beverage experiences they've never had before, as well as warm welcomes from employees who strive to provide the best customer experience. Here are a few concessions they operate at AUS:

Parkside
Jugo
24 Diner
Austin Beer Drop
Nobel Sandwich

View HMS Host employment opportunities

Candidates can now text HMS Host to begin the job application process! Text "HMSHost" to 97211 to apply now.

More partners that operate out of AUS:
---
Resources for Employers: AUS Background & Badging Forms
---
The City of Austin is committed to compliance with the American Disabilities Act. If you require reasonable accommodation during the application process or have a question regarding an essential job function, please call (512) 974-3210 or TTY (512) 974-2445.
The City of Austin will not discriminate against any applicant or employee based on race, creed, color, national origin, sex, gender identity, age, religion, veteran status, disability, or sexual orientation. In addition, the City will not discriminate in employment decisions on the basis of an individual's AIDS, AIDS Related Complex, or HIV status; nor will the City discriminate against individuals who are perceived to be at risk of HIV infection, or who associate with individuals who are believed to be at risk.