Español  |  Tiếng Việt  |  العربية  |  한국어  |  简体中文 |  繁體中文 |  မြန်မာစကား | اُردُو  | Français  | हिंदी
Language Access Cards
Use your iSpeak Austin language access card to request language services!
These wallet-size cards are FREE to download and print.
Card reads: I speak [your language]. Please contact an interpreter, so we can communicate.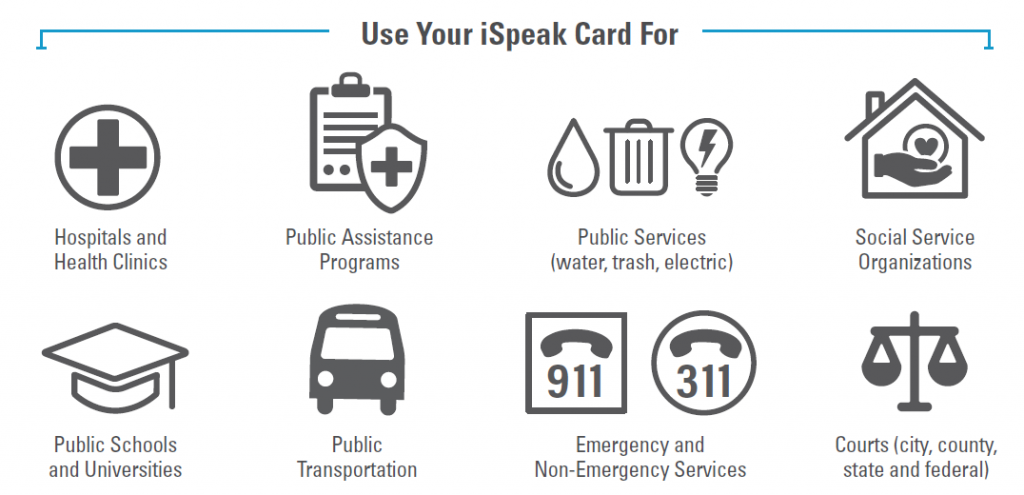 *This card is not required for you to receive services.
Instructions:
There are four ways to obtain and use your iSpeak Austin language access card. Click on Language Access Cards. Find your language. Click on your language. Then, you can either
1) Print the document. Cut out the iSpeak Austin card at the bottom of the page and fold it in half. Carry it in your wallet or purse and use it to request language assistance when accessing services.
2)  Download the pdf directly to your phone and save it to use to request language assistance when accessing services.
3) Take a screenshot of the card and save it to your phone to use when needed.
4) Pick up at the library. FREE wallet cards can be found at the Austin Public Library or any of the 20 branches in Austin. If cards are not available in your language, a librarian can assist you with printing a card.
Note: If your language is not included in the list below, please send a request to the City of Austin Language Access team.
Language Access Cards

العربية (Arabic) (PDF, 441KB)

American Sign Language (ASL) (PDF, 320KB)

မြန်မာစကား (Burmese) (PDF, 484KB)

廣東話 (Cantonese) (PDF, 497KB)

دری (Dari) (PDF, 511KB)

English (PDF, 337KB)  

فارسي (Farsi) (PDF, 513KB)

Français (French) (PDF, 463KB)

ગુજરાતી (Gujarati) (PDF, 682KB)

Kreyòl Ayisyen (Haitian Creole) (PDF, 636KB)

हिंदी (Hindi) (PDF, 490KB)

日本語 (Japanese) (PDF, 583)

Ikinyarwanda (Kinyarwanda) (PDF, 461KB)

한국어 (Korean) (PDF, 537KB)

普通话 (Mandarin) (PDF, 513KB)

नेपाली (Nepali) (PDF, 544KB)

پښتو (Pashto) (PDF, 511KB)

русски (Russian) (PDF, 576)

Español (Spanish) (PDF, 651KB)

Kiswahili (Swahilli) (PDF, 646KB)

Tagalog (PDF, 319KB)

ትግርኛ (Tigrinya) (PDF, 495KB)

اردو (Urdu) (PDF, 714KB)

Tiếng Việt (Vietnamese) (PDF, 720KB)
How to use the Language Access Card (Video)
Office Materials
The following materials help to facilitate language services by informing the public that interpretation services via over-the-phone interpreting are available. All materials are free to download.
Place these resources in clear view at your initial point of contact for your department or organization.
How to Use iSpeak Office Materials (Video)