City of Austin
FOR IMMEDIATE RELEASE
Release Date:

---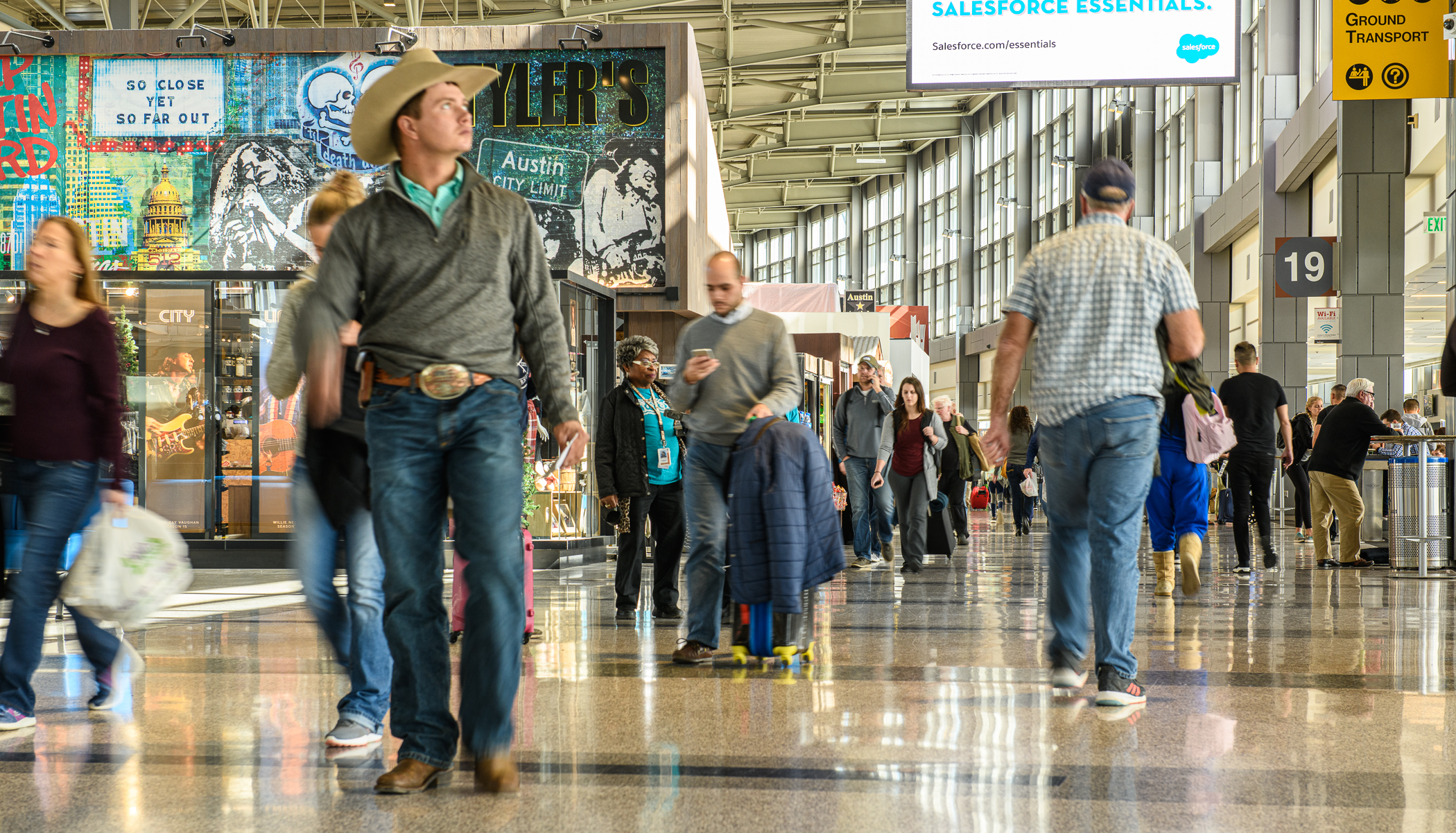 AUSTIN, Texas – Austin-Bergstrom International Airport (AUS) looks forward to welcoming travelers during this highly anticipated busy holiday season. With airlines operating 5% more flights this November than last year and with a 6% increase in available airline seats for sale, AUS wants travelers to be prepared for a busy terminal.   
AUS continues to surpass record-breaking levels of passenger and airline activities year after year, and 2023 data projects approximately one million more people will travel through AUS this year than last year for a record-breaking 22 million annual passenger year. As part of the airport's regular plans for peak travel periods, additional Department of Aviation staff will be working in the terminal throughout busy travel periods to help with line management, TSA support, and passenger navigation to ensure a safe and easy experience at the airport.  
Passengers are encouraged to plan ahead, arrive early, and follow airport travel tips, especially during the Thanksgiving travel stretch between Friday, November 17, and Monday, November 27.  
Getting to AUS 
The holidays bring with them extra vehicles on the roadways. Passengers headed to the airport should expect congestion and traffic on the highways and roadways leading into AUS.  

Passengers should have backup options for getting to the airport in case of severe congestion or unexpected collisions. AUS encourages travelers to check real-time traffic info at http://drivetexas.org before heading out the door. 
Best time to arrive at AUS 
Passengers using general Transportation Security Administration (TSA) screening should arrive at least 2.5 hours before departure for domestic flights and 3 hours before departure for international flights. 

Security screening checkpoints open at 3:30 a.m. with TSA PreCheck and Clear screening available at Checkpoints 1 and 2 West.  

Passengers that need to check luggage, return a rental car or complete other activities before joining the TSA security line, are advised to arrive even earlier. 

TSA PreCheck and Clear users can expect a faster security process than those using general TSA screening.  
Packing properly for security screening 
AUS has 4 security screening checkpoints and all checkpoints lead to all gates.  

With a record number of guns found at security checkpoints this year, we are amplifying our TSA partner's emphasis on the strict prohibition of firearms in carry-on luggage.  

Bringing prohibited items, such as firearms or liquids and aerosols exceeding 3.4 oz. will hold up the line and cause delays. Passengers can visit TSA.gov for guidance on how to pack and what items are allowed in carry-on luggage. 

Non-liquid, solid food items are allowed in both carry-on and checked bags. For example, potatoes are allowed through the checkpoints but mashed potatoes are not.  
If the food is packed with ice or ice packs in a cooler or other container, the ice or ice packs are required to be completely frozen when brought through screening. If the ice or ice packs are partially melted and have any liquid at the bottom of the container, they will not be allowed.  

If you are traveling with gifts, TSA recommends waiting to wrap them until you arrive at your destination (so your efforts won't have to be unwrapped) or sending the gifts ahead by mail. 
Passenger parking and drop-off 
If you're planning to park at AUS, visit ABIAParking.com or call 512-530-3300 before heading out to the airport to make sure on-site parking is available. Reservations have already sold out for November 23 and 24 

Passengers using Economy parking should consider adding extra arrival time for shuttle service to the terminal as it runs approximately every 15-20 minutes. 
Use either the upper level for departures or the lower level for arrivals to drop off passengers. This applies to picking someone up as well; if the lower level for arrivals is backed up, then proceed to the upper-level departures for pick-up. Go to whichever level is the least occupied.  
Mobility assistance and accessibility needs 
Passengers who require wheelchair assistance need to contact their airline before their travel date to set up the service. 

AUS also has a Mobility Assistance Zone, which provides priority access for Wheelchair Accessible Vehicles (WAVs), taxis, and rideshares to pick up passengers with limited mobility. It is located on the lower level curbside one lane across from the G and H pick-up areas; free of charge and open daily from 7 a.m. to 2 a.m.  

Consider requesting TSA Cares Assistance. TSA Cares is a helpline that provides travelers with disabilities, medical conditions, and other special circumstances additional assistance during the security screening process. Reach them at least 72 hours prior to your flight at (855) 787-2227. 
AUS is proud to join the international Sunflower Hidden Disabilities Program, which aims to raise awareness of and support individuals with non-visible disabilities and discretely indicate to airport staff that the wearer (or someone with them) has a non-visible disability and may need a little more time, support or assistance at AUS. To learn more, including how to request a lanyard, visit our AUS for All accessibility services website.  
Flight check-in 
Use a mobile boarding pass to skip the airline ticket counters. 
Use a self-service kiosk located inside the terminal to print boarding passes. 

In addition to traditional check-in procedures, some airlines offer outside curbside check-in on the upper level. 
Due to airline ticket counters having various opening times, passengers should contact the airline directly for hours of operation. 

Passengers without checked luggage can bypass the busy airline ticket counters and head immediately to TSA screening checkpoints using these time-saving flight check-in options: 
Get the full experience at AUS 
Once inside the terminal, check out our variety of food options, new art installations, live music stages, and unique shopping spots! By using the AUS digital wayfinding map at AirportMaps.AustinTexas.gov for step-by-step directions, you'll be exploring in no time! 
Important notice for Allegiant and Frontier travelers 
Passengers flying Allegiant or Frontier will depart from The South Terminal, which is a separate terminal located near US 183 and Burleson Road at 10000 Logistics Lane. This terminal is not accessible from the main Barbara Jordan Terminal. While we do provide shuttle service to the terminal, we encourage Allegiant and Frontier passengers to park on-site at the South Terminal to save time. 
Construction Awareness 
Passengers needing help at any point during their journey at AUS should not hesitate to contact the Airport Operations Center at (512) 530-2242 or to ask any Department of Aviation staff member for assistance. 
About Austin-Bergstrom International Airport
Owned by the City of Austin and operated by the Department of Aviation, Austin-Bergstrom International Airport is one of the fastest-growing airports in the United States. Austin-Bergstrom is also an economic engine in Central Texas, supplying over 74,000 direct and indirect jobs in the Central Texas region.  
For the latest news, real-time flight information, careers information, and details on the many services provided at Austin-Bergstrom International Airport visit FlyAustin.com. You can also follow Austin-Bergstrom on Facebook, Twitter, and Instagram. 
About Journey With AUS
Journey With AUS is the Austin-Bergstrom Airport Expansion and Development program. The program is a strategic, phased approach to guiding construction and improvement projects, including select 2040 Master Plan projects and near-term improvements to address record-breaking growth at AUS. Journey With AUS projects will improve the passenger experience and meet the rising demand for air service at AUS through optimizing the Barbara Jordan Terminal through improvements that accommodate forecasted demand and enhance operations; expanding infrastructure to increase gates; constructing a new midfield concourse, and connecting tunnel. Driving regional economic recovery and supporting Austin's growth is a primary goal of the program. The program will create jobs and provide opportunities for local businesses and the Minority-owned (MBE) and Woman-owned businesses (WBE) in the contracting community.