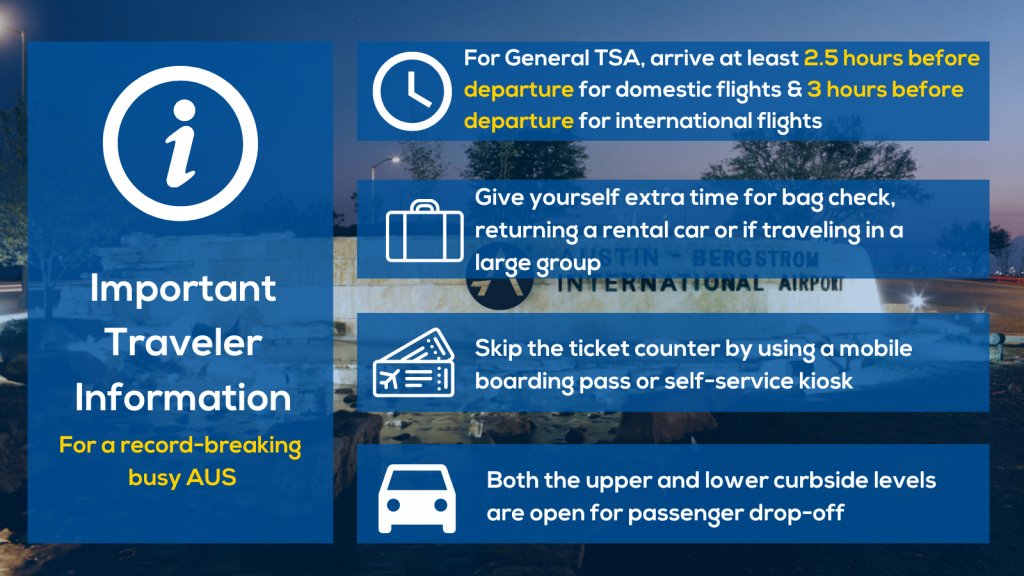 Austin-Bergstrom International Airport (AUS) expects more busy days ahead for airline passengers as more Austinites, Central Texans and visitors to the region take to the skies. With more airline seats currently offered than ever before, AUS continues to see high volume travel days, which are days with 26,000 - 30,000+ passengers. This steady increase in passenger numbers show AUS has recovered from pandemic passenger traffic losses and AUS expects to serve a record-breaking 22 million passengers in 2022.
As the "World's Gateway to Central Texas", AUS now connects Austinites and Central Texans to more destinations than ever before through over 90 nonstop domestic and international destinations. To view a full list and map of services, visit the Nonstop Flights out of AUS webpage. 
---
Passenger Travel Tips
Arrival Tips
To help prepare passengers for a busier than ever AUS, the airport recommends:
That travelers using general TSA screening should arrive at least 2.5 hours before their departure time for domestic flights
Travelers flying internationally should check-in at their airline ticket counter at least 3 hours before departure.
Travelers checking luggage, traveling with small children or in a large group, and those flying out of AUS for the first time in a while, should give themselves extra time in addition to the 2.5- and 3-hour recommendation to make it to their gate on time.
Parking & Passenger Drop-Off Tips
An increase in passengers means more vehicles are dropping off and picking up passengers. Drivers and passengers are encouraged to "switch," using whichever level has the least congestion. Drop off for departures on either the upper or lower level. Passengers can quickly get upstairs to ticketing and security using escalators and elevators from the lower arrivals level. If the lower level is congested, arriving passengers can use escalators and elevators to be picked up on the upper level.
Travelers looking to park onsite can visit ABIAParking.com to reserve a parking space and check for real-time parking availability before arriving at the airport.
For arriving passengers getting picked up by Uber, Lyft, Wingz, or other rideshares, a tram service is available on the first floor of the Red garage to take passengers from the terminal to the rideshare pick-up area located on the ground floor underneath the rental car facility.
Flight Check-In Tips
Travelers without checked luggage can skip the airline ticket counters and head immediately to security screening checkpoints using these time-saving flight check-in options:
Use the lower curbside and upper curbside for drop-off — from the lower level, passengers can quickly get upstairs to ticketing and security via escalators and elevators.
Self-service flight check-in kiosks that allow travelers to print their boarding passes and bag tags are available inside the terminal, across from the airline ticket counters.
In addition to traditional check-in procedures, select airlines offer outside curbside check-in.
Travelers can also save time by checking in for their flight using their airlines' mobile app and a mobile boarding pass.
TSA Screening and Packing Tips
Staffing at security screening checkpoints is the responsibility of the TSA. Checkpoints open at 3:00 a.m. with TSA PreCheck and Clear screening available at Checkpoints 1 and 2 West. In addition, a new security checkpoint near Southwest ticketing, Checkpoint 2 East, is open for all passengers going through general screening. All checkpoints lead to all gates and airlines in the Barbara Jordan Terminal.
For more information about what can and cannot be brought through TSA security, visit TSA.gov.
Health & Safety Tips
As of April 18, 2022, the Transportation Security Administration no longer requires people to wear masks at airports including Austin-Bergstrom International Airport. Here is their statement.
 
Information for Allegiant and Frontier Travelers
Travelers flying with Allegiant and Frontier will depart from The South Terminal. All other airlines operate out of the main Barbara Jordan Terminal. The two terminals are not connected and must be accessed separately. The South Terminal is located at 10000 Logistics Lane, near US 183 and Burleson Road. If dropped off at the Barbara Jordan Terminal, passengers can use a shuttle bus, which picks up from the curb-side departure level, to get to the South Terminal.
---
AUS Frequently Asked Questions
How is the airport addressing longer TSA wait times during peak travel periods?

Austin-Bergstrom International Airport is owned by the City of Austin and operated by the Department of Aviation. Security checkpoints at AUS are operated by the Transportation Security Administration (TSA). The Department of Aviation continues to partner with the TSA to address security checkpoint delays, including:

Opening a new TSA checkpoint last winter through the Airport Expansion and Development Program (AEDP)
Redesigning Checkpoint 3 to add more security lanes through the AEDP
Requesting additional TSA staff and technology
On-going and regular conversations with local TSA leadership
Requesting congressional support through the airport's federal delegation 
Assisting TSA with promoting job fairs, hiring events and TSA employment opportunities
Hiring additional Department of Aviation Guest Services staff to assist with passenger queuing so that TSA personnel can focus on security screening

Why is the airport so busy?

After the devastating worldwide impacts on travel and aviation due to the COVID-19 pandemic, AUS has been experiencing a strong recovery since the summer of 2021. Central Texas continues to grow, and people and businesses are moving to Austin. This regional growth has led to strong demand for air service. Airlines continue to invest in Austin, bringing more jobs and economic opportunities alongside new nonstop destinations. 

This summer, AUS airlines will offer 34% more airline seats compared to summer of 2019. AUS is the fastest growing and strongest recovering airport in the country when measured by seat capacity increase and currently offers more nonstop destinations than ever before.

Do I still need to show up early if I have TSA PreCheck or Clear? What if I am not checking luggage?

Arrival time best practices depend on a variety of factors such as:

If you're checking a bag and how many you're checking
If you need to return a rental car
If you are traveling with small children or a large group
If you are using general TSA screening or not

AUS recommends passengers using general TSA screening arrive at least 2.5 hours before boarding for domestic travel and 3 hours before boarding for international travel. If a passenger is completing pre-TSA activities like the ones listed above, they should make sure they have plenty of time to do so. 

TSA PreCheck and Clear can both save passengers time with expedited TSA security screening options. An example of a passenger who may not need the full 2.5 hours to make it to their gate before boarding is a single traveler who has TSA PreCheck or Clear, is using a mobile boarding pass and is not checking any luggage. An example of a passenger who may need more than the 2.5 hours is someone traveling in a large group of travelers who have not traveled in long time, are checking multiple bags and oversized items, and are returning a rental car before heading into the terminal. 

When is the airport busiest?

Updated May 17, 2022: Summer travel season has started earlier this year at AUS and the airport continues to see high passenger volumes regularly throughout the week. Earlier this year, Thursday, Friday, Sunday and Monday were the busiest days of the week. With more passengers flying out on the other days of the week, there is no longer a set of peak travel days. Busy days, or peak travel days where 25,000+ passengers fly out of AUS, can occur throughout the entire week.

Is the airport going to expand?

After the AUS 2040 Master Plan was approved by the Austin City Council and the Federal Aviation Administration in late 2019, the Department of Aviation began to plan out projects for the next 20 years that would modernize and improve the airport. Following financial and passenger travel trend impacts from the COVID-19 pandemic, the Department of Aviation re-strategized the approach to deliver airport improvement projects and launched the Airport Expansion and Development Program (AEDP) in the summer of 2021.

The AEDP reflects the anticipated AUS recovery profile for the return and growth of airline activity. The Program will deliver near-and long-term passenger experience improvements:

Barbara Jordan Terminal Improvements

A new TSA screening checkpoint - Completed in 2021
A new baggage handling system - Construction to start in summer 2022
A 3-gate expansion on the west side of the terminal - Currently in pre-construction
More ticketing counters and more TSA security lanes at Checkpoint 3- Currently in design 
Gate 13 renovations that will maximize gate capacity through a remote bus operation - Construction to start summer 2022
And more

Enabling airfield and utility work - Currently in the environmental review process

New Central Utility Plant
New electrical substation
Removing of existing structures to prepare for construction activities

Preparing for a new Midfield Concourse B with 10+ new gates and taxiways  - Currently in the environmental review process

An underground tunnel will connect passengers and utilities to the new concourse

You can learn more about these improvements at AustinTexas.gov/AEDP.

The last expansion project was completed in 2019. The expansion added nine new gates to the Barbara Jordan Terminal, which increased the total number of gates to 34. This included increasing international flight gates from two to six, allowing for more international nonstop service to AUS. In addition, the project gives the airport almost 90,000 additional square feet of concourse space and over 50,000 square feet of apron-level space.

Is there a staffing shortage at AUS?

The Department of Aviation employs nearly 500 employees and that number is growing. The Department of Aviation was recently granted a budget amendment approval by the Austin City Council to create 80 new positions. Many of these positions are temporary positions that will be converted to full-time employment opportunities and will support a range of airport functions from Guest Services, Operations, Planning and Development and more. More Department of Aviation positions are planned for Fiscal Year 2023.

If you are interested in joining the Department of Aviation, you can view current employment opportunities at AustinCityJobs.org.

Many AUS business partners are seeking qualified candidates to join their teams, including the Transportation Security Administration, ABIA Parking, AUS airlines, ground handling and concession partners. You can learn more about AUS business partners and current job opportunities at the AUS career webpage. 

As unemployment levels in Austin and Central Texas remain low and as the worldwide labor shortage continues, the Department of Aviation appreciates the patience from our passengers as our business partners navigate our COVID-19 recovery together as an airport community.

Have AUS concessions reopened from pandemic closures?

AUS concessions have reopened from the pandemic closures experienced in 2020 and 2021 and AUS is excited to offer new concessions to our travelers, including What-a-Burger (in the Cell Phone Waiting Lot), Zocalo Cafe, Thurman's Old Fashioned Hamburgers, Kome Sushi, the Noble Sandwich and more. 

As concession operators continue to fill vacancies, their operating hours may vary or be limited in the evening hours. AUS now offers several new contactless and self-service kiosks and machines that are available to travelers 24/7 and offer snacks, beverages, travel essentials, and more.

What else is the airport doing to respond to regional growth?

In addition to the terminal improvements and modernization projects through the Airport Expansion and Development Program, the Department of Aviation is constructing a new air cargo facility. This will have long-term benefits for Austin and Central Texas' manufacturing, tech and business hubs, and support a growing region that prioritizes job creation and improving infrastructures. It is expected to be completed in the fall of 2023.

The Department of Aviation is working with AUS Fuels, LLC, the consortium of AUS airlines that own and operate the jet fuel storage facility at the airport on the development of a new facility. The new facility will more than double the existing on-site fuel storage and be able to meet the airport's long-term fueling needs in the decades to come. Currently, AUS operates with a 2 - 3 day supply, while more airports operate with 5 - 7 days. 

Both the new air cargo facility and the new jet fuel storage facility are AUS 2040 Master Plan projects that have been expedited ahead of the original timeline to address our growing region and increased demand for air and cargo service.