Each year, Austin Water's Special Services and Water Conservation Divisions come together to honor industries, businesses, individuals and governmental agencies for their achievement in Pretreatment, Water Protection, Water Conservation and Environmental Management.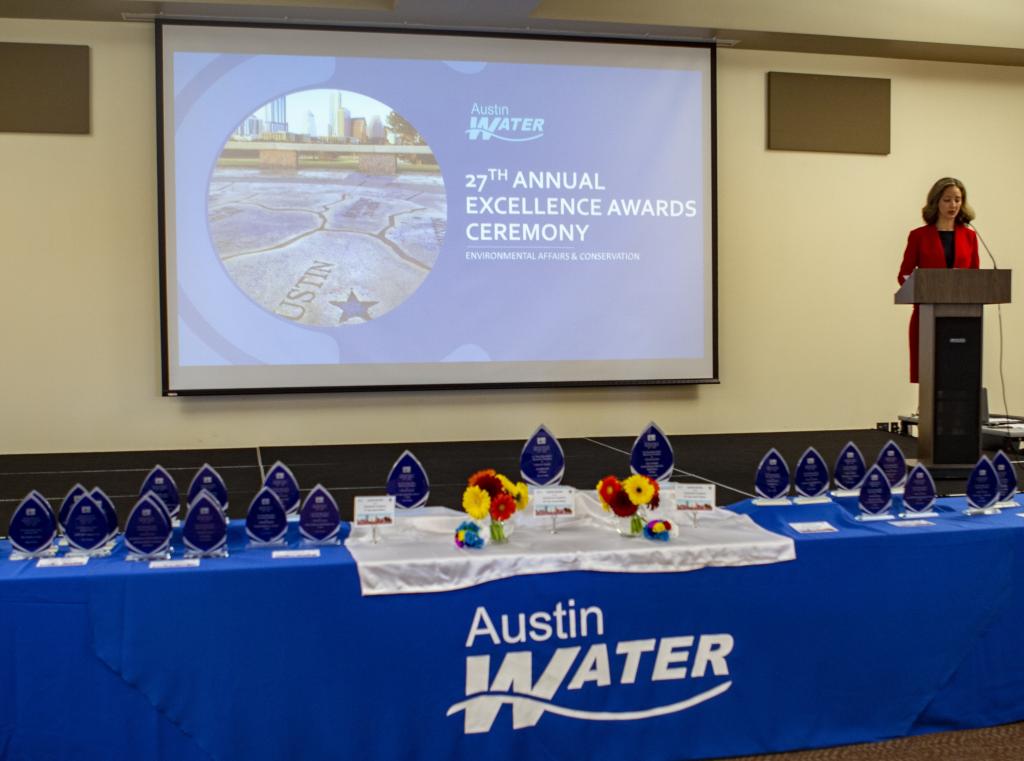 Please select the respective boxes below to learn more about the nomination criteria. 
Pretreatment

Austin Water's Excellence in Pretreatment Award honors distinguished Significant Industrial Users (SIUs) who exhibit environmental stewardship by proactively preventing pollution and managing wastewater discharge. This award is part of our P2 pollution prevention program, which partners with local businesses to reduce pollution and minimize waste.

For all Austin industrial waste generators, meeting effluent quality standards typically requires more than just a properly designed, operated, and maintained pretreatment system. The City must meet stringent water quality standards because TCEQ has designated Austin's segment of the Colorado River for exceptional aquatic life use, contact recreation and public water supply. Meeting these standards is possible only because Austin Water Utility and local businesses work together to strictly control wastewater discharge.

Pretreatment Award winners go beyond meeting effluent quality requirements by devoting significant time and attention to self-monitoring and reporting requirements, carefully designing a pollution prevention strategy, training staff and encouraging active participation throughout the organization. Award winners must meet the following criteria during the permit year:

The permit holder must meet the EPA's definition of Significant Industrial User (SIU) and must be in operation and permitted the entire permit year.
The SIU must meet all permit sampling and reporting requirements.
The SIU may not have any pollutant discharge that causes a pass through, interference or other significantly negative effect on the wastewater collection or treatment system.
The SIU may not have any accidental or slug discharge to the City's sanitary or storm sewers.
The SIU may not violate any mass or concentration effluent standards and must comply with the following criteria regarding pH:

SIUs that do not monitor pH continuously may not violate any pH effluent limitations.
SIUs that do monitor pH continuously may not discharge from any regulated outfall wastewater with a recorded pH that is less than or equal to 4.0 or greater than or equal to 12.0.
The discharge from any continuously monitored regulated outfall may not include any individual excursion from pH limits that lasts longer than 60 minutes
For continuously monitored regulated outfalls, the total time in a year during which measured pH values do not comply with applicable limits may not exceed eight hours and 46 minutes.

Water Protection

The criteria used for awarding Austin Water customers in the Water Protection workgroup include:

Customers that have complied with the water protection regulations with little or no enforcement measures from Austin Water.
Customers that have complied with the water protection regulations for the City of Austin, even after they were told that all inspections have passed and are final. This is new construction and remodeled sites.
Third Party Testers that have an excellent working relationship with Water Protection Staff.

Environmental Management

The criteria used for awarding an Austin Water facility the award for Excellence in Environmental Management is as follows:

Demonstrate through the annual environmental assessment that the standard operating procedures for environmental management are effectively implemented without a negative impact to operations.
Demonstrate that personnel have been identified and assigned responsibilities as a Facility Environmental Representative.
Demonstrate that the facility has participated in environmental management training.
The facility has not received a notice of violation from TCEQ/EPA in the previous year.

Water Conservation

The general criteria used for Water Conservation nominations include a significant water savings or innovative conservation program or measure in the commercial or multifamily areas done in partnership with Austin Water through its rebate or other conservation programs (HACA/AW SEED Grant program).

Environmental Stewardship

The Environmental Stewardship award is presented to an entity that implements a change in operations that has a quantifiable benefit to the City of Austin's wastewater treatment system.  The honoree also goes above and beyond in responsible use and protection of the natural environment through conservation and sustainable practices including the implementation of Pollution Prevention (P2) program initiatives.  

Please check back soon for updates on the criteria and nomination process for the 2023 Environmental Stewardship award.
We want to acknowledge and thank the award winners for their hard work and dedication in addressing all the different regulatory requirements and expectations under which they must operate. This in turn helps Austin Water meet the multitude of environmental, conservation and health and safety standards under which we must operate.
To view photos from prior Austin Water Annual Recognition and Awards Events, please view our Annual Recognition and Awards Flickr Collection.