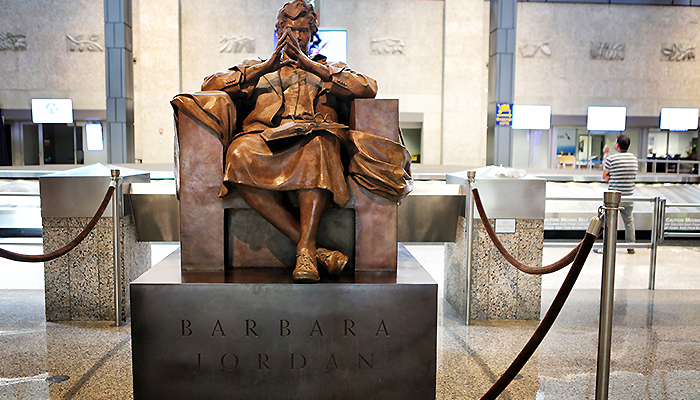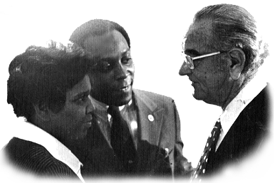 Barbara Jordan (1936-1996) believed deeply in the Constitution and an America made up of diverse people bound by common beliefs. "E Pluribus Unum" — "in unity we are one," was one of her favorite sayings used frequently in her speeches.
As an elected official Barbara Jordan accomplished many firsts. She was the first African American to serve in the Texas Senate since Reconstruction (1966-72), the first African American woman elected to the U.S.. Congress from the South (1972-78), and the first woman to deliver the keynote address at a national party convention (Democratic Convention 1976, and again in 1992).
Her riveting Watergate testimony in 1974 inspired America's attention to the strength and foundation of the Constitution of the United States of America. Many Austinites remember her fondly as an educator at The University of Texas at Austin/LBJ School of Public Affairs (1979-96) and, respectfully as Governor Ann Richards' counsel on ethics. Many also remember well the way she captivated listeners with her powerful voice, oratorical skills, and her ability to clarify complex moral issues of the day.
Throughout her life, Barbara Jordan instilled in Americans everywhere the hope for ethical leadership and racial equality and harmony.
Barbara Jordan Memorial Statue
The first life-sized statue of the late Barbara Jordan resides in the Austin-Bergstrom International Airport. Created by California artist Bruce Wolfe, the bronze sculpture depicts Jordan seated, in deep thought, with her finger tips pressed together; her glasses and a book placed in her lap.
The life-size sculpture is the first major, public piece in the country to honor Jordan and it is a landmark for all who visit the Barbara Jordan Terminal, named in her honor.
City of Austin Aviation Department officials unveiled the statue in November 2002.