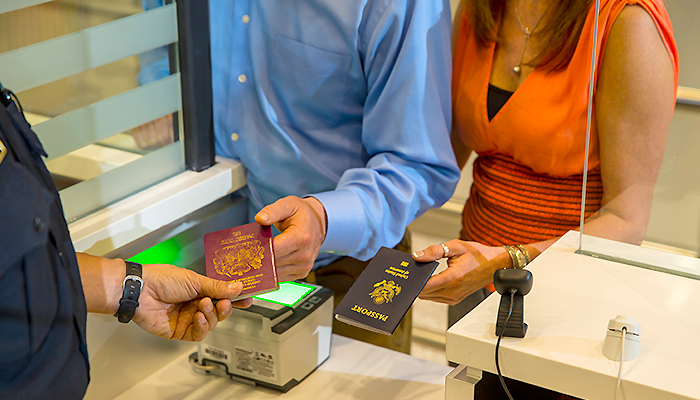 Arriving International Passengers
Passengers on arriving international flights are required to provide documentation, such as a passport, and declare any items of value. You can find more information on U.S. Customs and Border Protection http://www.cbp.gov/about.
Meeting Arriving International Passengers- Meet international arrivals at the Customs exit, located to the far left (east) past bag carousel 7 as one enters the lower level.

Global Entry and Automated Passport Control Kiosks  - Available for U.S., Canada, U.S. Legal Permanent Resident and Visa Waiver
Expedite the entry process with Automated Passport Control Kiosks. Global Entry program travelers may use TSA Pre-Check security lines.  Apply for Global Entry in the lower level baggage claim area, located across from bag carousel 3. For more information and how to apply:  Global Entry
Bring copies of your passport- In the event that your passport gets stolen or lost, you want to be able to prove your citizenship and be able to get back into the country.

Airport Guest Service: Traveler Assistance
Our Airport Customer Service Representatives manages the customs' passenger queue lines, assist with the automated passport control process, provide customers with information, directions and answer questions.
Departing International Travelers

U.S. Passports & International Travel
A passport is required for ALL international travel. If you're traveling anywhere overseas, even to Canada, the Caribbean or Mexico, you need a passport to board an international flight and to enter any country. In general, your passport must be valid for at least six months beyond the period of intended stay in a foreign country.